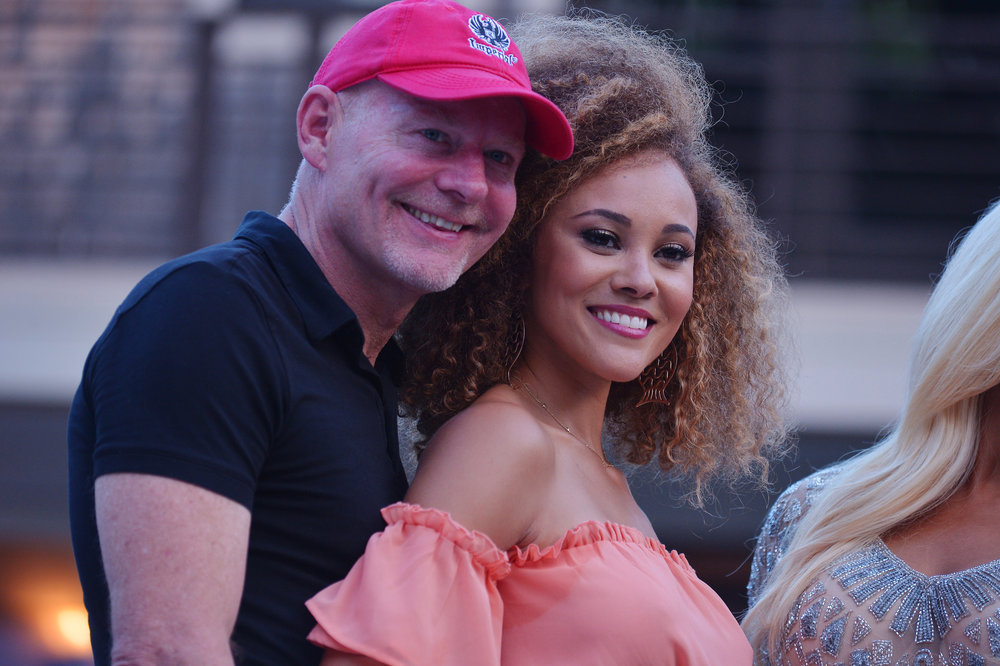 What would a season of any Real Housewives franchise be without one big juicy scandal that splinters out to cause drama and tension amongst the cast?  For the fourth season of Real Housewives of Potomac, it was a very serious allegation of sexual assault.
A cameraman filed charges against Ashley Darby's husband Michael Darby.  He accused the real-estate mogul of "grabbing and groping" his buttocks.  The charges were dropped, but not before speculation ran rampant.
Potomac's Grande Dame Karen Huger and Monique Samuels spoke to Entertainment Tonight about the allegations against Michael and how it affected the dynamic for the whole season.
"Yeah, big butts.  Men's butts.  Women's butts," Karen joked, "you know, all of the above."  On a more serious note, she added, "I know I can only speak for myself, I was being fair. I always said, 'I need Michael to be totally vindicated.' So I'm looking forward to that."
Monique may get heated in the moment, but her post-filming interviews are always level-headed and fair.  She brought that same thoughtful tone to this situation.  Monique said, "it's definitely hard not to jump to conclusions, especially given the history.  I had to realize that, you know, they're human.  We're going through it together.  I've been in a position before where people are trying to judge or pass judgment.  We've all been there.  So it's like everybody gets a turn."
"When you see it in the news, it's, like, actual charges being brought up, it was very surreal," she added, "and then to know that it's gonna play out both ways on camera?  I'm really interested in seeing how this unfolds for myself, because, being in the midst of it all, it was like a reality check within the reality show."
Monique reflected on the process of creating reality TV. She said, "When you're looking at the cameras and the people who are in your home, and then it kind of lets you realize that, wow, I really don't know the people that are in my home who I'm working with.  And then the other side it's like…like, it was just pretty, like, unbelievable.  You know like, what is going on?"
It will be interesting to see how Ashley handles the allegations as the season progresses.  The stage has already been set for reality TV drama with the airing of Michael's conversation with Juan Dixon at Candiace's Dillard's wedding.  As Michael talked about trying to make up with Ray Huger, he joked, "I wanna go grab his butt but I didn't."
Karen and Ashley had their issues in the past, but Karen decided to give her another chance.  She said, "I have to say, even though Ashley and I have not always seen eye to eye, she's trying to walk in her truth and understands that some of the things that she did in her past are unacceptable.  She's making-attempting to make amends for that."
"For three seasons, Ashley has been vindictive, malicious and a liar.  The growth I see in her cause me to pause before I become judgmental with her.  I have every reason to lynch her, and could do it well," Karen continued, "but I pause.  I pause because I see a genuine effort in that direction to change what is wrong about her and she's making that conscious decision to change that.  So, I hope [the viewers] see that.  I haven't seen the season, but I saw it.  And while I'm not totally convinced, I am open to the growth."
So what can fans expect for the rest of the season?  According to Monique, it may be a situation of real reality TV.  She said, "You're gonna see a lot of ups and downs, back and forth, mixed emotions."
Karen reveals that karma will finally set things right, "all the lies come out, OK? All is revealed. I'm like, yes! Vindication! Hello! A lot of forgiveness."
Finally, for a little bit of Karen shade, "and I think the audience will find that relatable, because it shows personal growth in all of us.  Except for Gizelle [Bryant]."
TELL US- WHAT DO YOU THINK OF THE ALLEGATIONS MADE (AND DROPPED) AGAINST MICHAEL?  HOW DO YOU THINK IT WILL AFFECT THE SEASON?  HOW WILL IT AFFECT ASHLEY'S RELATIONSHIPS WITH THE OTHER LADIES?
[Photo Credit- Shannon Finney/Bravo]