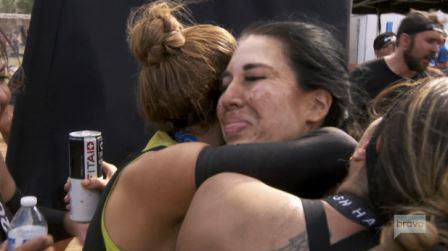 On last night's episode of Texicanas, Penny Ayarzagoitia continued to carry the bones of the drama with her friends. After the head pat and scolding Mayra Farret gave Luz Ortiz, on last week's episode, tensions are high. Luz stormed away as Mayra tried to explain her actions. Mayra feels like her anger is justified, but concedes to apologize for putting her hands on Luz. Who would think calling someone "anal" would result in all of this? Chill out, Mayra. It's not that serious.
We have the chance to meet Luz's family and learn more about her past. Surprisingly, when she was married she was the total opposite of who she is today. Instead of a rocker chick, she was a traditional wife and mother like Lorena Martinez. What a difference a divorce will make. I can't imagine her wearing frilly dresses and playing the role of the Stepford wife.
Penny spends some time with her family working on an art project. She reveals that one of her sons has been diagnosed with ADHD. Her husband, Raul Ayarzagoitia, also had it as a child. His mother took him to have an exorcism to fix the problem. Wow.
According to Penny, in her culture, many people don't believe ADHD exists.  Acknowledging the disorder and medicating a child is frowned upon. I can't imagine a child going to a priest to pray away the demon of lack of focus. Luckily, Penny has decided to take a different approach with her son.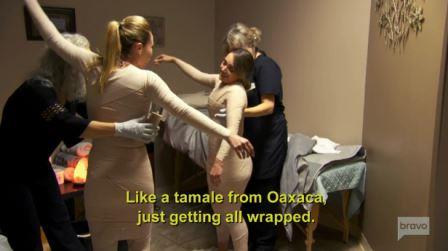 Mayra and Lorena decide to meet up for an afternoon of detox wraps. Mayra vents about her issues with Luz. She doesn't think they can ever be friends. Meanwhile, Luz, Penny, Anayancy Nolasco, and Karla Ramirez train for the upcoming Spartan race. Of course, the drama with Mayra comes up. Something tells me a group of women who love to lunch aren't going to fare well in a grueling race. Mayra and Lorena may be on to something. Plus, relaxing with a detox wrap sound a lot more fun to me.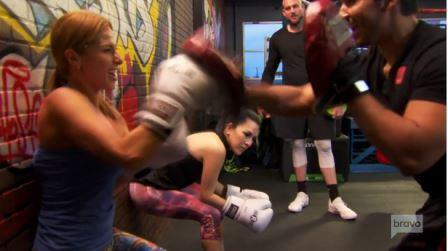 Penny and Raul face a difficult decision about possibly medicating their son. Her husband has a hard time agreeing  because he didn't take pills as a child. He sees himself in his son and had no choice, but to learn to deal with his issues without medication. Penny feels like she is being judged as a mother because she is looking for ways to help her child. Raul is open to other ideas, but doesn't want his son to have the stigma of medication.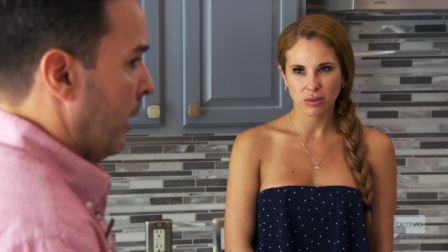 Lorena's son is sixteen and she has to teach him how to drive. She prays before entering the car, but seems to be calm and in good spirits. The only reason she learned how to drive is because although she went to school in the US, she lived in Mexico. Her chauffeur couldn't cross the border. So, he was forced to teach her how to drive. I would have never guessed Lorena grew up with maids and drivers.  She seems very down to earth.
Nonetheless, it is finally her turn to pass down the car and driving lessons.  In true mom fashion, she gives him disposable gloves to use to pump the gas. Obviously, gloves aren't cool and he rejects them immediately. I don't think he would ever live down being the guy who carries disposable gloves in his car, in high school. But she forces him to use a wipe or hand sanitizer if he wants to get back in the car. I laughed so hard, because that would be me. I have emergency sanitizer for every occasion.
Mayra finally reveals the true reason why she may be so "anal." This definitely gives insight into why the word struck a chord in her. Growing up her mother always made her feel like she had to be perfect. She was constantly was trying to win the affection and approval of her parents. I can see now why she may seem so controlled in her regiment. It was nice to see a softer side of Mayra. Otherwise, I would have described he with a word worse than "anal."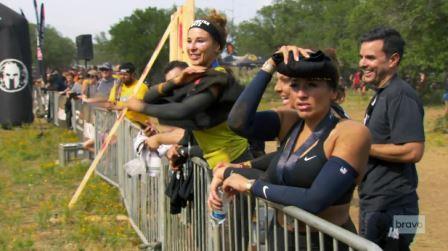 It's the day of the Spartan race and Luz may be the only one, who is prepared to participate. It's the just the beginning and the girls look like they are ready to have a glass of rose instead.  I have to give them respect, despite the difficulty, no one quit. Karla stopped several times and threatened to quit, but she stayed on course. I am tired just watching these women. So much so, I had to have a glass of wine just to relax.
Luz, Penny and Annayancy finally finish and wait on Karla, who has a mile to go. Karla finally crosses the finish line and the girls rally around to celebrate their victory. I have to admit, I thought she was going to quit. After seeing the full course, I probably would have ran for the hills. Well, actually, i wouldn't have signed up. I would have just been filled in on the deets later.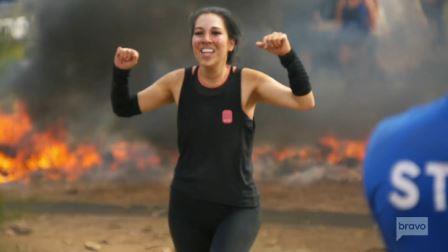 TELL US- WHAT DID YOU THINK OF MAYRA'S APOLOGY TO LUZ? DID YOU THINK THE TEXICANAS WOULD SURVIVE THE SPARTAN RACE?
[Photo Credits: Bravo]