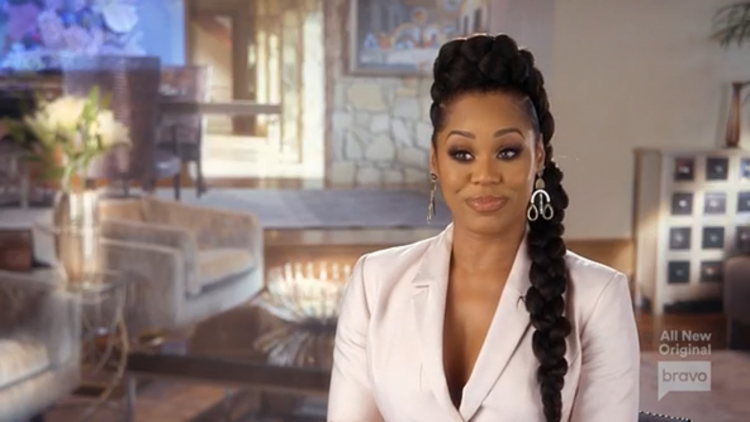 Confiding in Gizelle Bryant always seems to backfire for the ladies of the Real Housewives of Potomac.  Unless you are Robyn Dixon that is.  Trouble is brewing as Candiace Dillard offered up some information concerning Monique Samuels and her comments about Katie Rost.
Katie returned to the group this season and was welcomed back with a lot of enthusiasm.  There were comments made about how Katie changed her look since she was last on the show.  Monique was one of those people, only she had the misfortune to share her thoughts with Candiace.  Candiace then shared Monique's words with Gizelle.  It seemed to be an attempt by Candiace to ingratiate herself to Gizelle but she threw Monique under the bus in the process.
In her Bravo blog, Monique discusses the conversation between Candiace and Gizelle.  She explained, "Candiace totally twisted what I said when I made the comments about Katie. It was apparent I was speaking about Katie's spirit and compared her free spirit to a line we all know well from the movie Amistad."
Candiace gave Gizelle a vague playback of what Monique said.  Monique wanted to clarify her exact words, "what I said was, 'she is a free spirit, like Ashley [Darby] on steroids. She went from prim and proper to an Amistad 'give us free' type of spirit.'"
Monique continued, "for Candiace to say I was referring to Katie's looks is a totally different interpretation of the actual conversation we had. Candiace must've felt as though Katie looked like someone from Amistad and projected her thoughts and feelings on to me. She's been doing this a lot lately (projecting her issues on to others). "
Monique is referring to Candiace's tendency to badger Ashley about getting pregnant.  The cast speculates that Candiace is really fixated on the dysfunctional relationship with her own mother.
Will that conversation cause drama in the show?  Surely Gizelle won't let that comment just slip by unaddressed.  Whatever happened during filming, Monique keeps a very neutral tone in her blog.  She said, "I was very disappointed to see my 'friend' discussing me with someone she knows I don't get along with and have been actively trying to move forward with. The whole conversation was very messy."
TELL US- WHAT WAS MONIQUE'S INTENTION WITH THAT COMMENT?  SHOULD CANDIACE HAVE SAID ANYTHING TO GIZELLE?  WILL GIZELLE BRING IT UP TO THE GROUP?
[Photo Credit- Bravo]