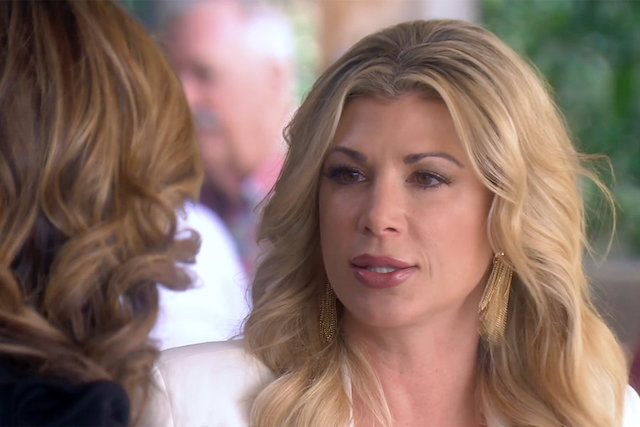 In a blast from the past, Real Housewives of Orange County alum Alexis Bellino recently popped up in a cameo appearance having lunch with Emily Simpson. Alexis' life has changed a lot since she left RHOC.
In 2018, Alexis and Jim Bellino were divorced. I must admit that the Bellino's marriage was often uncomfortable to watch. When Alexis left the show in 2013, she was on bad terms with Tamra Judge, who attacked Alexis because of her Christian beliefs. Apparently, when Tamra referred to the devoutly Christian Alexis as "Jesus Jugs," it was the end of their relationship.
According to RadarOnline, a source alleged that "Andy Cohen personally asked Alexis to come back full-time this season. But she said no because she wants nothing to do with Tamra." But that isn't the only reason. Alexis' ex-husband, Jim, is involved in a nasty lawsuit with Tamra and co-star Shannon Beador. On June 26, 2018 Tamra and Shannon slammed Jim on Heather McDonald's podcast. Tamra called Jim a "shady motherf**ker" who is "going to jail." Shannon and Tamra also alleged that people were paralyzed at a trampoline park owned by Alexis and Jim. Jim sued the loose-lipped duo for defamation to the tune of $1 million dollars. In 2019, Shannon was dismissed from the lawsuit, but Tamra wasn't as fortunate. Will Tamra ever learn to zip her lips? Nope!
In an interview with HollywoodLife, Alexis revealed that a full-time return to RHOC isn't in the cards for her. "I would do a cameo again but I really feel like that chapter has turned for me. I love the time I've had on there, I learned a lot too," Alexis stated. "It was a great experience and I will do another cameo, but that book has closed. I have three kids now and we're busy." Of course, Alexis is referring to herself and her new boyfriend Andy "Drew" Bohn. In February of 2019 the couple made it Instagram official.
"I barely have time for [Andy] and like, he's the most important thing," Alexis said.  Alexis is currently raising her and Jim's three children.  Alexis told HollywoodLife that, to some small extent, the rumors about Tamra are true.  "Well, I 100 percent would never do the show if she was on it," Alexis shared. "And I 99.9 percent wouldn't do the show if she wasn't on it. We don't talk much, but I would be cordial if I saw her out. But I'll leave it at that," Alexis stated.
Tamra was baptized during the RHOC Season 10 finale, but it doesn't look like these two good Christian ladies are able to forgive and forget. But in this Housewives franchise, anything can happen. Right, Vicki Gunvalson?
TELL US: WOULD YOU LIKE TO SEE ALEXIS RETURN TO RHOC? SHOULD SHE FORGIVE TAMRA FOR THE "JESUS JUGS" COMMENT?
[Photo Credit: Bravo]