Last night's episode of Married to Medicine was basically more drama with this group. I have never seen friends take one step forward only to take three steps backward.  I don't think this group will ever truly get along with one another unless you split them in two groups. But one can hope they mature one day.
The ladies head to Savannah for a girls' trip. Heavenly Kimes takes out her frustration on Toya Bush-Harris. Mariah Huq goes after the group for perpetuating lies against her. Jackie Walters attempts to save a disastrous trip. Let's get straight into the drama!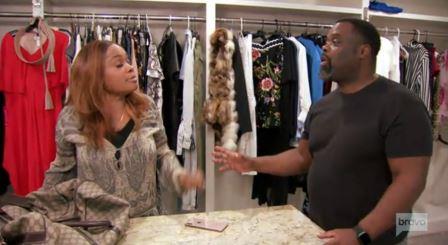 Well, well, well… Heavenly finally has her feet held to the fire. Damon Kimes admits he knows everything that happened at Toya's paint and sip party. Heavenly claims she felt it was in poor taste that naked men were there. That's not what it looked like when she was being lifted in the air by one of the models. But she didn't tell her husband because she "didn't have the time." LOL, Oh Heavenly!  In an on-camera interview, Damon admits he didn't like that someone picked up his wife, but is done talking about it.
On the girl's trip, Jackie wants to help the women to mend their friendships. After all the ladies arrive, they congratulate Toya for closing on her 2nd house. Heavenly has to add that owning a home isn't an accomplishment. To add insult to injury, she mentions hers is almost paid off.  Never the one to let shade slide, Toya states that Heavenly's house is only worth $50,000, so it should be paid off. Heavenly claims she makes three times what Toya does. Well, so much for having a healing girl's trip.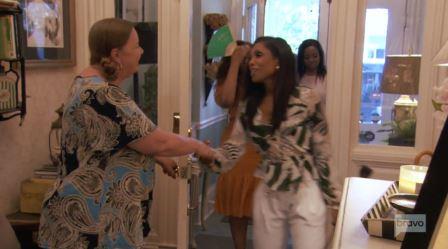 When the women arrive to the house, they learn it has a spooky history. Jackie assigns the bedrooms in pairs of people they actually like. I guess she didn't want anyone to kill each other at the beginning of the trip. When the ladies have dinner, Contessa Metcalfe gets a text message from her husband, Scott Metcalfe, saying he's going out of town to celebrate one of his friend's birthday. She is resentful that she gave up school and he isn't making sacrifices. The women encourage Contessa not to be passive-aggressive and just to tell him how she truly feels.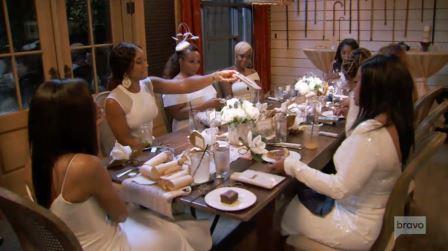 Jackie tells the women she wants them to work on their relationships with one another. Mariah isn't convinced since Jackie has tried this many times and failed. Quad thinks a reset will be good for everyone. That is funny since everyone knows Quad holds a grudge like no one else. Jackie has everyone discuss girl codes the group should follow. She asks everyone to write one down. Mariah's code is not telling lies on each other. We all know that is a nod to Jackie who repeated a rumor Quad Webb-Lunceford created.
Heavenly then says Simone Whitmore lied on her. She feels she never said anything about Cecil Whitmore that Simone didn't say herself. Mariah jumps on the bandwagon and brings up Jackie restating Quad's accusations about drug use. Jackie agrees and suggests they all fact check before they say something.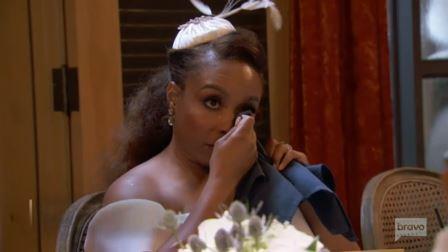 Buffie Purselle cries about her lack of friendships with women. She finds it hard to have female friends because she is successful and they ask her for money all the time. At times, she feels like sometimes she can't tell people when she is "killing" it. Simone's code is that the husbands should be off-limits. Mariah is irritated when Quad says she wants everyone to be accountable for their actions. Mariah feels like Quad is being allowed to defame her character.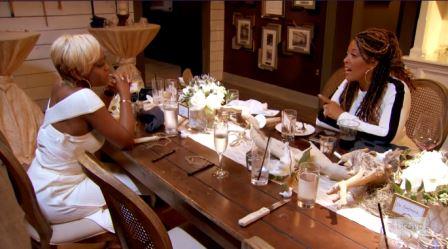 Toya stays behind to talk to Quad after dinner. She tells her Mariah is really hurt by the drug accusations. She went with Mariah to get a drug test and it came back negative. The test went back as far as between 5 to 10 years. Quad claims the test was inconclusive. Toya just wants to be cordial with Mariah. Quad says the best she can do is to keep things the way things currently are between them. Geez, this woman can never let anything go.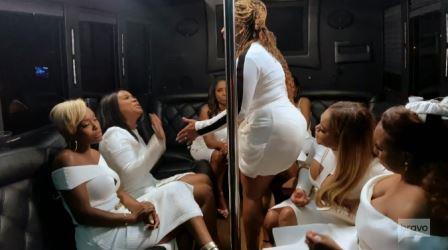 Just when you thought the drama was over, Mariah points out that no one is calling out Quad for slandering her. Quad of course gets angry. Heavenly believes the accusations are true. She reminds everyone of the accusations Mariah made about her husband cheating last season. Contessa is fed up of the arguing and walks off the bus once they get to the house. She is clearly over the Mariah and Quad drama.
Toya tells Heavenly to stay out of it. Heavenly tells Toya to get out of her face. Toya then calls Heavenly "loud" and "ghetto." Heavenly says "yo momma" in response. Toya says her mother is ghetto and she will whoop Heavenly's a$$. Maybe Toya needs to fly her mother out because someone needs to take Heavenly down a few notches.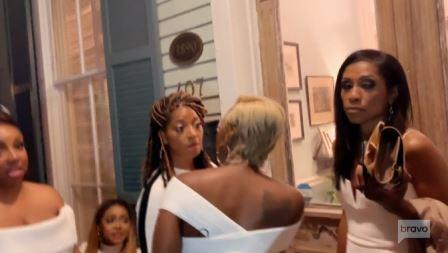 When everyone gets off the bus, Heavenly is still arguing with Mariah about what was said in the past about Damon. Mariah and Quad go toe to toe as well. Mariah calls Aydin Huq when she returns to her room. Toya comforts her as she cries. They then go on a walk and pray together.
After this trip, I'm sure Buffie would gladly hand out money, before having constant drama with a circle of friends. Jackie's bright idea to bring everyone together was a complete fail, it only seemed to get them to go back in history. I don't ever think all of the Married to Medicine ladies will ever get along.
TELL US – DO YOU THINK THIS TRIP WAS A GOOD IDEA? DO YOU THINK CONTESSA AND SCOTT RESENT EACH OTHER? WILL THE MARRIED TO MEDICINE LADIES EVER LET THEIR BEEFS GO? 
[Photo Credit: Bravo]