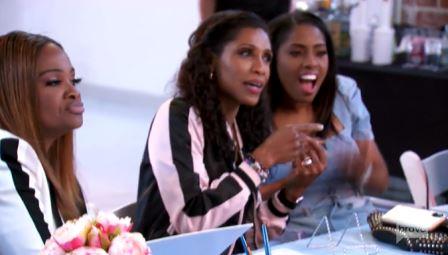 Last night's episode of Married to Medicine, was interesting to say the least. One wild party has implications throughout the episode.  There is never a dull moment when these ladies get together.
Toya Bush-Harris shocks the ladies with her idea for an art class. Heavenly Kimes decides not to tell Damon Kimes about Toya's birthday party. Simone Whitmore and Cecil Whitmore give the boys a safe-sex talk.  Jackie Walters does some sexual research for a new project.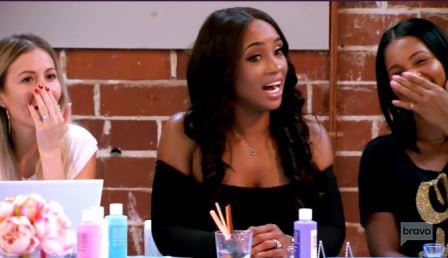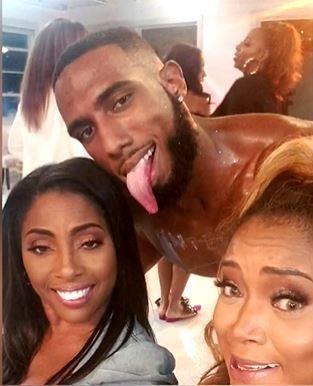 The ladies are surprised by the naked men at Toya's paint and sip birthday party. Toya doesn't seem fazed at al. She wants everyone just to get over it and have fun. Instead of painting a man, Heavenly paints a cross. She gets even more flustered when one of the models picks her up.
In her on-camera interview, Mariah Huq says that she wonders how Damon would feel if he knew a man with a penis he can still see, broad shoulders and straight teeth was picking up his wife. If we can't count on Mariah for anything else, we know she won't miss an opportunity to shade the hell out of Heavenly at every opportunity.
Later in the evening, Toya and Buffie Purselle get into a heated exchange when they discuss the drama with Joseline Hernandez. Buffie claims she defended Toya, but Toya doesn't believe it. Buffie reminds Toya she also defended her when Contessa Metcalfe called her husband a b!tch. Contessa and Simone take Buffie outside to calm things down. Contessa states that Toya can be difficult to get along with at times, but she recommends that Buffie doesn't give up a chance at a friendship.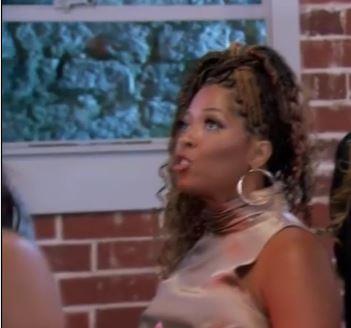 Toya visits Eugene Harris at work and they talk about her birthday party. He tells her some of the husbands aren't happy about their wives attending the party. Toya thinks anyone who is offended is being way too uptight. Eugene decides to plan a guys night to appease the men. They change topics and talk about the house they are still building. The lease for their current home is ending, so they need to find somewhere to go. They decide to just move into their new house which isn't finished, so they can avoid staying at a hotel.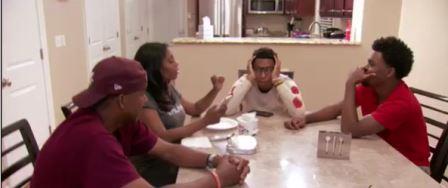 Simone and Cecil have a talk with their sons about sex. They also talk about what it means to consent, as well sexually transmitted diseases. Simone and Cecil even show them pictures of different diseases with props. They want to make sure their sons always have condoms and respect when a woman says no. I think Simone would go crazy if she became a grandmother anytime soon. If we think she is yelling now, it would be on another level if one of sons got anyone pregnant.
Quad Webb-Lunceford  gets a phone call from her lawyer who says that the divorce is almost finalized. One of the last things that needs to be done is for to file his taxes. When Heavenly asks who will get what from the divorce, Quad tells her to stop meddling in her business. At this point, I don't even know why anyone even bothers trying to talk to Quad. She keeps her business under lock and key and, clearly, none of the girls have access.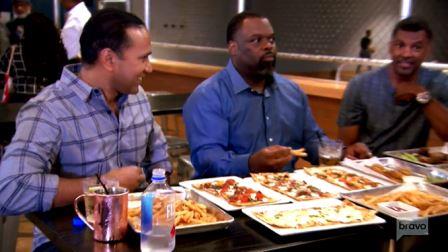 All the men get together, including newcomer Buffie's husband David Purselle who is a psychiatrist. David apologizes to Eugene for the blowup with Joseline and admits they have a diverse group of friends. Scott Metcalfe updates the group on how he's dealing with Contessa going back to school in another state. Eugene asks Aydin Huq if it's true that he was mad about Mariah being at Toya's party.
Aydin claims he wasn't angry, just disturbed. Eugene thought the models would just stand in place as the women painted them. Damon is shocked that he had no idea what took place at the paint and sip. He isn't happy a man picked up his wife, but suggests they have their own fun night with strippers. Of course, all the guys think that is a great idea.
Jackie takes Heavenly with her to a sex shop to do some research for her new book. While they are in the car, they talk about the events that took place at Toya's birthday. Heavenly admits she didn't tell Damon about the party. Jackie thinks that decision will come back to haunt her. Heavenly feels Toya put her in a situation where she was forced to disrespect her husband. While browsing, Jackie says that she wants all the women to go to Savannah together. Heavenly isn't quite convinced that it will be a good idea.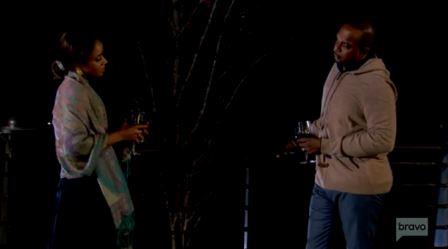 Scott and Contessa talk about her going back to school. Contessa decides to withdraw from the program so that she can return to her family. Although Scott has been overwhelmed, he had no idea she intended to withdraw.  I'm sure although he was trying to be supportive he is happy to have his wife back home with him and their children.
TELL US – DID TOYA GO TOO FAR HAVING NAKED MEN AT HER PARTY? SHOULD HEAVENLY HAVE TOLD DAMON ABOUT THE PARTY? DID CONTESSA MAKE THE RIGHT CHOICE TO WITHDRAW FROM SCHOOL IN TENNESSEE?
[Photo Credit: Bravo]