Last night's episode of Married to Medicine focused on the fallout from the beginning on the trip. Two ladies vicious feud is affecting all of the ladies. This episode goes right to the heart of the matter. Will the elephant in the room get addressed or will things continue to go downhill with the group?
Any progress made during the weekend comes to a halt after the argument on the bus. Jackie Walters reaches her breaking point.  Contessa Metcalfe ponders Jackie's advice to pursue couples counseling. Mariah Huq sets out to prove her innocence from the drug accusations. Let's get straight into the drama!
While the ladies are in Savannah, the men are enjoying their time to themselves. Scott Metcalfe stops by Cecil Whitmore's house to visit. The two hang out at the bar, better known as "The Boom Boom Room." Scott vents to Cecil that lately, he feels like the "mean" parent to his kids. He also shares his issues with Contessa. It seems like ever since she quit school in Tennessee that things have gotten worse between them. He hopes he isn't the reason she decided to quit. Cecil suggests that he goes to counseling with Contessa since it helped his relationship with Simone.
Meanwhile, Contessa is feeling resentful because she left a program that was inexpensive and only a year long. Contessa doesn't want to wait until she is much older to pursue her dreams. Jackie advises her that sometimes it's not always possible to have it all as a wife, career woman, and a mother. Contessa may just have to go through a longer program that is in the state.
The morning after the argument, Toya Bush-Harris and Mariah talk about it. Mariah is done defending her sobriety. Toya thinks Mariah should just show people the results of her drug test. Great minds must think alike because she has already asked Aydin Huq to overnight the results.
Jackie has all the women put on masks for dinner. When they arrive, Jackie asks them to remove the masks and be who they truly really are. Good luck with that! That appears to be very difficult, for some of these Married to Medicine women. Simone may be loud, but at least she always is real.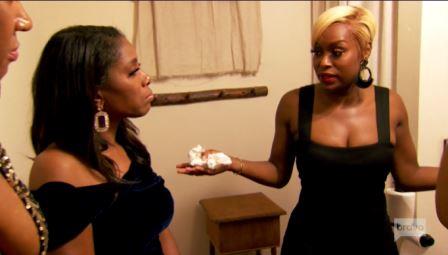 During dinner, Simone Whitmore brings up the age-long feud between Quad Webb-Lunceford and Mariah. She is not only disappointed, but also disgusted by how things have gone down between them. She then breaks down in tears and storms out. In the bathroom, Simone defends Mariah. She has known her for years and she's never seen her do any drugs. Quad, per usual, refuses to back down on any she has said.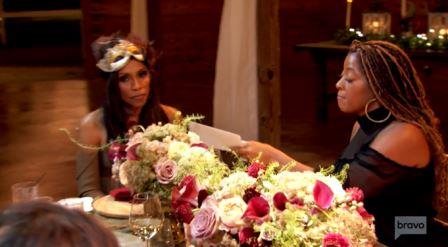 Heavenly Kimes abruptly leaves the table when Toya reminds everyone that Heavenly said she believed the accusations. Mariah feels like there is nothing she can do to make people believe her. Toya gives the test results to Jackie.  Jackie refuses to even look at them because she doesn't want to choose sides. WTH… Jackie knows she is dead wrong. If Quad is lying about something that could ruin someone's reputation, why wouldn't you want to know that? Mariah is so upset that she decides to go back to the bus. In the bathroom, Quad explains that she will never be friends with Mariah again and she wants Simone to understand that.
The next day, the ladies visit a historic church. Jackie asks everyone to give their testimony about the one thing they are grateful for. Quad talks about her divorce then starts crying. Mariah apologizes to Jackie for their disagreement and they both hug. Jackie says she is open and hopes they can work things out.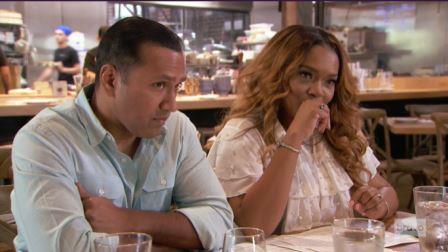 Toya and Eugene Harris go out to eat with Aydin and Mariah. They discuss Jackie's refusal to look at the drug test findings. Eugene verifies that the results are legitimate. In Eugene's opinion, Jackie didn't want to look at the results because she isn't on Mariah's "team." Mariah agrees and now thinks that Jackie is just as messy as the other women, but she just hides it better. I don't know that I could be friends with someone who would not allow me to disprove a disparaging lie against me. I guess this group will never truly heal from all of their issues. Oh well, more drama for the Married to Medicine viewers.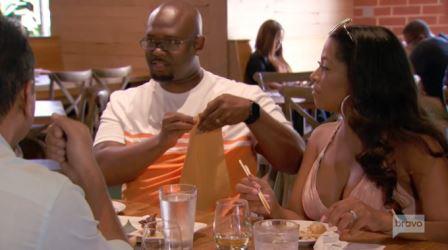 TELL US – DO YOU BELIEVE QUAD OR MARIAH ABOUT THE DRUG ACCUSATIONS? DO YOU THINK JACKIE SHOULD HAVE VIEWED MARIAH'S TEST RESULTS? WHO DO YOU THINK IS THE MOST TOXIC WOMAN AMONG THE GROUP?
[Photo Credit: Bravo]