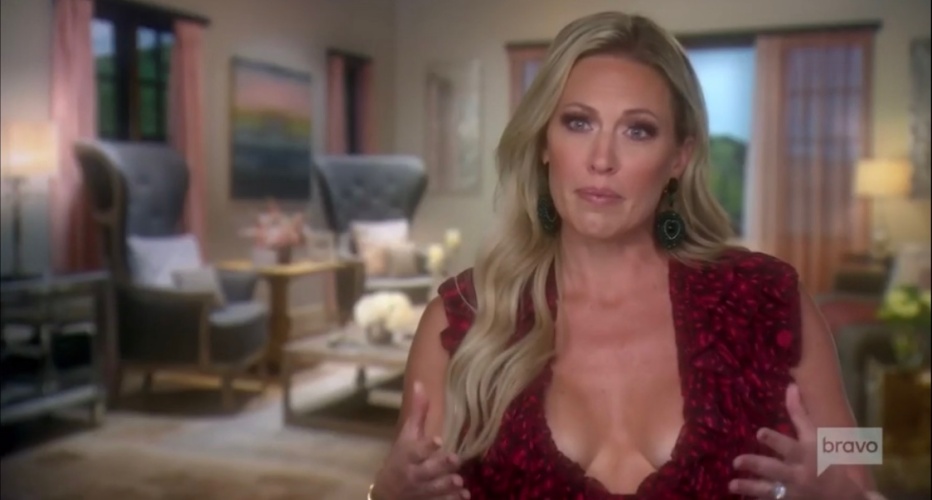 Am I the only one struggling to decide how I feel about Braunwyn Windham-Burke? She joined Real Housewives of Orange County as a friend of Kelly Dodd's. Then, she was all about the Tamra Judge makeout sessions. She's gone back and forth all season between being on the right side of history and going out of the way to kiss Tamra, Shannon Beador, and Vicki Gunvalson's asses.
Vicki has treated her like gum on the bottom of her sneaker all season long, yet Braunwyn (sweetly) decorated a suite in Miami in honor of Vicki's engagement. Vicki still isn't nice to her, by the way. Braunwyn has seen the Tres Amigas spread rumors about Kelly all season, yet she's still going back and forth between both camps. Meanwhile, both Kelly and Emily Simpson have been nothing but nice to her. The only person who seems more confused than Braunwyn is Gina Kirschenheiter. And, no, I'm not just talking about Gina's extremely questionable style. After a whole season of being treated poorly by that trio, Gina is training to get inducted into the Tres Amigas. I don't get why she is so loyal to someone who is such a snake (Tamra), but at least she's consistent with her loyalties… at this point anyway. Braunwyn, she's a whole other story.
Get ready for this one, Braunwyn credits Tamra, Shannon, and Vicki for making her a better person. And, no, she doesn't mean that in the "they make bad choices, so I've learned to do the opposite" sort of way. Color me confused. Is Braunwyn jonesing for Gina's role as the Tres Amigas intern?
During an episode of the Real Housewives of Orange County After Show, Braunwyn said, "I think I got lucky though with the women that I'm working with. Shannon and Tamra have been amazing to me. You and Tamra, and honestly, even Vicki recently, have made me such a better person." Umm, what? Is that some brown I see on Braunwyn's nose?
Braunwyn claimed, "I'm not just saying that. You've brought me outside of my shell. You've gotten me outside of my comfort zone, and like, I'm so grateful for this." How did they bring Braunwyn out of her comfort zone? By making out in public? Making her cry on a tour bus? Someone, please enlighten me.
Braunwyn proclaimed, "The person who started the show is not… I have a backbone now. And I did not have a backbone this whole season. I did not and I just f*cking cried." And you have one now? You have been flip flopping back and forth the entire season, girl.
Shannon interjected with, "From what I've seen so far, you have been a breath of fresh air…. since I've been on the show. I just feel like finally there's another person that's authentic that's putting shit out there that is real and not comfortable to watch back and could put you at odds with your kids." Clearly, she's alluding to the girl-on-girl makeout sessions and the constant threesome chatter.
Shannon concluded, "You're talking about things that are really serious, but they're real in your life. The fact that you're able to be authentic and put that out there, it's a real blessing to the show." I would not go that far, Shannon.  I like Braunwyn, but she is by no means a "blessing" to this show. Let's see how she performs during the reunion episodes.
TELL US- WHAT DO YOU THINK ABOUT BRAUNWYN AND SHANNON'S COMMENTS?
[Photo Credit: Bravo]