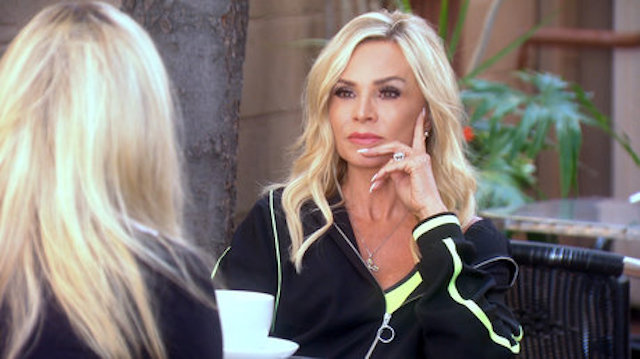 Tamra Judge may declared herself the "hottest Housewife in Housewife in Orange County" when she joined The Real Housewives of Orange County way back in Season 3, but could she be the darkest one too?
In a new interview, the reigning queen bee of RHOC (sorry, Vicki Gunvalson) looked back on how the show has changed over the last 12 years, and opened up about her impact on the direction of the franchise in its earliest days.
"Coming on my first season, I thought that I was going to be on one year and that was it," Tamra revealed during the RHOC Aftershow. "We just were documenting our life and having fun, and then it just got dark. I probably made it dark, probably."
OG fans will remember that Tamra became a full-time cast member in 2008, replacing Jo De La Rosa in the circle of OC 'Wives that then included Vicki, Jeana Keough, Lauri Waring Peterson, Tammy Knickerbocker and fellow newbie Quinn Fry. (Fun fact: in her day-to-day life, the pint-sized firebrand went by "Tammy" but changed her name since there was already another Tammy on the show.)
"I think I was the first one to ever come on and challenge anything or call anybody out," she continued. "I was a little bit more edgier in my conversations and it was just a different show. When I started it was just, really, going to lunch and having fun. I remember the first dinner I had with all the girls, I said something political and they all went '[gasp] Oh my god, she did not just say that! You do not know what you just did.' And their heads went down and I'm like, 'What the f–k? What's wrong?'"
She's not wrong. While Tamra's rookie season was relatively tame by today's standards, RHOC morphed into the show fans know and love during Season 4 when she accused nemesis Gretchen Rossi of cheating on her much-older then-fiancé Jeff Beitzel, who was dying of cancer during filming. Today, Tamra shouting, "Did you go to Bass Lake?" while pointing a finger across the table at Javier's goes down as the spark that kicked off the first real feud — and storyline — in OC history. (Ironically, Javier's is the same Orange County eatery where Heather Dubrow and Shannon Beador would get off on a "scary angry" wrong foot over a chair five years later.)
TELL US – DO YOU THINK TAMRA MADE THE SHOW DARKER WHEN SHE JOINED? WOULD RHOC BE WHAT IT IS TODAY WITHOUT HER INFLUENCE?
[Photo Credit: Bravo]