"Add some new cast members," they said. "It will be fun," they said. And then all the fun and games were disrupted by racially insensitive tweets that just resurfaced.
New Vanderpump Rules stars Brett Caprioni and Max Boyens came under fire this week when their old tweets resurfaced. I'm sure they're longing for the days when avoiding Scheana Marie was their biggest problem. Now, they are in some serious hot water. They both used the "n-word." Many times. Now, their Pump Rules costar Lala Kent is weighing in on the drama.
In an Instagram Story, Lala wrote, "The tweets that were posted by my 'cast members' are truly disgusting. Blaming bigotry on immaturity is something I will not stand for, and I refuse to be [a part] of such ignorance and hate."
She continued, "I hope our show will move forward on the path we were once on; crazy drunken banter, mending friendships or ruining them, living authentic lives." Is that her way of saying that Max and Brett shouldn't be on the show after this?
Lala concluded, "What has recently been displayed on Twitter is far from what we represent, on our show."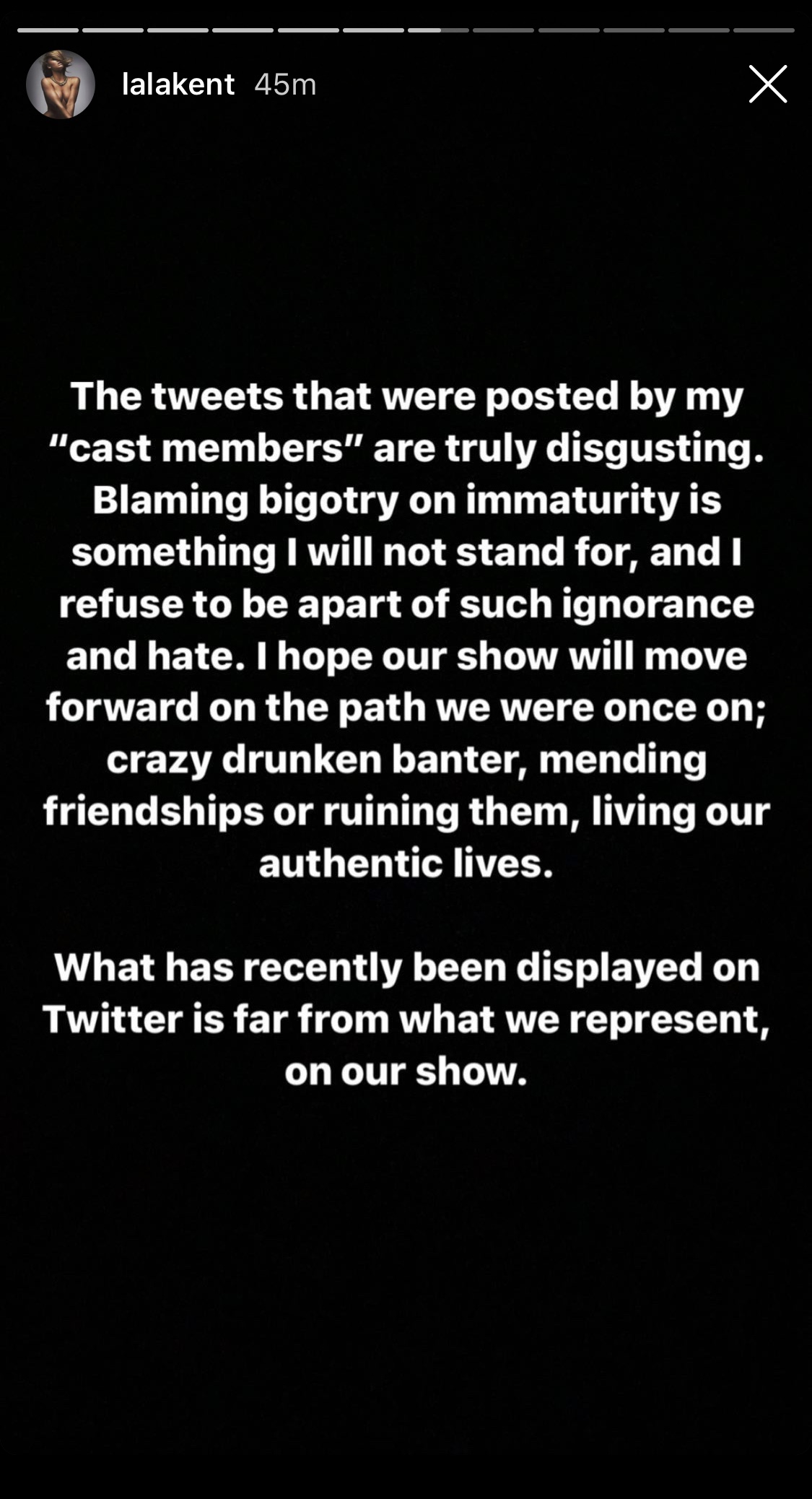 What did the men boys say that was so offensive? In 2012, Max previously tweeted, "It upsets me that the word n— is not allowed to be said unless you are black because quite honestly it's my favorite word." Oh, no, Max. Just no.
That same year, Max also posted, "Something about Asians that just makes me want to punch them in the suck hole." That is not at all acceptable.
In addition to referring to his friends as "my n*gga" many times from 2011 to 2013, Brett wrote, "wasup wit black people wearing so much Aeropostale i don't get it lol."
Max and Brett both issued apologies once their posts resurfaced. The queen of the show, Lisa Vanderpump, also spoke out after the incidents. Unlike Lala, Lisa believes that they have learned from this experience.
TELL US- WHAT DO YOU THINK ABOUT LALA'S COMMENTS ON THE TWEETS? SHOULD BRETT AND MAX STILL BE ON THE SHOW AFTER THIS?
[Photo Credit: Bravo]