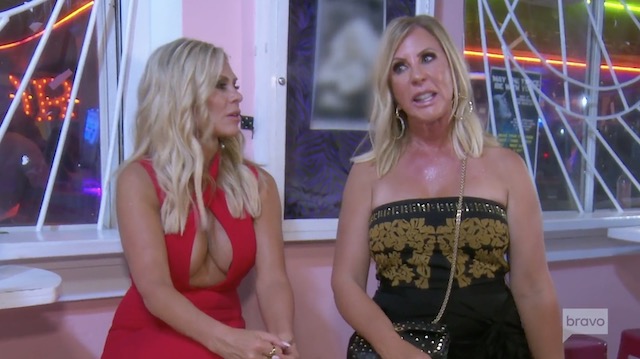 By now, we've all heard that Vicki Gunvalson and Tamra Judge left Real Housewives of Orange County. The reality of the situation is that they were both offered "Friend of the Housewives" contracts instead of full-time contracts, so they walked away.
After a humiliating demotion, and a just as embarrassing appearance during the Season 14 reunion, I don't blame Vicki for not taking that deal again. It was not a good look for her. At all. And, well, no one is at-all-surprised that Tamra's pride wouldn't allow her to accept that part-time contract. Hopefully, there are enough patrons at Cut Fitness… But at least, we don't have to hear awful things about her son anymore… or on the show, at least.
Vicki announced her exit from the show on January 24. She told her followers, "I will always be the OG of the OC, but it's time to say goodbye to The Real Housewives of Orange County. It's been an incredible ride for 14 years and I want thank all of you for your support, for your love and for 'whooping it up' with me along the way."
And of course, she used the opportunity to promote herself. Vicki wrote, "I've been working on new projects that will be exciting, empowering and inspirational. My podcast with Westwood One will be launching soon and I will have much more to say about this on 'Whoop it up with Vicki'. I hope you will join me with my new journey so please stay tuned." Let's hope she spills some behind-the-scenes tea in this podcast. I don't want to hear any insurance-related advice.
Tamra kept her Instagram goodbye short and sweet: "It's been a wild 12 years . But it's time for me to move on. Im sad to go but I'm very excited about my future . Love you guys."
And, it turns out, she kept her Instagram post brief because she had an exclusive interview with People, of course. She admitted to the magazine, "I was offered a chance to come back to the show in a limited role, but would prefer to walk away on my own terms."
Interestingly enough, a source told People, "[Tamra] was asked back for three episodes, so producers could close out her storyline." Damn. Only three episodes? That would be a very limited role.
I guess Tamra's hint that she would be back for Season 15, wasn't actually true.
Still, Tamra insists, "Eddie [Judge] and the kids are very excited." I wonder how her estranged daughter Sidney Barney feels. Maybe they'll finally rekindle their relationship now that the cameras are out of Tamra's life.
TELL US- WHAT DO YOU THINK ABOUT VICKI AND TAMRA LEAVING AFTER THEY WERE OFFERED FRIEND OF THE HOUSEWIVES ROLES? WILL YOU MISS THEM NEXT SEASON?
[Photo Credit: Bravo]