Last night's episode of 90 Day Fiance: Happily Ever After  was the battle of the weddings. Two of the season's most controversial couples got married. Although it was for the second time for one couple, the antics at the reception were no less dramatic. An explosive warning is given by one guests, while one of the brides has trouble with one of her vows.
Elizabeth Potthast Castravet's brother threatens her wedding with Andrei Castravet. Kalani Faagata and Asuelu Pulaa's families go head to head. Angela Deem receives news. Paul Staehle and Karine Staehle say their goodbyes. Larissa Dos Santos Lima 's surgery does not go as expected. Colt Johnson turns over a new leaf. Let's get straight into the 90 Day Fiance: Hapilly Ever After recap!
Elizabeth (Tampa, FL) & Andrei (Moldova)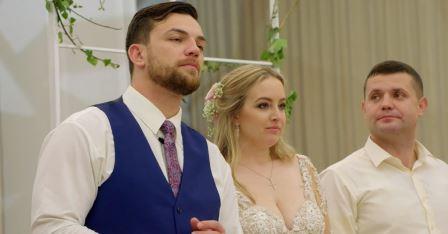 It's finally the day we have all been waiting for, Andrei and Elizabeth's traditional Moldovan wedding. Despite all of the new information Elizabeth has learned recently, she is still willing to marry her husband for a second time. During the ceremony, Elizabeth and her family have very little understanding of what is actually happening beyond what they have been told. The ceremony is beautiful and Andrei and Elizabeth look like a Moldovan Barbie and Ken.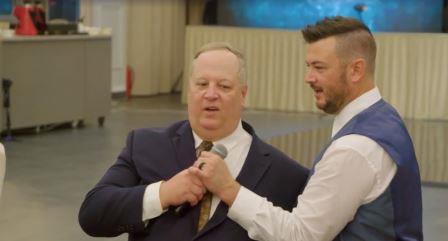 I'm finally beginning to understand where all of the money went for this wedding.  Andrei has gone above and beyond to ensure that this reception is memorable. Elizabeth's family is surprised by how well executed and luxurious everything has been. But their beautiful day is threatened when Charlie gets drunk and starts to reveal his true feelings. He yells out "Royalty in Moldova and not shit in America."
Technically this is true, but did he really have to announce it? As if that wasn't embarrassing enough, when Elizabeth's father makes a toast, Charlie rips the mic away. He warns Andrei not to ask his dad for anything else in front of everyone. Whoa, tell us how you really feel! In a post interview, Charlie confesses that he is confused why his father is doing so much for Andrei when he hasn't for his other kids.
I knew Elizabeth had a large family, but I had no idea she had 6 other siblings. I can understand Charlie's suspicions, but he should have waited until AFTER the wedding to voice his concerns. Andrei is so embarrassed that he takes Charlie outside to confront him. I can't wait until next week to see how this turns out! Right now, Charlie is drunk and jealous.  There is nothing good that will come from this conversation.
Kalani (Orange County, CA) and Asuelu (Samoa)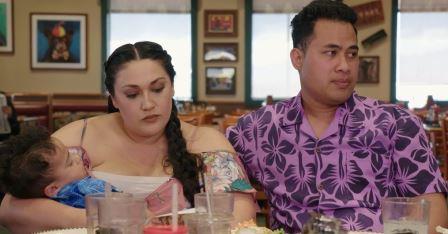 In a desperate attempt to mend fences, Asuelu invites his family to Utah. When Kalani doesn't show up to greet them at the airport his mother feels disrespected. Sigh! Surprisingly, Asuelu manages to get the balls to stand up to his mother. He makes it clear how he expects her to conduct herself during their visit. Good luck! Mama Asuelu doesn't seem like the type to be told what to do. But hopefully she can dial back her obsession with money long enough to make things right with her daughter-in-law.
Asuelu has arranged a lunch where both families can talk through their differences. He also asks his sister, Tammy to apologize to Kalani for their fight, but she refuses. When everyone arrives at the restaurant, you can cut the tension with a knife. Once again, Asuelu's family expresses their desire for him to support his family in Samoa. Luckily, Kalani's father is there to play the role of mediator, since he can understand both sides.
After a heated debate, Asuelu's mom finally apologizes and understands that her son can only give what he can afford. Unfortunately, Tammy still refuses to budge with Kalani. Although everyone isn't in a great place when they leave, this is at least a starting point. I must admit, I was shocked when Mama Asuelu changed her tune. That woman was beginning to sound like a broken record. I thought she would never stop asking for money.
Colt (Las Vegas, Nevada) &

his mom Debbie

ex-wife Larissa (Brazil)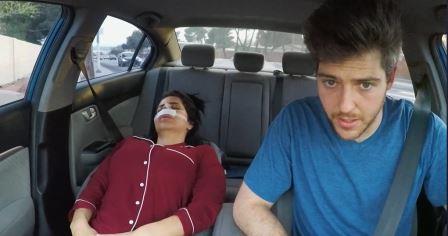 It's the day of Larissa's surgery and she is equally as excited, as nervous. Meanwhile, Eric Nichols is freaking out in the waiting room wondering how his girlfriend is faring in the operating room. Things take a scary turn when the nurse has trouble waking Larissa up post- surgery. When Larissa is finally released, she is completely out of it. Eric seems overwhelmed and like he is on the verge of passing out himself. The guy is a nervous wreck seeing Larissa in so much pain and having to take care of her.
For some reason, Colt decided to try to entertain the viewers by pretending to get into shape. SMH… He literally does a few lunges and is already puking in a garbage can. Things get even weirder when one of his friends shows up and teaches him how to count to 10 to calm himself.  I'd hate to be his friend sitting next to him while he was exhaling with that vomit breath.
The the conversation shifts to how lonely Colt is now that neither Jess Caroline nor Vanessa Guerra is around anymore. Insert side eye here. This scene is so fake, it's ridiculous. As much as I can appreciate Colt making a fool of himself, nothing he is saying sounds genuine. I don't believe Vanessa is just suddenly out of the picture. Nice try, Colt!
Angela (Hazlehurst, Georgia) and Michael (Nigeria)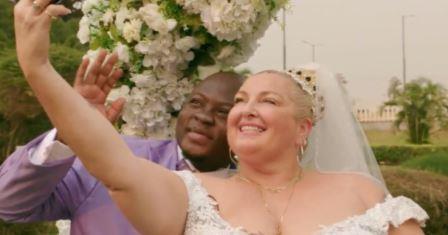 As the ceremony draws closer, Angela is on the verge of having a panic attack. If anyone should be nervous it's Michael. He is the one who is signing up to miserable for the rest of his life. The wedding is going off without a hitch until they reach the part of the vows stating she will "love and obey." Michael's friends and family stare in horror as Angela stumbles over the words.
I have to admit, the reception looked fun and like everyone was having a good time. I am surprised Angela didn't go full psycho on the cake maker & Michael when she saw the topper was of a black woman and man. I guess she is able to act like a civilized human being, for at least a day.
Angela takes her best friend, Jojo to dinner to thank her for coming to Nigeria for the wedding. Michael is taken aback when Jojo inquires if he plans to stay married after he receives his green card. She then adds all of the things she feels like he needs to work on to make Angela happy. Obviously this woman has never witnessed her friend's behavior towards Michael, if she is only questioning him.
Personally, I wish someone in Angela's life would address her abusive behavior.  Later, Angela receives a terrifying call from her daughter Skylar. Her mother was rushed to hospital and now is in intensive care after falling ill. Unable to get a flight out of Nigeria right away, she is feeling very guilty she isn't there.
Paul (Louisville, Kentucky) & Karine (Brazil)
Karine is all smiles now that she is on her way back to Brazil. Paul on the other hand is completely stressed. Paul's mother manages to make it to the airport just in time to say goodbye before they leave.
She is worried that she may not see them for quite some time, now that they are returning to Brazil. If Karine has anything to do with it, I'm sure they will be staying for an extended amount of time. After all, Paul never kept his word to find a job in the U.S. At least, his wife will be happy for a little while.
TELL US: WHAT DID YOU THINK OF CHARLIE'S OUTBURST DURING THE WEDDING? WHAT DID YOU THINK OF THE WEDDINGS? WHAT DO YOU THINK OF THE WAY ASUELU HANDLED THE SITUATION WITH HIS WIFE AND FAMILY?
[Photo Credit: TLC]