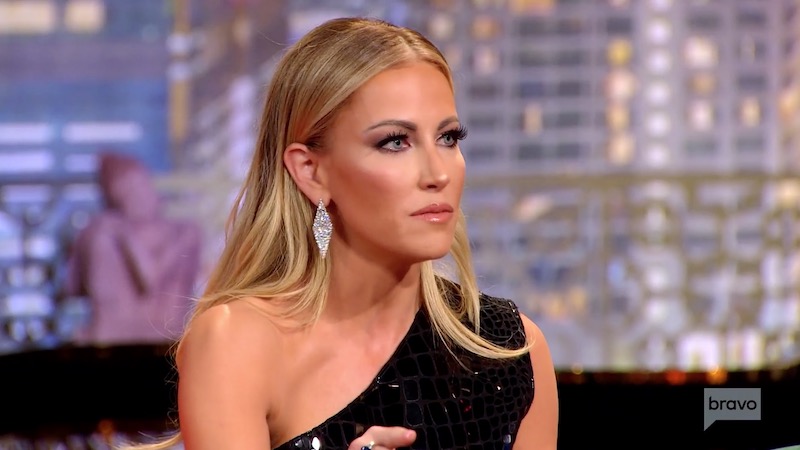 Bravo didn't originally intend for us to have a Tamra Judge-free season of Real Housewives of Orange County. Andy Cohen confirmed that Tamra was offered a three-episode role to wrap up her story.
That's far from the full-time role Tamra had for years. Truthfully, that's actually very far off from a part-time role as a Friend of the Housewives. That's basically a cameo appearance.
Real Housewives of Dallas star Stephanie Hollman and her podcast co-host Trey Stewart discussed the current Real Housewives of Orange County season. Stephanie asked Trey, "Did you miss Tamra and Vicki [Gunvalson]?"
Trey echoed my exact sentiments when he said, "No, only because of their recent online antics. But, I do wish that Tamra would have taken Bravo's offer to do the first three episodes and close out her storyline as a character."
That's when Stephanie weighed in, based on her own Real Housewife experience. Stephanie said, "See, if I were her, I don't think I would have done it." By "it," she's referring to actually taking a smaller role on the show.
Stephanie said, "I have not quit the show or been fired or whatever happens to all the girls that happens to, but I'm sure that it's like a really big blow to the ego. I mean, probably, especially for Vicki, because she's like the [one] who started it."
She went on to explain, "I think with anything else, if you get fired, maybe you don't take it so personally."
Stephanie added, "For Housewives, it's very different because it's so personal. You're let go because of who you are as a person. So, I get that's really, really difficult."
"I can see why she didn't do it because I think it would be really, really hard to come in and be a 'Friend of' or be in a lesser role, when you've [been full-time]. Even for me, I've only done it for five years. I could never come back and do a lesser role," Stephanie remarked.
Stephanie said, "It would feel like a little bit of a slap in the face. I've always been like 'You want all of me or none of me' and I think she's probably the same." Except that Tamra is desperate for money and relevancy.
Stephanie told Trey, "I get what you're saying [about wanting Tamra to finish out her storyline] and the audience wishes that would have happened." Stephanie concluded, "I get why she wouldn't do it, it's her value she's putting on herself: 'I'm worth full-time and that's all I'm gonna take.'"
I get where Stephanie is coming from, but let's not forget that Luann de Lesseps and Porsha Williams each got knocked down to part-time for one season. Then, they bounced back, they've been full-time ever since, and they've both been thriving. Then again, there's the Vicki of it all, which was a cautionary (and desperate) tale.
TELL US- DO YOU THINK TAMRA SHOULD HAVE FINISHED OUT HER ROLE BY TAKING THE THREE-EPISODE OFFER? WHAT DO YOU THINK ABOUT STEPHANIE'S COMMENTS? WOULD YOU TAKE A PART-TIME ROLE IF YOU PREVIOUSLY HAD A FULL-TIME SPOT ON THE SERIES?
[Photo Credit: Bravo]