Welcome back to Episode 2 of The Real Housewives of Salt Lake City! I have to be honest, I don't think I've ever been this excited for a second episode of Housewives in the history of the franchise. And of course, I say that realizing I may be biased being from Utah. But judging from the overwhelmingly positive response I've seen online from the premiere, it seems most of my fellow Bravoholics feel the same!
Now, before jumping into this week's avalanche of drama on the ski slopes, I have to back up. Because in all my excitement about the premiere, I completely forgot to judge the first set of RHOSLC taglines! So let's dive into the 'Wives icy one-liners, shall we? Overall, I think it's a strong bunch that makes a memorable introduction to the Utah ladies. Jen Shah is clearly happy to position herself as the resident queen bee of the group. Which, I feel the need to point out isn't just a Beyoncé comparison; for those in the know, it's a Utah reference. (Because of their community-minded work ethic, early Mormon pioneers christened Utah "the Beehive State." There are even beehives worked into the architecture of many of the oldest buildings in downtown SLC.)
Lisa Barlow's nod to her tequila line is sassy and a smart branding move, while I think Whitney Rose was trying to pull a Leah McSweeney by dropping her last name into her double entendre. But can someone tell me…is "prick" technically a pejorative noun? (Also, for anyone out there looking for examples of Utah's peculiar and hyper-specific accent, look no further than the way Whitney pronounces…literally everything). Meredith Marks' delivery of "get well soon" is a bit coldly dismissive, which fits with the sentiment.
And I love that Heather Gay proudly displays her pioneer roots while embracing the fact that she's consciously blazing her own path. But of all the 'Wives, I'm surprised to say my favorite tagline is Mary Cosby with "I love God, but I will read you like a scripture." It's surprising because so far the Pentecostal minister is the 'Wife I'm relating to the least. But even though she's not Mormon, Mary's tagline encompasses everything unique about the Salt Lake franchise distilled into a shady quip. Because reading is what? FUNDAMENTAL. And the chapel's library is open.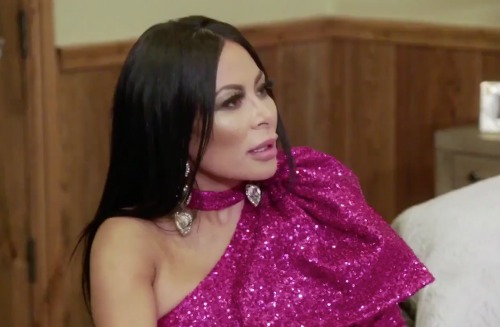 The episode kicks off right in the thick of the fight between Jen and Mary at Meredith's birthday party. While Mary bops along to the music in her giant green loofa of an outfit, Jen is letting out all of her rage about her frenemy disrespecting her aunt. It's a valid point — I'm entirely Team Jen on this one. And trust me, an angry Polynesian woman defending her family is the last person you want to cross in Utah. Furthermore, I don't understand Mary's incessant need to continually double down on her rudeness in this argument. We get it. You had your odor glands removed. It was traumatic. But you're also being incredibly inconsiderate and flippant about Jen's aunt quite literally losing her legs. Eventually, Mary and Jen decide to hug it out, but you'd better believe Jen's not actually over it.
And just like that, one feud gets squashed just in time for another to rear its head. This time the drama is between Whitney and Lisa. Apparently, there was a lot we didn't see at Whitney's vow renewal last week. As it turns out, Lisa gifted the bride with a fully stocked bar of Vida Tequila and bartenders for the night. At Jen's party, Whitney pulls Lisa aside to let her know that the bartenders were apparently a bit loose with the product. Meaning they seemed a bit drunk themselves. She also mentions the party ran through enough tequila for 500 people by 6 p.m. Her house ended up trashed with her husband's top shelf Irish whisky in shatters. At first Lisa tries to wave away the problem, but as Whitney continues pressing the issue, she isn't too pleased with her pal kicking a gift horse in the proverbial mouth.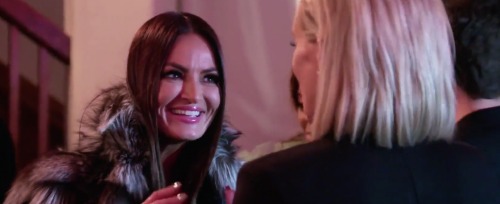 In a way, she actually comes across as overly upset at her cast mate, but here's what I think is the real reason. Like Skinnygirl before her, Lisa is savvily using Housewives as a major platform for her business. She's also image-conscious and overly protective of how she'll be portrayed on the show. So what she's really upset about is Whitney bringing the issue involving Vida Tequila up on camera. And for those who don't know, Utah has some of the most strictly-regulated liquor laws in the country. So any major misstep involving the brand could result in the Barlows getting their liquor license yanked. And Lisa is not about to have her reputation or business tarnished by, as she puts it, "somebody's wedding in their basement with a stripper pole."
A few days later, Heather meets up with Whitney to go shopping for the upcoming ski trip she's organized for the group at Snowbird. But really, it's just an excuse for the cousins to air their grievances about Lisa. Heather is still upset over being snubbed by Lisa at Jen's party. The hurt feelings are compounded with Lisa not remembering her from BYU. And, you know, claiming she was an Honor Code-breaking "good time girl." But Whitney has bigger tea to spill.
Apparently, after the party, she got a call from Lisa, who allegedly accused Whitney and her husband of being swingers. Further, she threatened to tell the world the rumors she's heard if Whitney kept badmouthing her businesses. Of course, Utah and the Mormon Church have a long, complicated history with polygamy. (Like most generational Mormon families, I have polygamous pioneers all over my family tree.) But Whitney claims there's a big swinger population in Salt Lake City. So I want to know: is swinging the new polygamy?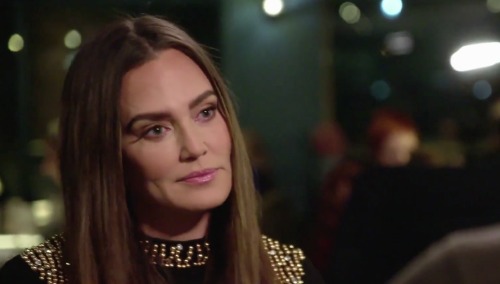 Meanwhile, Meredith and her husband Seth Marks go out for dinner at Handle, an upscale eatery in Park City. And before the waitress even brings the appetizer, Seth drops a jaw-dropping question: how many people know the Marks are separated? Umm, excuse me?? This is a major bombshell. Marital discord was hinted at between Meredith and Seth, but I never expected them to already be separated! They certainly made no mention of this fact on their cute family hike with Brooks Marks last week.
Seth seems to put the issues in the relationship on Meredith's lack of "transparency." He even accuses her of hiding things because she won't let him read her text messages. But she chalks it up to years of slowly unraveling as they both focused on their businesses. At least this explains why he's living in Chicago and missed her birthday last week. But the couple also seems to be trying to make it work. They even film joint confessionals about it together. This will obviously be a hot topic come reunion time, but at this point it doesn't seem like any of the other 'Wives know about Meredith's crumbling marriage.
The ladies' ski day arrives and the entire group converges on Snowbird in their best ski bunny looks. Under all the faux fur, tensions are still simmering between Jen and Mary. And also between Heather, Whitney and Lisa. But by splitting up into two groups, the women make it through the day on the slopes. (Jen and Lisa hit the bunny hill while Whitney, Heather and Meredith head for the black diamonds. Mary is preoccupied making snow angels.) On the hill, Whitney and Heather even turn to Meredith for advice on how to work through their issues with her bestie. The jewelry designer goes the diplomatic route. She empathizes with both women, but insists anything Lisa's done to hurt either of them is unintentional. They should just talk it out and the misunderstandings will be fixed. Simple, right?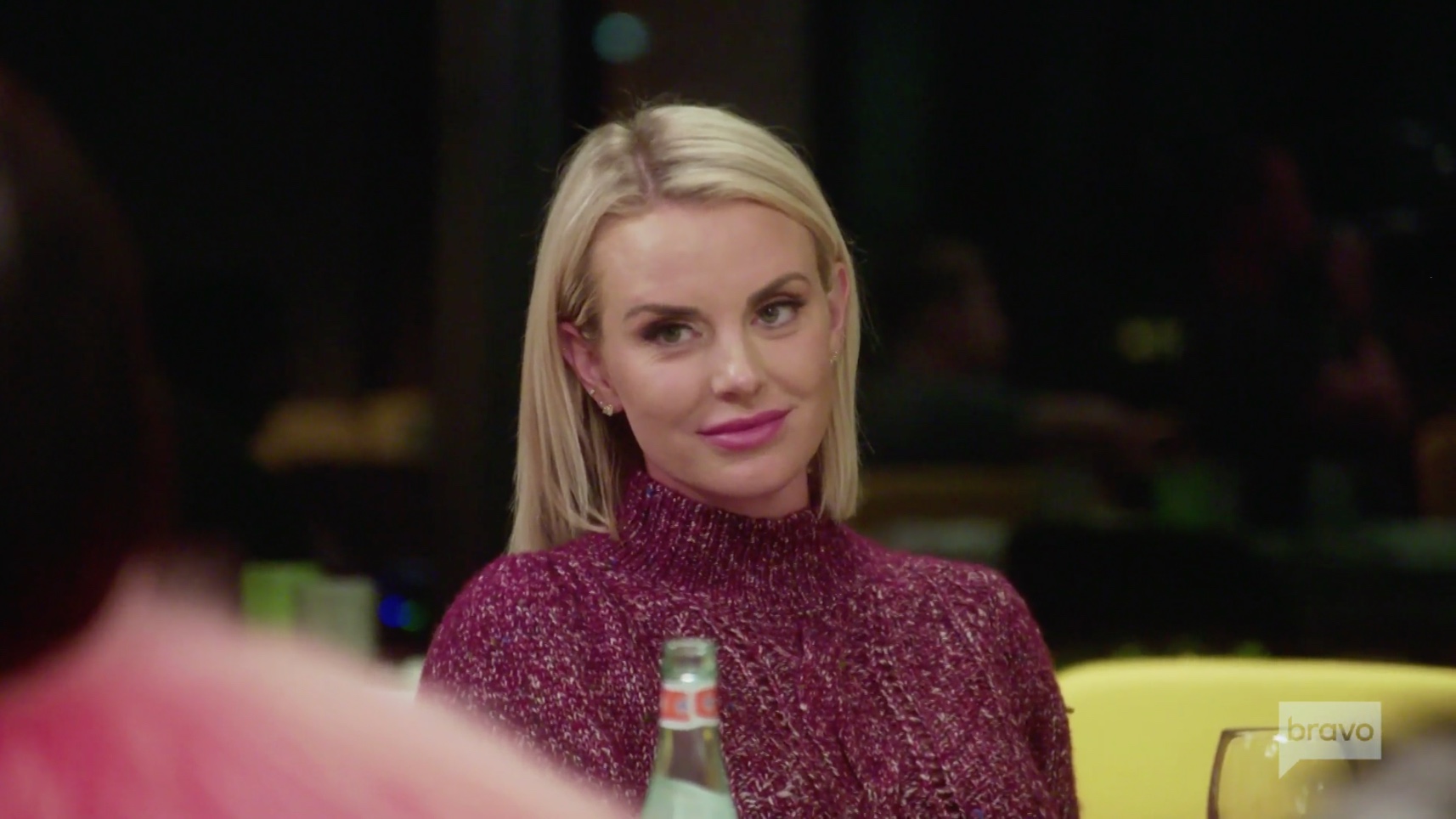 After a long day of skiing, the ladies get glammed up and head to dinner. Whitney opens up about her dad's struggle with addiction, and shares that Mary's invited them to come to her church. This turns into a conversation about Mormons' tendency to be judgmental, which I can confirm is one thousand percent accurate. Lisa argues that the rampant judgement is the cultural side of the Church, not the doctrine. That's technically true, but judgement and moral superiority are two hallmarks of growing up within Mormonism.
But it gives Whitney the perfect opening she's been looking for to confront Lisa about her superiority. Note, she's careful not to use the word "swingers" anywhere in the conversation. But Lisa expertly bats the accusation away with the assertion that she doesn't care enough about Whitney to judge her. She also puts the onus of Whitney's issues back on her, and denies making any sort of threat. Just because Whitney feels a certain way doesn't mean that was Lisa's intent. (As she quipped earlier in the episode, "If I give you a Chanel necklace and you choke on it, that's your problem, not mine.")
Heather seizes the opportunity to add her issues to the argument. And now the tequila queen is being double-teamed by the cousins. Heather maintains there's been no love lost between the old BYU classmates. However, Lisa fires back that she feels nothing but animosity coming from her fellow 'Wife. She reiterates that she can't control how the two blondes perceive her, and furthermore, she's fine with however they feel. Because in the long run, they don't really matter all that much to her.
Even in a two-on-one argument at a dinner table full of women, Lisa is displaying some top-tier Housewives gameplay here. She's an expert at putting people's feelings back on them and keeping her own hands clean, all while firing off a steady barrage of icy, instantly-quotable one-liners. Quite frankly, it's a masterclass to watch coming from a rookie Housewife on a brand-new franchise. Eventually, Lisa rather forcefully apologizes and insists on starting over with a clean slate with both 'Wives. But is there ever really such a thing as a clean slate on Bravo? In the tequila queen's own words, "come at me, who's next?"
TELL US – ARE YOU TEAM LISA OR TEAM WHITNEY AND HEATHER? WERE YOU SHOCKED TO LEARN THAT MEREDITH AND SETH ARE SEPARATED? WHAT'S YOUR FAVORITE TAGLINE FROM REAL HOUSEWIVES OF Salt Lake City SEASON 1?
[Photo Credit: Bravo]