What do you get when you combine snowmobiling, hot tubbing and no Mary Cosby? The final episode of 2020 of The Real Housewives of Salt Lake City! But seriously, Mary factored into about 30 seconds of this entire week. And it was just a short pick-up scene at the top of the hour. Which basically just involved her showing off her jealousy over her son's girlfriend…which is yet another slightly cringe-y and deeply uncomfortable dynamic in the Cosby family tree. But alas…
For everyone wondering about Mary's glaring absence from the last two episodes, you'll have to get used to it. Here's the tea: Back when the show's original production company was in charge of filming, Mary was only ever expected to be a Friend of the Housewives. However, once Bravo fired that production company and Shed Media took over, Mary was given a snowflake and a full-time role. (Most likely because her feud with Jen Shah became one of the primary storylines of the first half of the season.) However, Mary didn't film much during the back half of the season as a result. Therefore, you won't see her at many group events or parties from here on out. So expect lots more random solo Mary scenes like the one we got tonight.
For the other 'Wives, it's all business. Heather Gay is busy overseeing renovations to take Beauty Lab + Laser to the next level. And Meredith Marks is rocking her signature pink brand color from inside her Park City storefront. (But seriously, could Meredith Marks pink eventually become the new Skinnygirl red in the Bravoverse?) And lo and behold, who should arrive but Seth Marks. Apparently the estranged Househusband could make it to town this week, but not for his son's debut fashion show the week of Sundance…And no, Brooks Marks still isn't over it.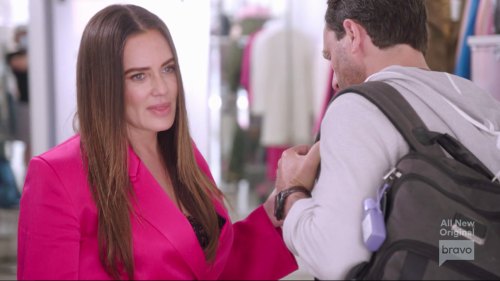 However, Seth has something much more important on his mind than a runway full of identical sweatsuits. He wants to reconcile with Meredith. That's right, he's done being separated, and arrives at his wife's boutique with a sweet speech prepared about putting in the work to save their marriage and just how much he can't live without her. Since the fashion show slight, Meredith's had a change of heart too. She wholeheartedly accepts Seth's mea culpa, and promises she's in it for the long haul too.
In her own words, Meredith is all in. And I'm…crying? Considering Meredith's publicist blasted out the announcement that the couple's officially back together all over the press just hours before this episode aired, maybe I'm being manipulated but I just love seeing true love win, OK? Mer + Seth 4Ever!
Meanwhile, Lisa Barlow is encountering some familial discord of her own. Out to dinner at downtown SLC hotspot HSL, John Barlow broaches the ever-sensitive topic of finding work-life balance. He argues that he and Lisa are both guilty of putting work ahead of their family life, and worries about the impact it'll have on Jack and Henry. However, Lisa never wants to say no to a good business opportunity, and she's not about to slow down any time soon. And still, she tearfully admits in her confessional that she does grapple with mom guilt all the time. And never goes to bed without thinking about her boys. But in the meantime, she'll be singing Britney Spears in her head as she continues growing her business empire.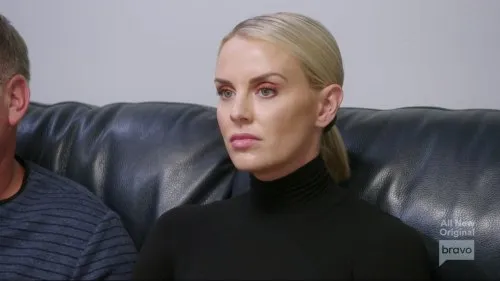 Speaking of family drama, Whitney Rose heads to her dad's sober living facility for an urgent come to Jesus moment. Apparently, news that he's getting a roommate has set Steve Lesh on edge, and now he wants to leave the program. He also wants help getting back on his feet, in terms of revitalizing the career that was ravaged by his addiction. However, Whitney and her husband dole out a harsh dose of tough love. She confesses that the first time he went to rehab, her dad expected her to foot the bill. And despite feeling manipulated, she paid the $30,000 bill. But that's not how it'll be going forward. There's no doubt this is a heavy storyline. But hopefully it's helping people out there watching, especially in Utah.
Finally, we get to the first group event in quite a while, with Jen organizing a day of snowmobiling for the other ladies and their husbands (minus Mary, of course.) As the lone divorcee of the group, Heather's the day's sole single rider. Despite feeling singled out, Heather embraces it, racing circles around her friends while doing her best Michelle Pfeiffer impression from Grease 2. And I have to say, she did noticeably better on the snowmobile than most of the couples! Cool rider, indeed, Heath…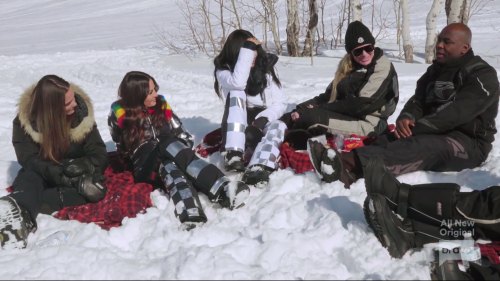 Dismounting, the gang sits down to enjoy lunch in a snow-covered field, and it's all very Utah. The snowy vistas are truly breathtaking, and it's more proof of the unique value SLC adds to the Housewives franchise, even just in terms of setting. Since Sharrieff Shah is finally in town, the group asks for the story about when he and Jen started dating. It apparently involved Jen rolling up to their first date with about 40 extended family members in tow. And Coach Shah paid for dinner for every single one of them! If that's not the most Polynesian thing I've ever heard, I truly don't know what is.
Jen seems noticeably happier and more docile with her husband in the mix, but Whitney's eyes are on Meredith and Seth. As the day winds to a close, she pulls Heather aside to spill the tea Jen shared last week. Has Heather heard Meredith's seeing someone else too? It turns out, Jen showed Heather the same pictures of Meredith with another man. However, the latter isn't touching this subject with a 10-foot pole. I mean, she didn't even say anything to her own cousin when she found out! As far as Heather's concerned, the Marks' relationship is their business and Jen's the one being a bad friend by spreading gossip.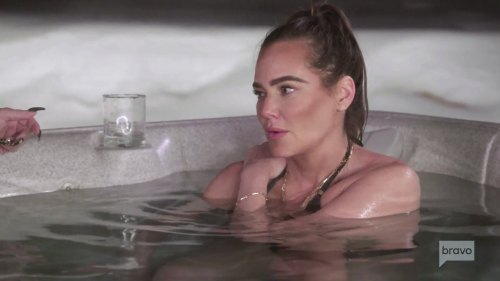 Later, Jen and Coach Shah invite Lisa, John, Meredith and Seth over to the Shah ski chalet for a couple's night. After debating the surprising number of similarities between Mormonism and Islam (and there are many!), the 'Wives hit the hot tub while the men bond over shuffleboard. Inside, the guys find common ground in being married to such alpha Housewives. But honestly, I'm a little distracted by the sudden realization that I might be a little attracted to John Barlow? I don't know, maybe it's the backwards hat.
Outside, the ladies get frank about their relationships too. And ever nosy, Jen pries into Meredith and Seth's separation. At this point, the Markses have fully reconciled, but Meredith's choosing to keep that information private. At least until she's 100 percent sure of how things will go. In fact, her BFF Lisa might not even know the happy news yet. However, Jen once again sees Meredith's boundaries as some sort of facade. In reality she might just be projecting her own unhappiness and insecurity onto Meredith, but maybe that's just me. And while the episode ends on a happy note, something tells me the gossip Jen's been spreading is already starting to snowball out of control.
Side note: I was disappointed to see one moment from this hot tub scene cut out after being featured in the trailer. In the teaser, Lisa angrily addresses a camera, demanding, "Want me to talk or not?" And honestly, I just need to know what that confrontation was about. Hopefully it'll be featured in a Secrets Revealed episode after the reunion? Thankfully, next week the drama ramps up again at Coach Shah's birthday party! So prepare for glasses to be thrown!
TELL US – DID YOU MISS SEEING MARY THIS WEEK ON REAL HOUSEWIVES OF SALT LAKE CITY? ARE YOU HAPPY MEREDITH AND SETH RECONCILED? WILL THE RUMORS JEN'S BEEN SPREADING COME BACK TO HAUNT HER AS THIS REAL HOUSEWIVES OF SALT LAKE CITY SEASON PROGRESSES?
[Photo Credit: Bravo]