Last night's episode of 90 Day Fiance was interesting, to say the least. It had everything from mystery smells, protective family members, fights and new beginnings. This show is like a pot of gumbo, you truly get a little of everything mixed into it. Where else can you laugh, shake your head in judgment and feel sympathy all at the same time?
Natalie Mordovtseva doesn't want to unpack into Mike Youngquist's smelly closet. Yara learns more about Jovi. Amira's dad confronts Andrew. Zied arrives in the US to questions from Rebecca Parrott 's family.  Hazel Cagalitan meets Tarik Myers 's daughter. Stephanie and Ryan get into a heated fight. Let's get straight to the 90 Day Fiance recap!
Mike, 35 (Sequim, WA), and Natalie, 35 (Ukraine)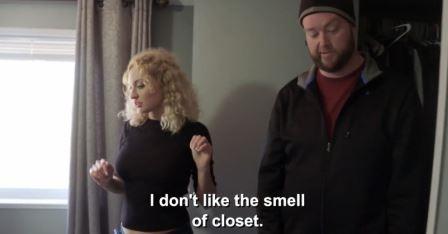 Who knew that all it would take is a visit to a waterfall to convince Natalie that Mike cares for her. One would have to care or just be desperate to deal with her nagging on an everyday basis.  But when Mike refuses to buy her a new dresser, so that she doesn't have to bear the smell of his closet, he may be on thin ice again. Meanwhile, I am sitting here laughing trying to figure out what the smell could possibly be. It has to be bad, if she refused to unpack for the last 2 weeks. She only describes it as "not a good smell. " Is he hanging up dirty clothes or do his shoes smell? Whatever type of BO it is, it has to be bad. Natalie had true fear in her eyes, when he attempted to show her that closet.
Natalie is getting accustomed to being a stay at home wife girlfriend in the countryside. One of the benefits of her having extra time is she has been able to clean his home to her satisfaction. When her mother calls to check in, she is reminded that she isn't any closer to becoming a citizen or Mike's wife. I don't think she realizes her constant complaints may be fueling her current circumstances. Now, I am not saying I don't understand some of her complaints, because truly I do. But, I am not the one who is trying to marry someone that I clearly dislike. If she thinks she is hiding it, she needs to try another tactic.
Jovi, 29 (New Orleans, LA), and Yara, 25 (Ukraine)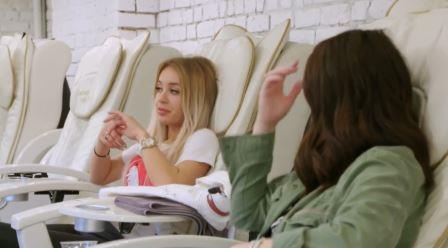 Jovi and Yara are still trying to recover from last night's dinner that left her in tears. Now, faced with being alone while he returns to work for 4 weeks, Yara feels helpless once again. When she ventures out to experience the joys of living in New Orleans, someone throws up on her shoes.
One of Jovi's female friends takes pity on her and invites her out for a day at the nail spa. I don't know if this is actually his friend, an enemy or a secret admirer of his because she is spilling all types of tea about his past exploits. Trust me, Yara is not going to forget this.  Even she is questioning why his friend would share all of these negative things about him. It also makes her question if she truly knows her fiancé.
Andrew, 32 (Roseville, CA), and Amira, 28 (France)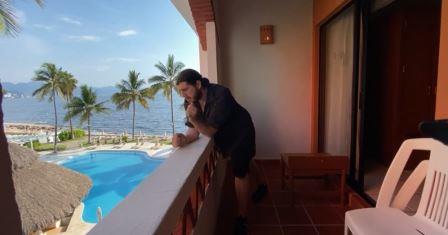 After forcing Amira to travel to Mexico to prove her love during a pandemic, Andrew is now being faced with the consequences of his misguided plans. On a video call with his family, they encourage him to just let things play out. Clearly, they don't realize the seriousness of being held at a detention center.
After calling around for several hours days, Andrew is only coming up with dead ends, language barriers and fake tears. He video calls with Amira's father whose anger and frustration about his daughter's situation is clear. Given this is the way they met for the first time, this definitely isn't going to bode well for their future interactions.  Honestly, I wish Amira had followed her first mind and didn't listen to her fiancé. She assumed all of the risk for a plan that wasn't guaranteed after pressure from him.
Rebecca, 49 (Woodstock, GA), and Zied, 27 (Tunisia)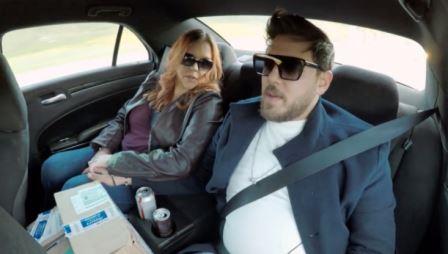 Rebecca is extremely nervous waiting for Zied to arrive on American soil. There is only one glitch in the situation that she didn't expect; her daughter, Tiffany and her boyfriend. They decide to join her on the hour-long drive to the airport so they can get to know him better. When Zied and Rebecca see one another at the airport, they share an emotional hello. But things quickly get extremely awkward once he begins to interact with Rebecca's daughter and soon to be son-in-law.
Zied is so excited to be in America. As they drive from the airport, he takes numerous videos and pictures to capture the moment. Meanwhile, Rebecca is gushing like a school girl.  Once they arrive at the restaurant, the grilling begins. Rebecca's family wants to know what he plans to do for a job once he is able to work.
Zied isn't worried about working because it will be six months before he will be allowed to do so. That answer raises red flags and Tiffany's fiancé warns Zied they are watching him. After Rebecca's last disastrous marriage, her family is on high alert for any signs that this is a repeat of her last relationship.
Tarik, 46 (Virginia Beach, VA), and Hazel, 28 (Philippines)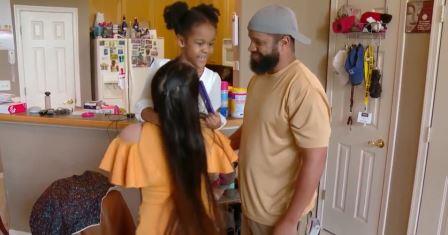 Hazel is finally going to get the chance to meet Tarik's adorable daughter, Auri in person for the first time. Luckily for her, it seems to have gone well. But Tariq worries that it will be difficult for Hazel to establish a new relationship with his child who has autism, while missing her own son. I truly hope that she is in this for the long run, now that his child is involved.
Later, Tariq plans a party to introduce his friends to Hazel in person. Things are off to a great start, until the subject of her son comes up. Obviously she misses her son and is brought to tears. I don't think I would have brought that up at a party, in front of a group of people. But I was glad to see Hazel seem so open to integrating into Tarik's life. She even receives a gift from one of his friends, which she greatly appreciates.
Stephanie, 52 (Grand Rapids, MI), and Ryan, 27 (Belize)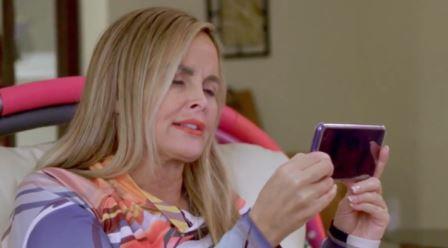 Stephanie has called Ryan so many times that she has resorted to venting to her sick cat about the situation. After more than 6 hours with no communication, her anxiety reaches a fever pitch. Later that night, she is finally able to reach a very annoyed Ryan. When he reminds her he has been busy with work, she throws in his face all the money and gifts she has given him. He has had it with her "bitching" and trust issues.  Things only go downhill from there, Stephanie resorts to threatening to call the embassy to cancel his visa, to which he tells her to go ahead and do it.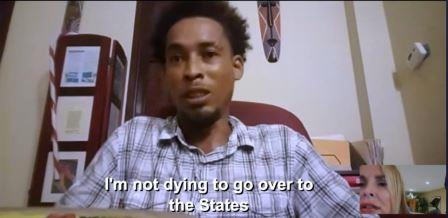 Wow! Okay, that fight was a lot to unpack. At this point, I am not sure if Ryan is just an asshole or he is tired of being controlled and threatened with money and gifts. Either way, things are going to get any better once he arrives in the U.S.  It's obvious there is resentment, communication and trust issues that plague this relationship.
Now that he has a job, makes it clear he doesn't need Stephanie. Unbeknownst to him, Stephanie is the one who actually pays his wages. So… she could easily end his job with just one phone call. That is just way too much control over someone's life. If you have to bribe someone to be with you, it may behoove you to find someone a little more amenable with better acting skills.
TELL US-IS IT ANDREW'S FAULT THAT AMIRA WAS DETAINED IN MEXICO OR IS IT HER FAULT FOR LISTENING TO HIM? WHAT ARE YOUR THOUGHTS ABOUT THE STATE OF STEPHANIE AND RYAN'S RELATIONSHIP? WHAT DO YOU THINK THE MYSTERY SMELL WAS IN MIKE'S CLOSET?
[Photo Credit: TLC]