Last week's episode of The Real Housewives of Salt Lake City reached a new dramatic high for the series. Secrets were revealed. Glass was shattered. Middle school hip-hop choreography was performed. Now it's time for the fallout. Which feels catastrophic for Jen Shah as she mopes around her empty ski chalet. Coach Shah is so angry about her outburst at his birthday party that he hasn't been home in days. And it looks like her friendships with some of the other 'Wives are on thin ice too.
Meanwhile, Whitney Rose drops by Beauty Lab + Laser to rehash the drama with Heather Gay. First and foremost, the cousins are in agreement that Whitney did absolutely nothing wrong by dropping bomb and bomb at the birthday bash and getting everything out on the table. But Whitney is a little miffed that Heather cut into her moment and interrupted the message she was trying to deliver to Jen. However, in Heather's mind, the issue runs deeper than just another Jen blow-up. It's about Jen choosing Lisa Barlow and Meredith Marks over her and Whitney. A classic game of Housewives picking sides!
At the same time, Lisa and Meredith are busy recounting the big fight to each of their husbands. The game of "Mary Cosby told Whitney that Meredith and Lisa are scared of Jen" is too convoluted for Seth Marks to even follow. But Lisa's eyes gleam with downright glee as she tells John Barlow about Jen throwing a glass across the party in a blind rage. You can practically hear Lisa deadpanning, "I love that" when replaying the moment in her mind.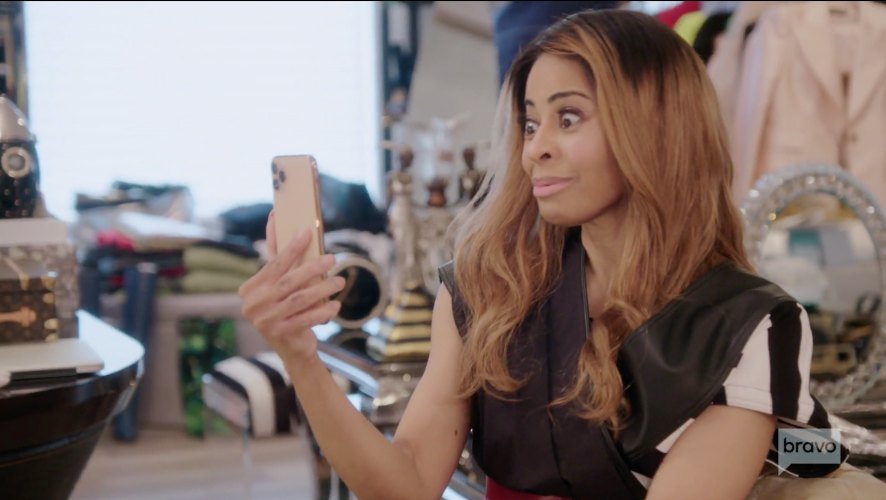 The next day, Mary's still stuck in her giant, cluttered closet for another pick-up scene. Since she was likely filming after the fact, she FaceTimes Whitney to get all the tea from the birthday party she wasn't invited to. Mary pretends to be shocked that Jen lost her mind at the very mention of her name. And also doubles down on her assertion that Lisa and Meredith really were talking badly about Jen behind her back. Because according to Mary, everyone is scared of Jen's volatile fury. Well, except for her. Which is easy to say from the safety of her hoarder's closet. But we'll see how big and bad Mary is come reunion time when she actually has to be back in the same room with all the other Real Housewives of Salt Lake City…
In case you missed the memo, Meredith and Seth are happily back together. In the space of just a couple episodes, they've gone from separated and fighting to lovey-dovey, mushy PDA for the cameras. (And honestly, while Meredith seems giddy, it feels like Seth may be laying on the romantic gestures just a little thick, no? I don't need to hear about your fantasy involving sex in ski goggles, thank you very much.) Either way, they're more than thrilled to finally break the news to the Barlows during a dinner date at everyone's favorite Cucina Toscana. (For real, it's on its way to becoming the Rails Steakhouse of RHOSLC at this point.) Lisa is naturally overjoyed at the news. Meaning almost as happy as she was to discover she and Meredith showed up to the dinner in matching outfits.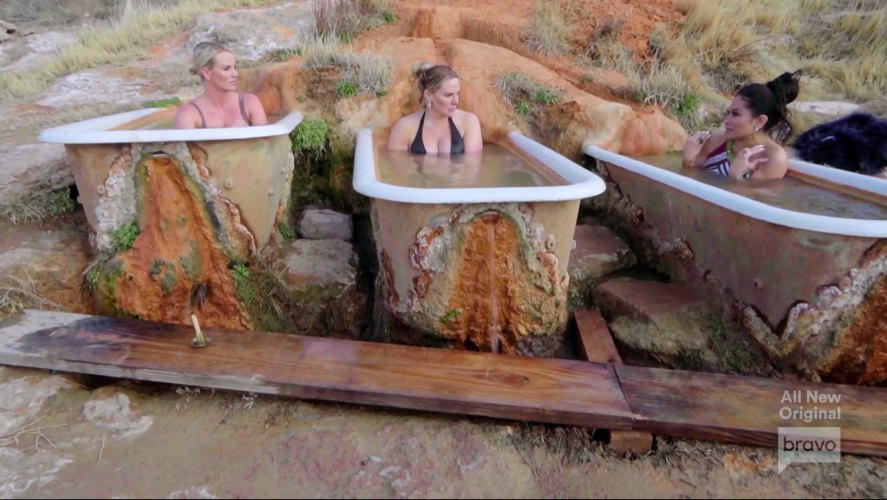 In an effort to apologize, Whitney invites Jen on an outdoor spa outing, and brings Heather as back-up. Now, for people who don't live in Utah, this "spa" is incredibly far away from Salt Lake City. And even further from Jen's house in Park City. It's called Mystic Hot Springs, in Monroe, Utah. Which is quite literally in the middle of nowhere. We're talking driving two to three hours depending on traffic. It's so far that it practically qualifies as another cast trip. And the hot springs', ahem, natural aesthetic doesn't necessarily jive with Jen's glam sensibilities. So I'm not really sure why Whitney thought this was a good idea, but here we are.
In a trio of outdoor bathtubs, Whitney tries to apologize to Jen for all the drama that's ensued. Heather's also quick to lump herself in, taking the blame for how the message was delivered. But Jen's having none of it. Unable to take one iota of accountability, she blames Whitney for screwing up her marriage. Because Coach Shah isn't even speaking to her at the moment. And for some insane reason, she's unable to see why that's her own fault, based on the screaming and glass-throwing and balloon-punching tantrum she threw as she left the party. But OK Jen, blame it all on Whitney…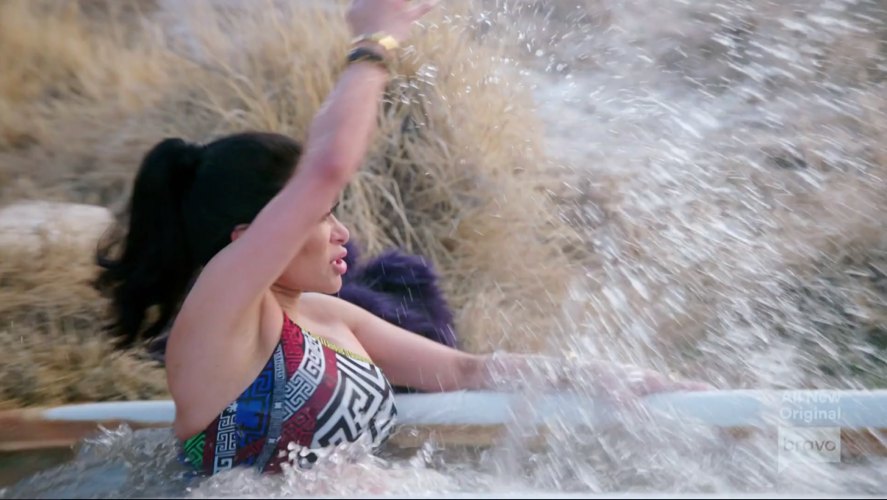 At one point, Jen gets so angry that she pulls production into the argument, dramatically splashing the camera crew and storming out of the tub. (Honestly, her inability to pause and self-reflect before flying off the handle is both exhausting and concerning.) Heather has to coax Jen back to filming like she would a petulant toddler. And then Heather finally levels with her: she's scared she's about to lose Jen's friendship. Because Jen's going to choose the cool girls — Lisa and Meredith — over her. Because they're the ones who will validate Jen's status in the upper echelon of Utah society. And she'll leave Heather behind in the dust. It's a paranoia triggered by a lifetime of Heather being abandoned when she shows up as her true self. When she refuses to just go along to get along. And it's exactly what happened when her ex-husband ended their marriage.
It's so sad to see such a vulnerable fear from Heather. And it feels unfounded considering she's inarguably the breakout star of the season. Fans truly love her. But I totally get the feeling. When you see your loyalty isn't being reciprocated and there's nothing you can do about it. Jen promises she's not going anywhere — though we'll have to wait and see if that's true as the rest of the season plays out. She also accepts Whitney's apology, but then turns right around in her confessional and claims she's 100 percent done with the younger 'Wife.
Back in Salt Lake, Lisa's unaffected by the drama. She's far too busy throwing a power luncheon for other high-profile Utah ladies who aren't her RHOSLC cast mates. (Except Meredith. Of course Meredith's there.) And special shout-out to Angie Harrington, a Utah fashion blogger who was rumored to be a Friend of the Housewives before filming even started. She may not have made the cut, but she's important enough that she got her own descriptor during the lunch. There's always Season 2, I suppose…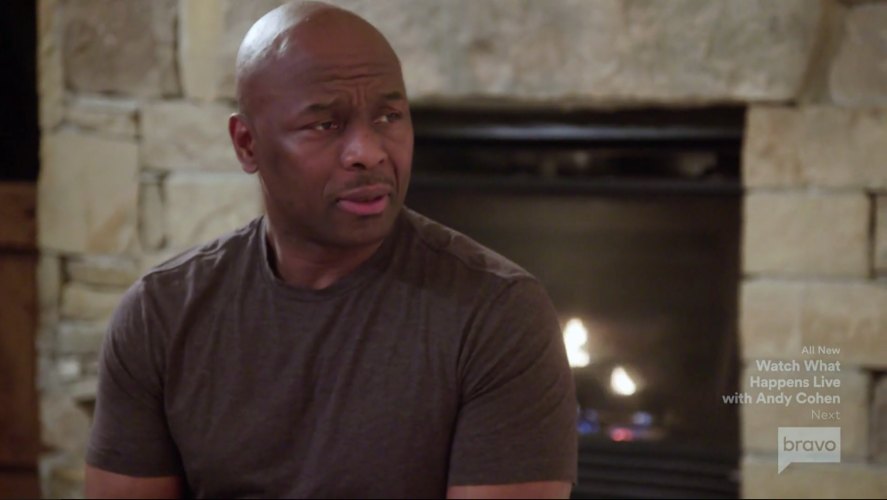 Once she's returned from the hot springs, Jen's finally ready to sit down with Coach Shah. Well, maybe not ready. In fact she admits she's nervous that this was the final straw for him, and dreads their conversation. But it's still happening. Sharrieff admits he doesn't understand where all of Jen's anger comes from. And it finally gives her an opening to be real, raw and vulnerable with him. Tearfully, Jen opens up about her loneliness and the strain being away all the time for his job as a coach puts on her.
She tells him that he hasn't been there when she's needed him most. Like when her father was dying and she had to make the decision all alone to take him off life support. Or when Sharrieff couldn't even come to her dad's funeral because of a football game. She's still holding onto resentment for that, which she's bottled up inside instead of expressing. Sharrieff is dumbfounded by these revelations, but now the root of Jen's emotional outbursts finally make sense. Something clicks for him. And thankfully, the episode ends on a rather happy note, with the couple making a major breakthrough and their marriage coming out stronger. But man was it a tantrum-filled rollercoaster to get here.
TELL US – DO YOU THINK JEN WILL ULTIMATELY CHOOSE MEREDITH AND LISA OVER HEATHER? IS EVERYONE SECRETLY SCARED OF JEN? WILL MARY EVER LEAVE HER CLOSET?
[Photo Credit: Bravo]