Who wants to go to Vegas? That's right, it's time for The Real Housewives of Salt Lake City cast trip! First season vacays tend to be smaller, more localized affairs. (For reference, think Bethany Beach on RHOP or Austin on RHOD.) But given the history of Housewives in Vegas, I've got a good feeling about this one. And though it may not be far from the mountain of SLC, it's also hitting me that this was the last cast trip ever filmed before life changed as we know it. Crazy, huh?
But first, we have some table-setting and housekeeping to do before we can pack up and head to the city of sin. It's been a few weeks since we've seen Whitney Rose's family drama. So it's the perfect time for her to organize a dinner with her dad and two siblings who are estranged from him. After he fell into his addiction, Whitney was really the only one in her family to stick by her dad. She and her husband supported him, paid for his rehab and did everything they could to get him back on track. Some of her siblings, on the other hand, kept their distance.
So this is the first time Whitney and her brother and sister have sat down together with her dad in quite some time. She's understandably nervous, but things actually turn out quite nicely. The Thai food is flowing and the conversation is vulnerable and open. Whitney's dad seems to be doing well in sober living, and she's cautiously optimistic. He even got over his tantrum about having a roommate! But she and her siblings are ready to see more follow-through when it comes to believing his actions. Because there's much more to recovery than just talk and empty promises they've heard before.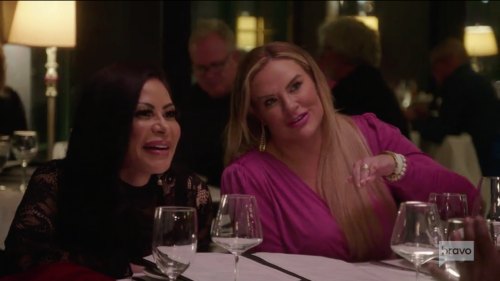 Meanwhile, Jen Shah and her husband are setting up Heather Gay on a blind double date with one of Coach Shah's BFFs. Of course they're at Cucina Toscana. (While Valter's may not let the 'Wives back any time soon, I know for a fact there are plenty of other restaurants in SLC that would allow filming. Since when did Cucina Toscana become the Rails Steakhouse of RHOSLC?) The date with Big Daddy starts off on a good foot, but quickly turns south when Heather realizes she's in for an hour-long sober TED talk rather than any flirty banter. Continuing my petition for Heather to find a billionaire who's in love with her for Season 2! This girl deserves the world; a tall, dark and handsome boyfriend is the minimum we're asking for.
The cast has taken some much-needed breathing room since Coach Shah's disastrous birthday blow-up. Which means it's well-past time to get the 'Wives back together. According to Whitney, that means a trip to Vegas! She sends text invites out, and the reaction is…a mixed bag, to say the least. Lisa Barlow is still waiting for an apology from her. Meredith Marks is tentative about going — Sin City isn't really her "scene." And Mary Cosby turns down the invite altogether since Jen will be there. (Though truthfully, Mary quit filming after Sundance. All the scenes filmed in her closet are pick-ups, so I'm left to wonder if she was actually invited on the trip at all. If I were a betting man, I'd say she likely wasn't and this was added in after the fact. Tricky editors!)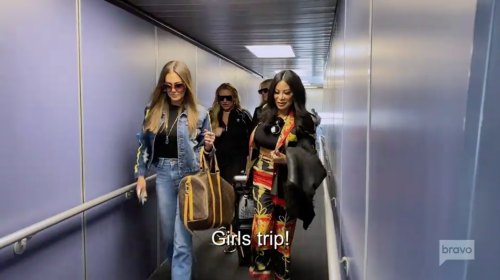 The morning of the trip arrives and…Lisa is a no-show. She doesn't show up at the airport. She didn't RSVP, either. But once the girls land in Vegas, surprise! She's already here! And she's been here for a day already, getting some work done for Vida Tequila. Of course, she doesn't actually tell Whitney any of this. Instead, she declines her call and immediately calls Meredith…in front of all the other 'Wives. It's that kind of bitchy power move that makes me confident Lisa has it in her to be a top-tier Housewife. Watch out, Season 2.
The rest of the 'Wives check into the NoMad Hotel and Whitney has a surprise: they're going to race exotic sports cars! Except, oops. Jen has another surprise: she's taking Heather on a private shopping excursion to make up for Big Daddy's TED talk. Hmm…this definitely wasn't in Whitney's itinerary. But hey, neither was the concierge's painfully quippy poem and roses upon their arrival. But it does create one major problem. Now Whitney is going race car driving with…Lisa and Meredith. Just the three of them. This is going to be good…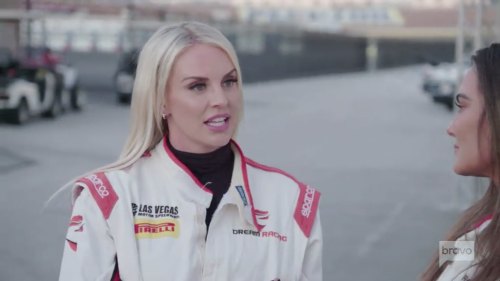 The strange trio arrive at the Las Vegas Motor Speedway ready to race. Lisa still has it out for Whitney, but she can look past it if it means she gets to drive a Ferrari. After a few loops around the track at 110 miles per hour (or more like a cool 55 for Lisa), Whitney finally broaches the subject of an apology with the brunettes. Bringing up the drama at the hip-hop party, she takes full accountability for the trouble she started with Jen. However, both Lisa and Meredith fully deny ever telling Mary they're scared of Jen. ("Grain of salt with that one. Love Mary, but…" Lisa deadpans.)
After a lesson in the dangers of playing telephone, the two are relatively quick to forgive Whitney and move on. Surprisingly so, even. My real question, though, is why no one's mad at Mary for starting the rumor to begin with. Also, why is no one confronting Jen? At this point, Meredith's fully aware that Jen's been talking about her marriage behind her. And that's not a rumor — it was on camera! So I'm not understanding the avoidance here. Lisa claims she's basically testing Jen to see what kind of friend she is on this trip. And Meredith coolly explains she's feeling the situation out before a major confrontation. But the only other reason I can think of is that…they're scared of her? (I kid, I kid.)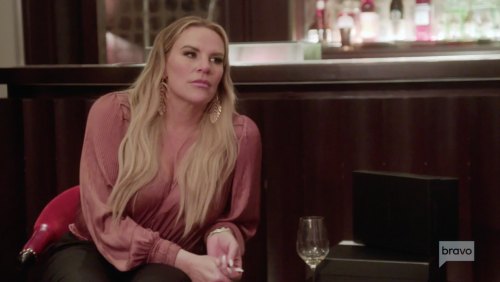 Meanwhile, Jen and Heather's private shopping trip is going swimmingly. They're buying all the shoes they can get their hands on. Heather's picking out an outfit to wear at the finale party for Beauty Lab + Laser. And Jen's fully falling off the bar. It's Shah-mazing! However, the fun and retail therapy comes to a screeching halt when Jen circles back to being angry with Whitney for ruining Coach Shah's birthday. Like Heather said, how did we get back here? Even though they seemingly made up at the hot springs last week, Jen's apparently far from over it.
And Jen's not just angry at Whitney, either. She's starting to direct her rage at Heather, too. The CEO of Fun angrily questions where Heather's loyalties truly lie. Are they with her or with Whitney? Because apparently they can't be both. Heather manages to point out that Jen needs to address all of this with Whitney. Because she thinks they're good! And via confessional, she admits Jen's definition of a loyal friend is more just like a henchman.
She wants to surround herself with enabling yes men who blindly follow and support her no matter if she's in the wrong. Cough, cough, like, say, her Shah Squad of paid employees? The episode ends on an ominous note, and it looks like everything is going to blow up in Jen's face next week! Because after all, you know what they say about what happens in Vegas…
TELL US – WAS MARY REALLY INVITED ON THE REAL HOUSEWIVES OF SALT LAKE CITY CAST TRIP? ARE YOU SURPRISED LISA AND MEREDITH FORGAVE WHITNEY? WHERE DO HEATHER'S LOYALTIES TRULY LIE?
[Photo Credit: Bravo]