If you know your reality TV history, you know how the old saying goes: "What happens in Cabo…" And this week on The Real Housewives of Orange County, we're once again headed from the OC to Cabo. No, not that Cabo. The other Cabo. Did you even know there was more than one Cabo on the Baja peninsula? Los Cabos? Because this recapper certainly didn't. But if one person did, it's obviously Heather Dubrow. Not to mention all the operators at the international phone sex operation that is 1-900-SHA-NNON.
Like any good vacation south of the border, this week's RHOC kicks off with a bikini shopping montage that gave me serious shades of Laguna Beach: The Real Orange County all grown up. Emily Simpson and Dr. Jen Armstrong try on bathing while Nicole James waffles about whether or not she's actually going to Mexico. (Spoiler: she doesn't.) Turns out, the not-quite-Friend of the Housewives is in a fight with Noella Bergener. Over how sociopathic and unsupportive she's been about the divorce from James Bergener. So much so that, if Noella goes on the trip, Nicole refuses to come. However, it's hard to feel any investment in this ultimatum because we only see the feud via flashback. And with that, Nicole disappears into the land of former Bravo stars. Probably never to be seen or heard from again.
Speaking of Noella, it's unclear whether she's even invited on the getaway, let alone choosing to attend. At the end of last week's episode, she still hadn't made the list. But Gina Kirschenheiter shows up to Chateau Dubrow to advocate on her new pal's behalf. She makes a plea for Heather to invite the newbie on the trip. Yes, so she feels included. But mostly because if the women leave her behind in Orange County, Gina will spend the whole trip worried about her. After all, Noella's entire world is still in the midst of crumbling around her. So now's probably not the best time to leave her alone.
Heather hears Gina out, but still has more than a few reservations. Because not only is the tension between her and Noella still fresh, but there's been a twist. Noella was seemingly on her best behavior at the launch party for Max Dubrow's self-help book last week. She even brought the newly-minted author a gift! However, when Max opened the gift after the party, she discovered it was a pride card game…that was entirely inappropriate for any adult to give a teenager. In fact, it's so vulgar that Heather has to be bleeped out for almost 15 full seconds as she reads off the different cards.
And to be clear, before people start biting my head off in the comments the problem here isn't necessarily playing an inappropriate game. Heather even threw her own naughty version of truth or dare for Valentine's Day during Season 9 that taught us all what a "Dirty Sanchez" is. (Don't Google it.) The problem is giving said appropriate game to a friend's child who happens to be underage. I don't care if she's 17. It's the principle of the thing. But eventually Heather relents. Sure, Noella can come on the trip. As long as Gina is in charge of containing the chaos that she's sure to bring to Cabo.
The next day, the 'Wives jet off to Cabo in a private plane. San Jose del Cabo, to be specific. Nicole will not be joining them. Though it's unclear whether that was due to her drama with Noella or the rumor going around the internet that she refused to get vaccinated for the international travel. But either way, she's exiting stage left. And Noella will be arriving late. So for the first day or so, it's just the five other 'Wives. And honestly, the mood seems great. Even with Shannon Beador — who still has quite a bit of unfinished business with a lot of these ladies — back in the group.
As expected, the villa Heather's chosen is nothing short of fabulous, complete with more private casitas than the number of women on the trip. There's a pool. There's a private bartender on call. The 'Wives will basically want for nothing over the next few days. And despite Heather's well-documented love of having every single detail planned out in advance, the itinerary for the first day is pretty much "do whatever you want." Relax. Unwind. Enjoy yourselves while Heather fits in a last-minute meeting with the architect she's hired to build Chateau Dubrow: Vacation Hideaway.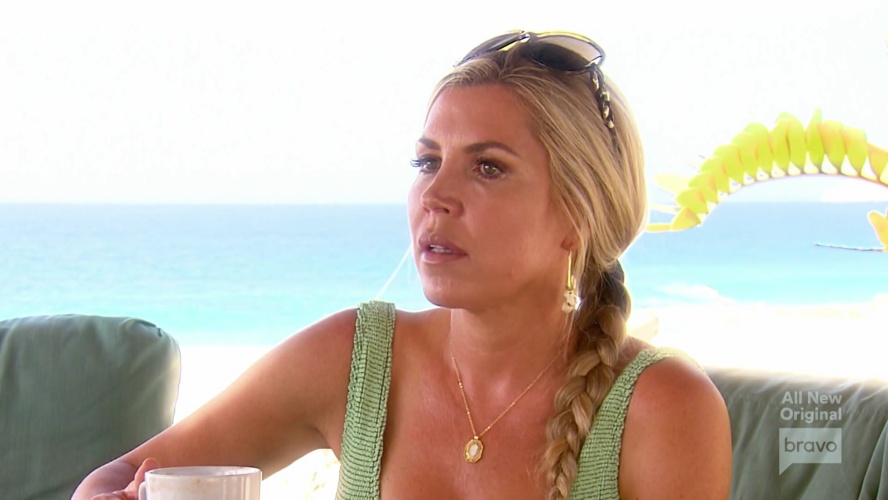 Shannon, Emily and Gina opt to go horseback riding on the beach while Heather and Dr. Jen stay behind at the villa. So while Emily shows off her keen ability to canter, the latter pair bond over their shared experiences of balancing family with the responsibilities of the plastic surgeon in the family. Or, in Dr. Jen's case, the aesthetic medicine physician. (I'm still confused about whether she's actually bored certified.) It seems the Armstrongs are in a similar place to where the Dubrows were just a few years ago. So Heather is a valuable source of advice about prioritizing family over spending another hour at the office. It was a lesson Terry Dubrow had to learn, and Dr. Jen will have to learn it as well. Also, she apparently has concrete in her leg from a bone tumor in her 20s??
Meanwhile, the other three 'Wives dismount from the horses for a little session of gossip and champagne on the beach. Shannon's worried about what kind of welcome Noella is walking in to. And that's with her having missed the past two weeks of drama going down. Is she even aware of half of what's transpired between Heather and the newbie? But the threesome commit to playing peacemaker once Noella arrives. And maybe, just maybe, she and Heather can make a few baby steps on this trip toward being friends? Emily for one not holding her breath…
The 'Wives get all dressed up and head out for their first official dinner of the trip. Just in time for Noella to arrive to a completely empty villa! This gives her the perfect excuse she's looking for to start shading Heather's hostess skills. Because if she were the hostess, she would've made sure to be there to welcome her (late) guest with open arms. Never mind that Noella missed her flight and had to take a later one because she didn't bring her passport to the airport. Did Noella really expect the rest of the group to sit around the villa waiting for her to show up? Wait, don't answer that.
Dinner in the jungle room at ACRE Baja is off to a lovely start. Sure, there hasn't been much drama beyond Emily and Shannon being unable to open the villa's front door. But it seems like the trip is perfectly primed for all the women to really bond and get to know one another on a deeper level. That is, until Noella struts in and completely disrupts the vibe of the evening. Within seconds, she's sucking all the air out of the room. The girl just can't help making everything about herself, whether it's complaining about the un-chilled vodka shots or lamenting about her "poor little rich girl problems" of being required to have a passport for international travel. (Her words, not mine.)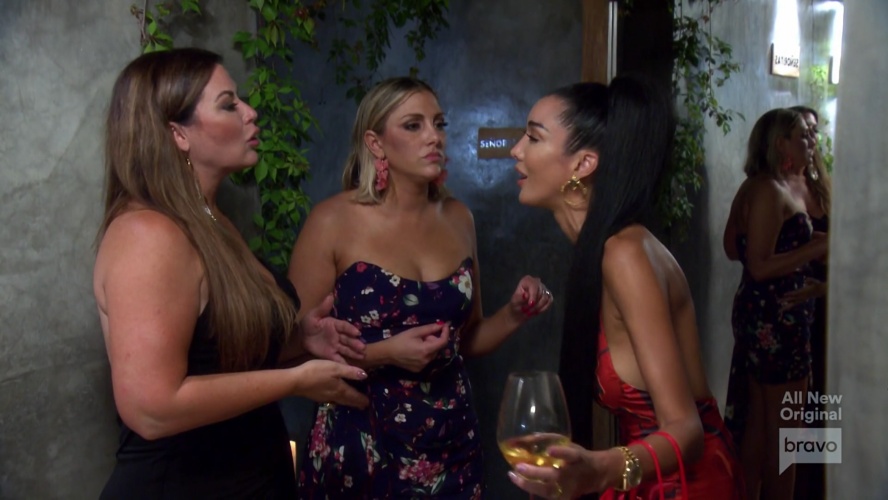 Noella jumps right into the drama of it all — she wants to know all the gossip that Nicole apparently told Emily she was talking behind her and Gina's backs. She cops to saying all Emily does is take her kids to frozen yogurt and Costco. But denies ever calling Gina's boyfriend a broke loser. (The newbie did comment about Gina's casita, though, courtesy of secondhand shade from ex-bestie Braunwyn Windham-Burke. But that was before she ever started filming, OK?!) As the rest of the women sit mostly in silence, Noella puts on a whole show, even being being dramatic about eating the plate of food in front of her.
Pulling her away to the bathroom, Emily and Gina try to tactfully hint that their new pal might do herself a favor by chilling out a little. But Noella balks at the idea that her loud, look-at-me behavior is getting on Heather's — or anyone else's — nerves. Now that she's here, she's ready to stir up some trouble for the cameras anywhere she can find it. And her sights are set squarely on the hostess. With that, we're treated to an entirely uncessary "To Be Continued…" and the midseason trailer! See you back here in two weeks!
TELL US – SHOULD GINA HAVE ASKED HEATHER TO INVITE NOELLA ON THE TRIP? HOW INAPPROPRIATE WAS NOELLA'S GIFT TO MAX? WILL YOU MISS NICOLE OR ARE YOU GLAD TO SEE HER LEAVE THE SHOW? AND DID YOU FIND NOELLA'S DISPLAY IN CABO EXHAUSTING OR ENTERTAINING?
[Photo Credit: Bravo]