Everyone knows Summer House doesn't officially start until the Good Vibe Tribe celebrates Fourth of July. And that's, blessedly, precisely where we are in the wake of last week's dramatic premiere. We've got stars. We've got stripes. We, of course, have Kyle Cooke in a mullet. Except everyone's favorite Hamptons party boy might not be in his usual star-spangled mood this year. Not if his screaming match with Amanda Batula has any effect on the weekend ahead…
And that's technically where we start, with Kyle and Amanda still at each other's throats the morning after his wild night out. Some people argue that Amanda should let Kyle go out and have a good time. Others have taken her side that he crossed a line by being out alone until all hours of the night. But either way, it's clear that this relationship is not in the good place the couple would like us to think it is. That's what's so cringe-y about the whole fight. When we hear Kyle scream that Amanda is "as fun as a f–king piece of wood," it feels like we're intruding on a behind-closed-doors argument that we shouldn't be seeing.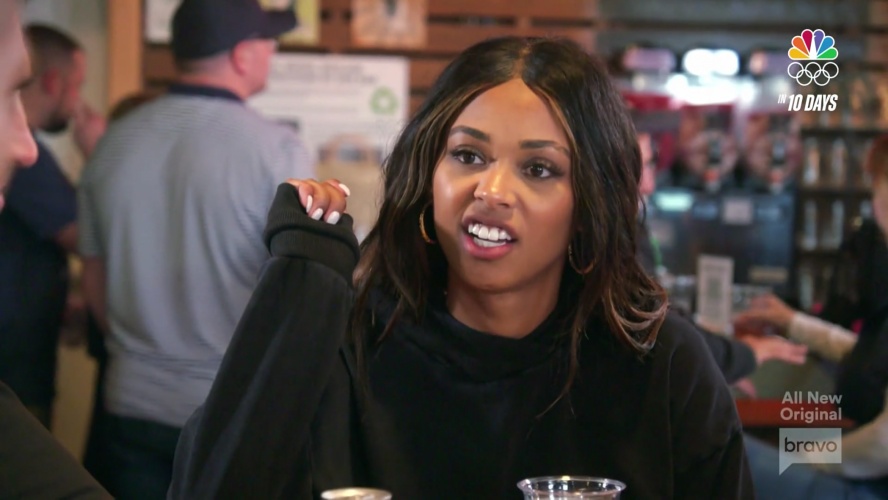 Also, I'll say this: whether Kyle sees it or not, his drinking is clearly putting a massive strain on his relationship. Yes, to the point that his fiancée has made him to sign a contract that explicitly states she could call off their impending nuptials at any moment. If the situation is that serious, it seems to me that the most obvious solution would be to give up drinking for the sake of saving your relationship. Am I wrong? But instead, Kyle would rather pout and go for a run in the pouring rain. Once he gets back, he tries to make up with Amanda after taking a shower, but not even the sight of Kyle in a towel can sway her resolve.
While Ciara Miller and newbie Alex Wach head to the grocery store, Kyle joins Carl Radke, Lindsay Hubbard, Danielle Olivera and Mya Allen on a trip to Jamesport Farm Brewery. Over IPAs (and a seltzer for Carlito!), the newbie's broken engagement to Top Chef favorite Kwame Onwuachi is the hot topic of discussion. She explains that she spent six years living in the Bravolebrity's shadow, always considered an attachment of sorts to his rising star. She also confesses they found themselves living on a hamster wheel having the same fights over and over again. Hilariously, Kyle has nothing to say to this, but the inference is crystal clear. Though, I can't say I blame her for hooking back up with Kwame a few times after the breakup — even as recently as a month before filming began.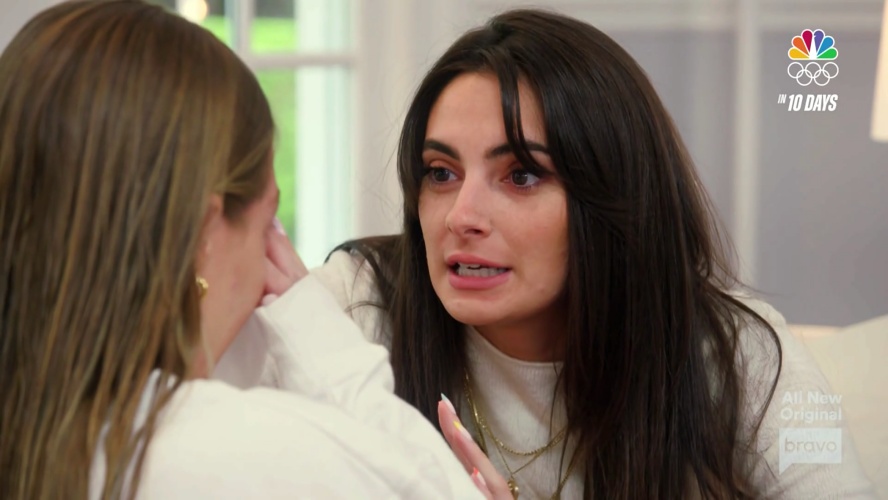 Back at the house, Andrea Denver charms Paige DeSorbo and Amanda with an impromptu pasta lunch. Because who doesn't want a gorgeous Italian model cooking them spaghetti in the Hamptons? This love triangle Paige has found herself in with Andrea and Craig Conover isn't the worst place in the world to be. On the other end of the happiness spectrum is Amanda's relationship. And Paige is ready to deliver a come to Jesus moment for her bestie. Yes, she's supposed to be a bridesmaid, but she flat-out tells Amanda that if she feels like she needs to call off the wedding, then she should call it off. Because the drama of breaking off an engagement will be nothing compared to waking up in 15 years and hating your life. That's sound advice for everyone.
That night, the gang gathers for a dinner of burgers. (Side note: Luke Gulbranson is still MIA. Do we think he'll come back from Minnesota by Episode 4?) The meal quickly devolves into an impromptu dance party, complete with a striptease for Paige courtesy of Andrea. But when Kyle goofs off and accidentally slams his chair into Amanda's foot, it sets off yet another argument between the two. Kyle's just trying to have fun, but it's like he forgot he's on thin ice with his fiancée. However, she's not about to talk through their issues until they get back to the city. Because she doesn't want to make the remainder of the weekend awkward for the rest of the housemates.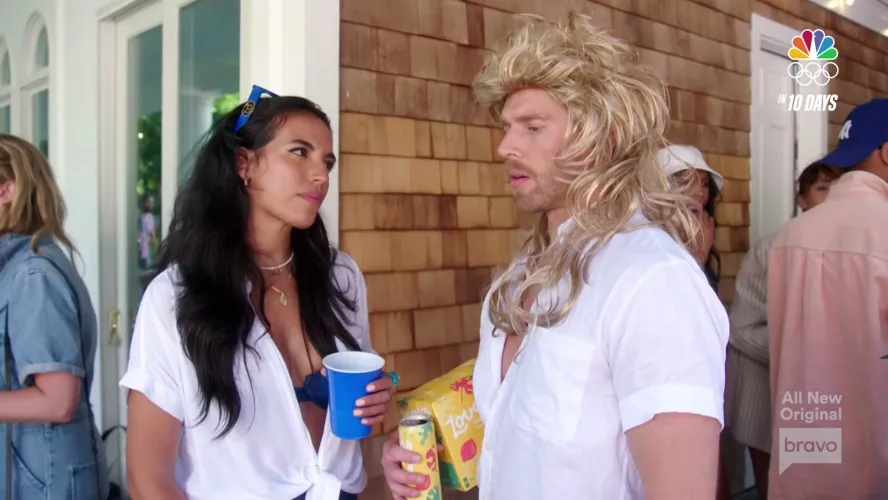 The next morning it's the Fourth of July. And Danielle wakes up giddy because her tattooed chef of a boyfriend, Robert Sieber, is coming out to the Hamptons to cook for their party. And it's actually the first real party the housemates have been able to throw since the Season 4 finale, so you know they're going to send it. As they set up, Ciara and Amanda question Paige about whether Andrea knows she's hooking up with Craig. Paige's epic response? "Not my problem." But something tells me it might become her problem rather soon if she's intent on continuing to juggle both guys.
The party starts and a hundred friends flock to the house to get wasted while celebrating America. The only one who's not in a patriotic mood is Kyle. Even wearing his favorite mullet! He vents to Danielle about the state of his relationship with Amanda. And the bad vibes seem to be contagious because next thing we know, Danielle's arguing with Robert over his workaholic schedule. Over in another corner, Lindsay — determined to let loose post-miscarriage — plants an unsuspecting kiss on uptight Alex. Guess she wanted more than a hot dog? And Mya's trying to re-learn how to talk to boys since it's the first time she's been single in more than half a decade.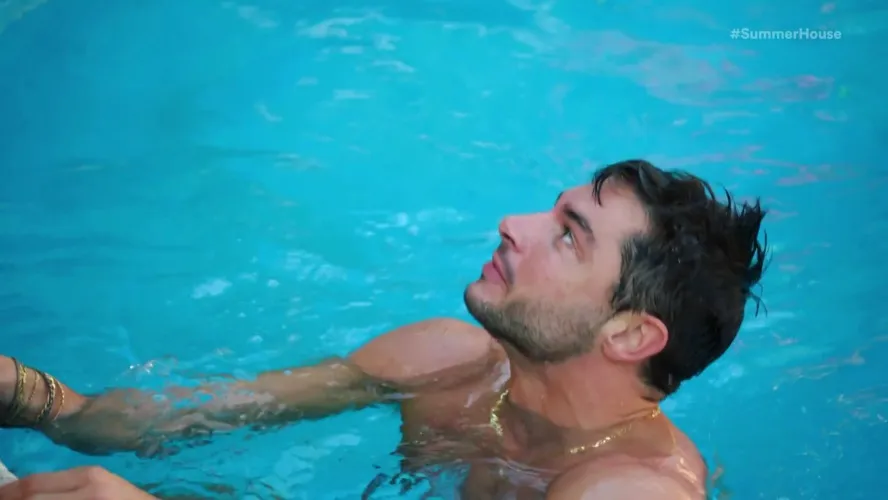 Also flirting are Carl and Ciara, whose unspoken interest in each other was quashed last summer by the latter's drama with Luke and Hannah Berner. But now that they're both single and in a better head space, maybe something could happen this summer? Andrea, meanwhile, finds himself in hot water after pushing a random party guest into the pool. Even though he lets her push him in as well, her friend isn't so happy and decides to kick the Italian model right in the face as Paige is pouring Loverboy into his mouth. Yikes! The drama seemingly comes out of nowhere, and Paige's shocked reaction is priceless. She's ready to throw down for Andrea and has no problem curtly kicking the girls out of the house in his defense.
A shellshocked Andrea retreats to his bed with a bag of frozen peas to lick both his wound and his wounded pride. The cut on his nose was actually bleeding, by the way! And getting away from the chaos of the party provides the perfect opportunity for him to bring the topic of Craig up with Paige. She insists her fling with Craig had nothing to do with putting a pause on her relationship with Andrea back in the city. But the model admits he was scared to come into the house for the summer not really knowing what was going on between them. The heart-to-heart seems to bring Paige's emotional guard down, and by episode's end she's more confused than ever about which guy she'll choose…
TELL US – DO YOU THINK AMANDA SHOULD CALL OFF THE WEDDING? WILL THE SUMMER DISTANCE BE AN OBSTACLE FOR DANIELLE'S RELATIONSHIP WITH ROBERT? WOULD CARL AND CIARA MAKE A GOOD COUPLE? DID ANDREA DESERVE TO GET KICKED IN THE FACE? ARE THERE REASONS FOR PAIGE TO CHOOSE HIM OVER CRAIG?
[Photo Req: Bravo]