The fifth episode of Celebrity Big Brother 3 was a fairly straight-forward one. There wasn't a lot of drama (unless you count Chris Kattan stumbling through the dark, presumably on his way for more cake), there was a very uneventful and obvious POV Competition and then finally the vote to evict. This was the season's second live episode and eviction, but the first time that the POV comp was played out live. There were no surprises, no real suspense, and ultimately, it felt pretty lackluster…things will surely get more interesting later this week when we'll see who exactly comes out as the next HOH, and which faction of the house comes to power.
But the early portion of Episode 5 showed a bit more about how confident Chris Kirkpatrick was in ensuring that his reign of being HOH went the way that he wanted it to. Miesha Tate and Todrick Hall both put some heavy pressure on him to consider targeting Carson Kressley, even as a back-door option, but Kirkpatrick held firm in his belief that getting rid of Mirai Nagasu was best for his personal game. Miesha could have approached this a bit differently (perhaps instead put pressure on Mirai earlier in the week and tell her she needs to start spending time with Kirkpatrick?), but her direct approach clearly was unsuccessful.
There was an annoying tie-in to a movie during this ep, the upcoming Jennifer Lopez rom-com, "Marry Me," which also was utilized as the theme for the live POV comp. It came down to a tie-breaker between Todrick and Shanna Moekler, but Todrick's guess went over the correct number, making Shanna the winner of the POV. Because of her Final Two alliance with Kirkpatrick, this all but guaranteed that his nominations of Chris Kattan and Mirai would hold, and she confirmed this when she decided not to use the POV and keep noms the same.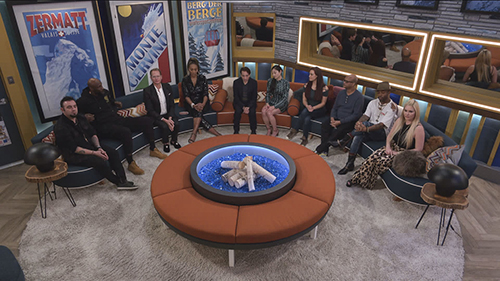 The vote itself was fairly straight-forward – as Mirai was unanimously voted out. The only one shocked by this was Chris Kattan, who had pretty much conceded his game while giving a speech prior to the vote. Kattan repeatedly said it was "time to move on" for him, and seemed very ready to get the hell out of this game. Even after Mirai walked out the doors, he seemed sincerely stunned that he was still in the house.
Unlike some of the other houseguests, Kattan's presence in the house is being portrayed as a butt of some weird joke, with no effort to humanize him or build him up. Lamar Odom by contrast, is in desperate need of some image rehabilitation with all that he's been through, and we have been getting sweet, vulnerable human moments from him thus far…tonight's episode contained a touching segment where Lamar spoke about the six-month-old son that he lost to SIDS. We don't get any human moments with Kattan, just him being weird, sleeping, stumbling out of bed, sneaking late-night cake, and generally just being portrayed as a clueless buffoon. I've begun pitying the poor man, who tonight genuinely seemed relieved at the prospect that he could finally go home. As Mirai confessed to Julie Chen Moonves in her exit interview, she grew very close to Kattan in the house and they will remain friends on the outside. Like, where was this for the TV viewing audience not following the show on the live feeds? I was even ashamed of Julie for a moment when during the interview she asked the question to Mirai, "Are you going to remain friends outside of the house…with Chris Kattan?" Really emphasizing his name as if this would be a crazy and hilarious thought. Leave the poor guy alone already!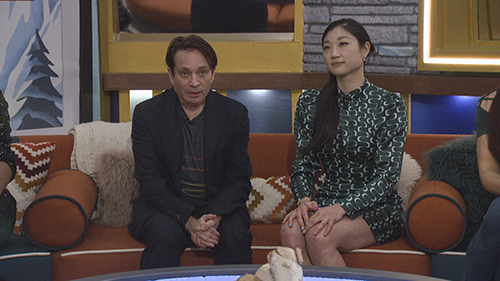 Now on the other hand, the reality-TV-competition-lover in me absolutely hates watching him trip his way through Big Brother. I guess there is some sort of weird pleasure in watching a celebrity or two not know anything about the game that their agent probably told them would be a good idea for them to take part in. But really, wouldn't it be much more satisfying to have a house full of players who gave a damn, who respected the show and what it means to people, and who took their part in it seriously? Chris Kattan – and I'd add, Todd Bridges and Lamar Odom – really have no business being on this show. At least Bridges and Odom are participating in the game, and seem to be learning about how things work. Kattan may have to wait until the very end to get his wish to go home, because players as oblivious as him are usually perfect candidates for those in-the-know to take to the end, knowing they have less than a zero chance of actually winning.
Mirai ultimately was unanimously voted-out, which means that Miesha and Todrick knew better than to vote against Kirkpatrick and create even more bad blood. But it seems that Kirkpatrick has chosen a side, or rather, is still hoping that the two sides duke it out while he sneaks by hanging out somewhere in the middle.
The next episode is Wednesday, where we will see who is crowned the new HOH and who he/she nominates for eviction. This being Big Brother, I would also expect a few unexpected twists still to be introduced into the game, but believe it or not, we're already one-third of the way through Celebrity Big Brother. By this time next week, we're likely going to have seen another two or three leave the house as we throttle forward towards Finale in little over two weeks time.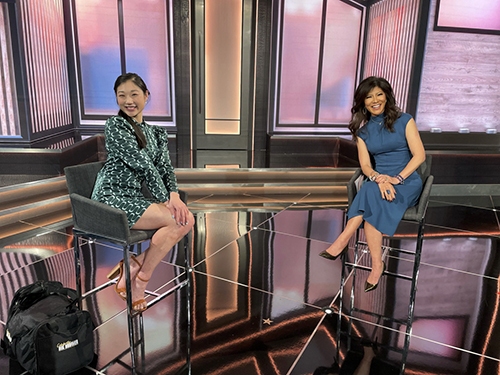 Here's the upcoming Celebrity Big Brother Episode Schedule:
Week 2
Wednesday, Feb. 9 – 8-9 PM (presumably the HOH competition and nominations)
Friday, Feb. 11 – 8-10 PM (two-hour live show and eviction)
Week 3
Sunday, Feb. 13 – 8-9 PM
Monday, Feb. 14 – 9-10 PM
Wednesday, Feb. 16 – 8-9 PM
Friday, Feb. 18 – 8-10 PM
Saturday, Feb. 19 – 8-9 PM
Week 4
Sunday, Feb. 20 – 8-9 PM
Monday, Feb. 21 – 9-11 PM
Wednesday, Feb. 23 – 8-9 PM (finale)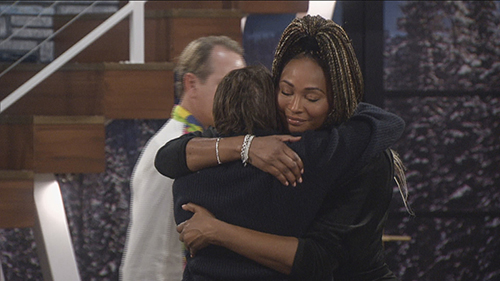 Quick Note! I appreciate that you are reading this recap! Those that have followed me also know that I am also a RottenTomatoes-approved film critic and I encourage you to check out my past movie reviews and my TV show (episodes are also available online at the website, www.MovieShowPlus.com.) As always, the easiest way to get all of my Celebrity Big Brother and Survivor coverage and movie reviews is to follow me on Twitter – @tomsantilli – or on Facebook.
TELL US – WHAT DO YOU THINK OF CHRIS KATTAN'S PORTRAYAL? WHO ARE YOU ROOTING FOR? WHO ARE YOU ROOTING AGAINST?
[Photo Credits: Ann-Marie Oliver/Screen Grab/CBS (C)2022 CBS Broadcasting, Inc. All Rights Reserved]