Well, my darling Saints. We've reached the end of the road on The Real Housewives of Salt Lake City. There's simply no denying it's been one of the most iconic seasons in modern Housewives herstory. On par with the sophomore outings of RHOBH or RHONJ, but in a post-Bethenny Frankel, Potomac and Dallas world. As a native Utahn, I couldn't be more proud of what my girls added to the Bravo universe this year — from "Baby Gorgeous" and "Who's calling who a fraud? Love you baby, bye!" all the way to, of course, Homeland Security swarming the Beauty Lab + Laser parking lot. Which, for the record, has officially become hallowed ground — a RHOSLC historical site, if you will — for any Bravoholic passing through Salt Lake City.
All of that's to say that, unfortunately, I found the finale to be a bit of a letdown. Maybe it's just because so much has already happened this season. How could one last party live up to an FBI sting or literally anything that happened on the cast trip to Zion? And maybe it's the fact that most of the 'Wives have to spend the hour wrapping up their personal storylines. Plus, we're going into the finale knowing that it's the last time Mary Cosby will be screens…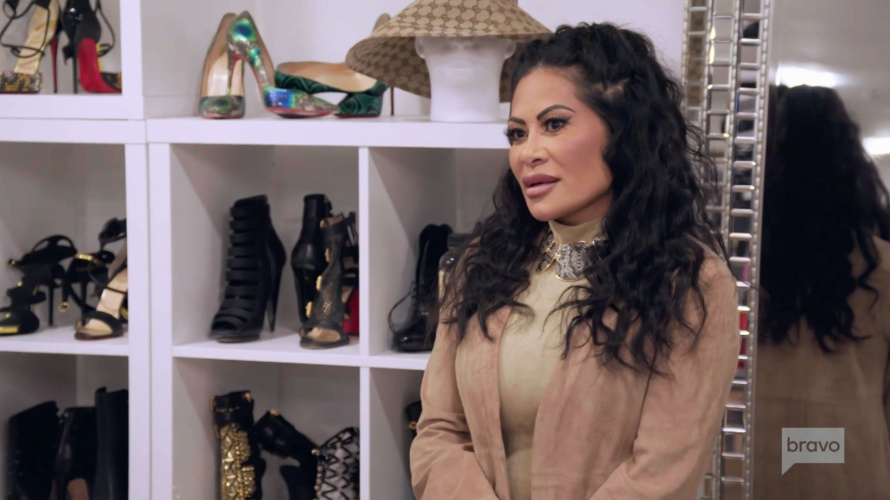 While Lisa Barlow is busy planning her Vida party, Jen Shah is finally forced to face the music. At least when it comes to downsizing the Shah Chalet 2.0, anyway. Never fear, she's still plenty delusional about everything else going on in her life. Case in point: she's choosing to move in the most expensive way possible. Instead of doing all the work herself (gasp!), she's paying a moving company $10,000 t0 pack up most of her house and move everything into another rented chalet half the size of her current one. The only thing she's in charge of is her closet. With help from her assistant — who spends part of the episode wearing a #FreeJenShah shirt — of course.
Heather Gay is putting a bow on her Season 2 storyline by throwing a celebration of life for her late father. Which brings to the surface everything about her faith crisis because there's no way to memorialize her dad without acknowledging how his Mormonism anchored his entire life. Some fans have complained about Heather's focus on putting Mormonism behind her all season, but as someone who's gone through the process after growing up in the Church, watching the Housewife's experience play out on camera has meant more to me than I think even Andy Cohen could realize. I feel for Heather when it comes to her estrangement for her family. Though on the other hand, I think some her family's refusal to attend her memorial — particularly her mother — may come from a desire not to appear on camera. Either way, though, it leaves Heather feeling isolated and rejected.
Meredith Marks' focus is on two things: her brand and her family. And she's combined the two by organizing a photoshoot for Meredith Marks Jewelry and partnering with GLAAD. She's wrangled her family and all the models into matching satin suits to show off the bling. And honestly, the only thing I could think of while watching Brooks Marks and Chloe Marks emit, ahem, non-sibling chemistry while smizing for the camera was Lisa's hot mic moment. "Her and her dumb f–king family that poses," anyone? The overall moment is more heartwarming though, when Meredith brings everything back to Brooks. Because ultimately, she's doing all of this to show she supports him in his journey. Even if Jen apparently outed him last season. LGBTQ+ rights? She's definitely engaging.
Uh…the less said about Whitney Rose's cringey "love paint" bedroom scene, the better.
It's time for Lisa's Vida launch party. And she's turned her venue into a mall food court straight out of the late '80s/early '90s. Because if there's one thing we all know about the Barlegend, it's that she loves fast food AND fine dining! It's kind of a genius theme, to be honest. And I'm sure Mary will be chafing at the lack of nutrients in the food. Lisa also hates a costume party, so she's instructed the partygoers to wear their best elevated '90s looks without tipping over into Madonna's Blond Ambition Tour territory. However, as all the 'Wives arrive, everyone starts to wonder: will Meredith even show up to this party? Of course, she's the last to arrive and the tension between her and the other ladies gets swept under the rug in favor of Seth Marks' vintage Reagan/Bush campaign t-shirt.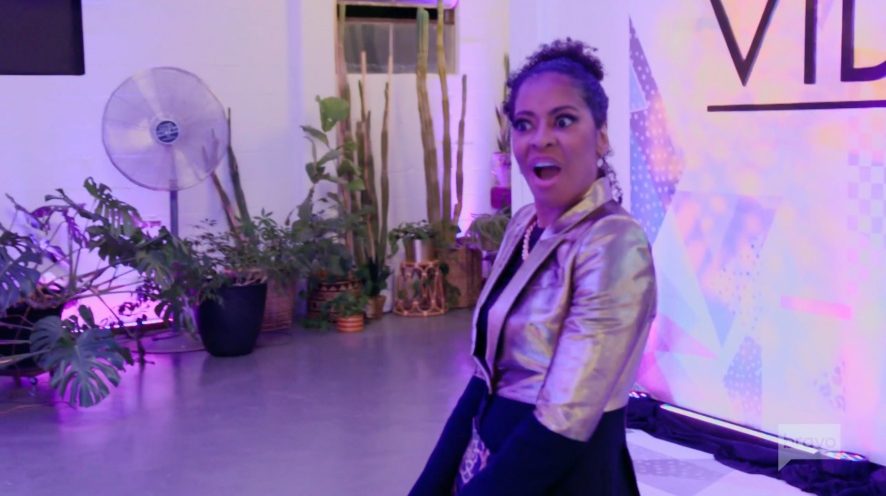 At the party, there are a few conflicts that need to be wrapped up before we can reopen them at the reunion. First being Whitney's season-long feud with Mary. Though it takes Whitney begging her former friend to come talk to initiate a conversation. Between shading Vida for being bland and putting minimal effort into her outfit, it's clear from the moment she walks in that Mary doesn't want to be here. She also doesn't want to spend time talking in circles with a drunk Whitney. Or even acknowledge Jennie Nguyen, whom she gives the cold shoulder and stares right through. Whitney tries to apologize for talking about Mary's church. Making the valid point that she never would've gone there if Mary hadn't turned on her in the first place. But the argument gets completely derailed by Jennie butting in and looking for any excuse to start a fight with Mary.
You can practically see the wheels turning in Jennie's head as she does her best to create a "moment" at the finale party. The only problem? Mary refuses to play into her hysteria. So no matter how angry the newbie gets, Mary simply removes herself from the fight and walks away. So Jennie does the only thing she can think of and throws her glass at Mary's retreating figure. The latter is dumbfounded by this act of aggression. Jen, meanwhile, thinks it's cute that Jennie's trying to copy her move from last season's hip-hop party. Throwing glasses over Mary M. Cosby is so last season, darling. But Mary's even more perturbed that not a single one of her cast mates steps in to defend her. Not even her bestie Meredith. So she's out.
Does anyone even notice Mary leave the party? Because the engine of drama simply changes course and keeps going without her. Dismissing the fact that Jennie just chucked a glass across her party, Lisa tries to rally the girls for a toast to their friendship. But that simply gives Jen the opening she's been waiting for to question Meredith once again about why they can't be friends. Meredith reiterates the same thing she's been saying all season: no one in the history of the world has ever been hurt more than she and her family were by Jen attacking Brooks. So no, she's not going to be Jen's friend. The best she can give is neutrality. And weirdly, her reasoning doesn't even have anything to do with a federal indictment or calling the FBI.
But that's not good enough for Jen. And as she presses the issue, somehow we get back to the rumors about the Marks' marriage from last season. To be honest, I'm not even sure how it happens. But Meredith sees red, and threatens to expose everything she knows about some of the other women's alleged extramarital affairs. Because, yes, she has people sending her dirt on the rest of the 'Wives. And with that final threat, she storms out of the party hand in hand with Seth.
As the final "Where Are They Now?" cards flash across screen, the finale ends on a deflated note. Meredith doesn't follow through on her threat. Mary's wandering the parking lot in search of her car. And Jennie doesn't even get a title card. Did Heather say a single word at this party? Hopefully the girls will kick it back into gear when the three-part reunion starts next week!
TELL US – WHOSE PERSONAL STORYLINE DID YOU CONNECT WITH MOST DURING THE SEASON? ARE YOU TEAM MARY OR TEAM JENNIE? SHOULD THE OTHER 'WIVES HAVE DEFENDED MARY AFTER THE GLASS THROW? WHO DO YOU THINK MEREDITH HAS CHEATING DIRT ON?
[Photo Credit: Bravo]