The cast is so chaotic, but I can't stop watching. Each episode is better than the proceeding one. This Ring camera is biting everyone in the ass though. They're catching everyone in one nefarious act after the other. DonJuan Clark couldn't be any more eager to share it with Kandi Burruss either. He lives for the drama.
Why do all of them seem like the worst employees ever? None of them are even remotely invested in working there. Everyone's far more focused on their side hustles. Good for them for recognizing the platform and using it, but do your damn jobs.
Shawndreca Robinson tells Torin Mitchell about Kandi and Todd Tucker learning what she said. She's starting an investigation into who snitched to the bosses. However, instead, she could just own her bad behavior and be a better employee. Fat chance of that happening though.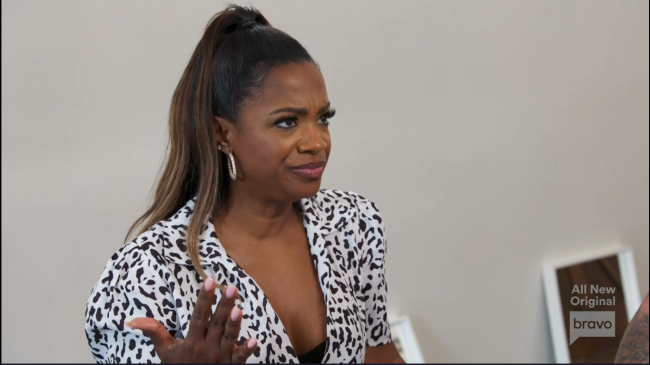 Kandi says Patrick Dallas reminds her of her late brother in every way. That might be why she's inclined to be more lenient when it comes to him. It's the same for Melvin Jones. There's a whole lot of nepotism taking place at the Old Lady Gang.
Patrick says he needs some nasty time. He wants whips and chains and everything. Okay, he's related to Kandi. There's some sort of kinky gene in their family tree or SOMETHING.
Patrick's so mesmerized by Safari. She's already making so many decisions in his life, and it's a bit controlling. I get not wanting Shawndreca in his place. It's his ex, so that makes sense. What doesn't make sense though is making every single life choice through Safari now. He's lost all sense of himself. His light has been snuffed out because she's bogging down his spirit.
Kandi urges Patrick to have the party regardless of what Safari says. I'd assume he's going to go with whatever Kandi says. She calls all the shots and is responsible for everyone's newfound success. I'm sure Safari's great and all, but Kandi's putting that coin in his account.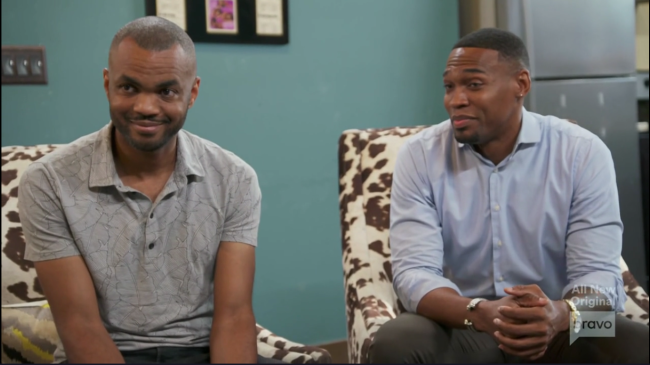 DonJuan stops by the Tucker household with some incriminating ring footage. Yet again, another set of employees are caught by the cameras. The footage shows Brandon Black and Dom'unique Variety making out in the office.
You can't be acting like that on the job. There's no sense of professionalism. However, Brandon's in a managerial position, so it's not ethical for him to engage in it. Not cool. It was never going to end well.
DonJuan tells Kandi he's concerned about Brian Redmond. There might be a relapse in his sobriety which could cause all sorts of issues. First and foremost, I hope Brian's okay because it seemed like he worked quite hard to get to where he is today.
Todd suggests bottling their sauces from OLG and other items to sell. They're trying to get OLG to take off, and I hope it happens. On top of that, Todd's going to be entering the kitchen for the first time. After consistently persisting, it seems like Mama Joyce cracked him.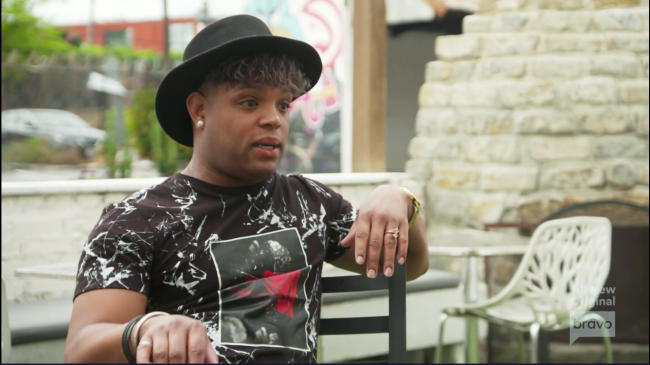 DonJuan's trying to connect with Brian but he's floored by Brian's admission to drinking wine. DonJuan doesn't like hearing that he drinks wine. It comes out that Brian's also had tequila in the last month as well. Concerning.
At the end of the day, he's in a much better place than he was before. He's not drinking gallons of vodka or using cocaine anymore. DonJuan just wants to make sure Brian's okay which is a new side to him. We never really saw that in the past on Atlanta.
Brian breaks my heart talking about how his sister shot herself in the head only three weeks prior. The fact that he went through such a traumatic ordeal and didn't relapse is major. Don't overlook that because it's a big deal.
There's been a lot of petty drama on this show so far. That's fine and has its place. However, it's nice to see real and raw moments like this. It's powerful watching the emotions pour out of everyone while they discuss such heavy topics. These are the moments that could change the life of someone watching at home because so many deal with this.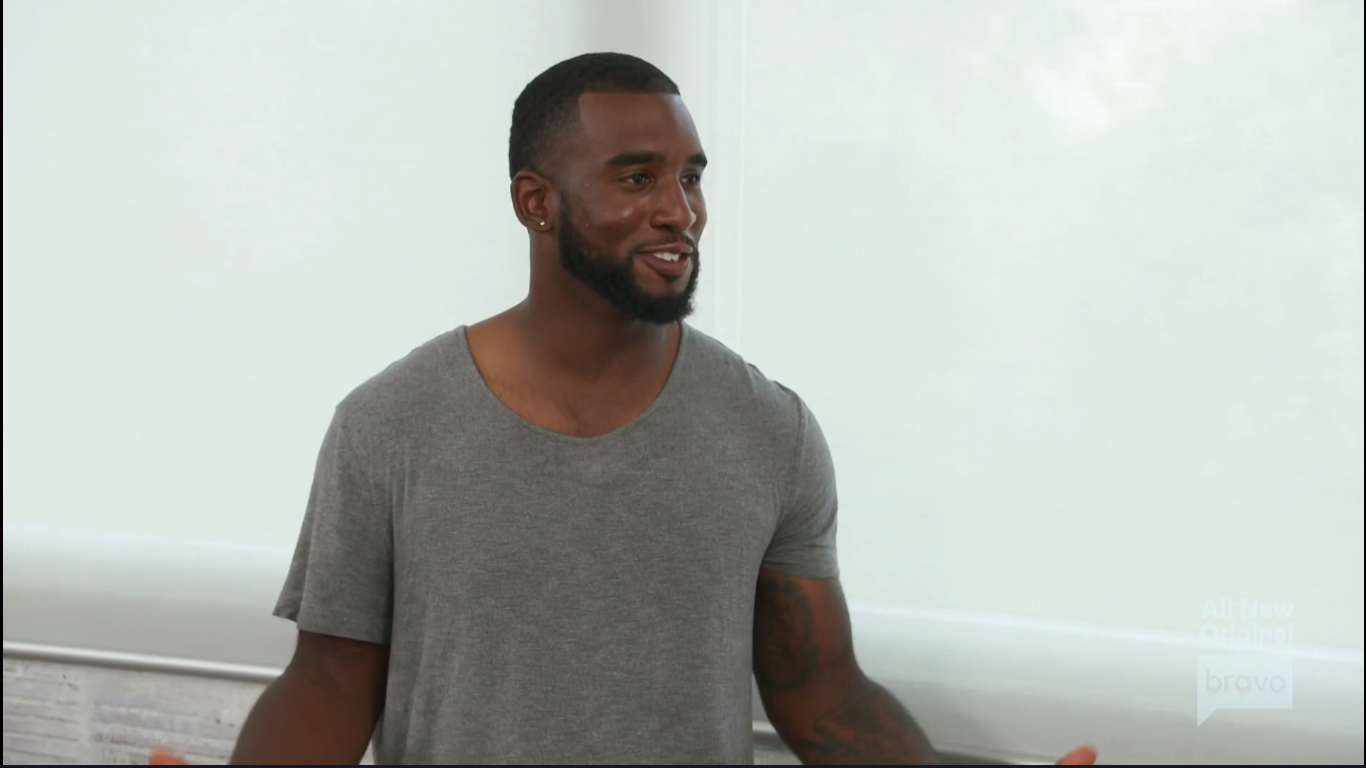 I can't listen to Patrick drag on and on about Safari anymore. He lets her walk all over him, and it's exhausting. I'll give her some credit though. The decorating she did for the apartment is quite nice. It's such a zen space though.
To my shock, Patrick stands up for himself and tells Safari he's having the housewarming party. He says he's doing it no matter what. However, he also mentions there won't be any surprises at the party. I'm guessing he headed Kandi's advice and choice to leave Shawndreca off the guest list.
Safari is putting her foot down when it comes to Shawndreca. It's not happening. She's not allowed in that apartment for this housewarming. I have a feeling she'll find a way to make it happen. I wouldn't be surprised if she made a pop-up appearance to stir up trouble.
Shawndreca continues her investigation and asks Rashard Roles if he did it. She's asking everyone. It's incredibly awkward because we know that it was the FOOTAGE. She told on herself.
Shouldn't she be more focused on not saying disparaging comments about the company anymore? That should be more of a primary focus. Rashard informs DonJuan about the investigation, so he's going to spill the beans. He's about to bring the receipts.
Shawndreca denies ever saying Kandi and Todd don't care about OLG. DonJuan doesn't stand for it though and brings out the receipts showing her saying everything. She saw the footage for herself and suddenly the amnesia is gone. DonJuan got her on this one. She's the biggest hurdle facing the staff right now. Quite possibly the worst hostess ever because she gives no f**ks.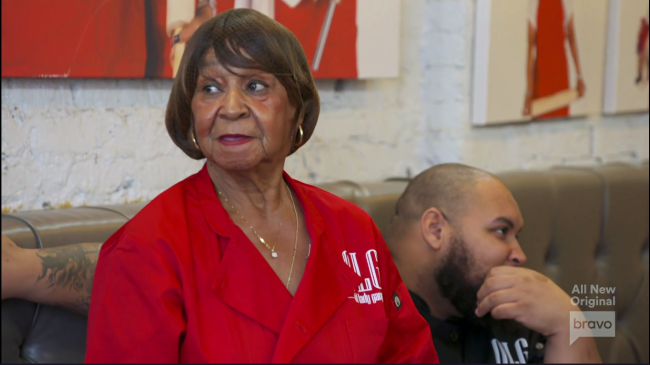 Aunt Bertha's in charge of the kitchen for once. Lord help everyone in that establishment. She doesn't put up with any tomfoolery or dumb ass bulls*it. She's ready to write up everyone for everything. Even Kandi showed up late, and Aunt Bertha was threatening termination. She's nobody's punk because she will f**k you up.
Todd is not exactly suited for the operational part of the restaurant. The kitchen's not his element. He's serving cold mac n' cheese because he has no clue what he's doing. Nobody wants to see some cold food.
Neither Kandi nor Todd want to ever work in the kitchen again. It's not their thing. They did what they had to do to prove a point, but they certainly have a lot more respect for the kitchen staff. It's hard work, and I'm sure the pay isn't nearly what they deserve.
Tell me Kandi's not gifting her mother a butt lift. I can't. Mama Joyce is about to leave this doctor's office with a whole new ass. Watching her put on a disposable thong isn't at all what I expected to see tonight. Why are they doing this to me?
I'll give credit where it's due though. Mama Joyce is 72 years old and has a BANGING body. That's point-blank period. However, let's skip the thongs this time.
THE WOMAN DOING THE BUTT LIFT IS PATRICK'S GIRLFRIEND SAFARI. It took me forever to make the connection.
Safari expresses to Kandi that Shawndreca doesn't like her. That's why she doesn't want her at the party. She denies being controlling and says it's more about respect. It's not unreasonable for her not to want one of Patrick's exes at the party. That seems like a fairly easy request to accommodate because she doesn't need to be there.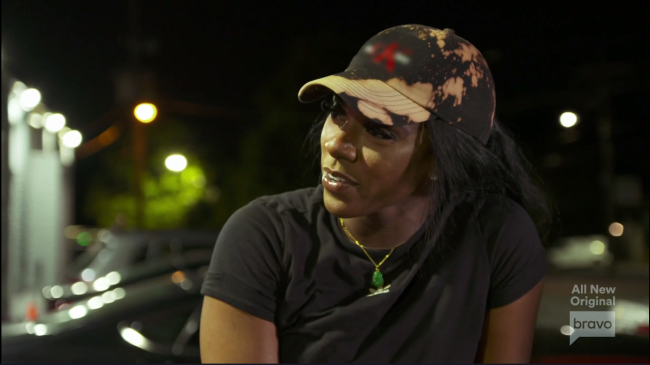 Philip Frempong and DonJuan are going to have a conversation holding Brandon accountable for the video. As of now, he's unaware of what happened. The footage is so damning.
DonJuan asks Brandon if he's in a relationship with Dom, and he tells the truth. He understands where they're coming from, and wants her to work in another location. Are you for real right now? The person that should be moving locations is HIM. He's the one who needs to see his way out of this.
Brandon's trying to come up with a solution that involves him keeping his spot. That doesn't sound like it's going to be possible. The only feasible solution here has to be him cutting things off with Dom. Kandi has other restaurants, so technically there are other options for him. We'll see how Dom reacts to things.
Brandon shows up at Dom's dance class which is a red flag. She doesn't know why he'd be randomly showing up and asking her to step outside. She knows some shit's about to go down.
Brandon wants her to leave OLG, so he can keep his manager position. It's ridiculous. She feels like he's dumping her, but he says they only have to watch how they conduct themselves. This sounds like an HR nightmare. What a mess.
TELL US – SHOULD BRANDON AND DOM'UNIQUE CALL IT QUITS? WAS DONJUAN GENUINELY CONCERNED FOR BRIAN? ARE YOU ENJOYING THIS SEASON OF KANDI AND THE GANG?
[Photo Credit: Bravo]