Reality Tea News Editor Daniel Falconer sat down with Eboni K. Williams for an exclusive interview, to talk about everything she has going on. With her popular podcast Holding Court – distributed by Interval Presents – coming up to its third anniversary, and other Bravo stars making headlines for all the wrong reasons, there was a lot to discuss. Not to mention her time on Real Housewives of New York! Plus, her advice for a certain Bravo couple currently going through an ugly divorce.
Eboni on her "unique opportunity" to do something new
Daniel Falconer: Holding Court is in the legal area, and when people think about legal podcasts, they think of murder and true crime, but this is something very different and in a new space. Can you tell me a little bit about why you decided to go in that direction with the podcast?
Eboni K. Williams: I'm laughing because you're exactly right, and when I first started pitching this to various outlets and distributing partners they were like, 'What?'
The reason I picked to go in this space is I'm just opposed to oversaturating any market. Essentially, if it exists in a form that's doing well, I'm really not interested. I'm only interested in creating content and telling stories and having conversations, that are either currently not in existence at all, or their current forms are mediocre and I feel I can do better.
If you ever see me doing anything in my career – if it's writing a book; if it's doing a podcast; if it's joining a TV show or reality show – it's because I believe I have a unique opportunity to do something that's not currently being done – or it's certainly not being done well.
The challenges of being a young Black woman in law
Daniel Falconer: You have the education and history to back all of that up. Can you tell me a little bit about some of the challenges you faced as a young Black woman going into law?
Eboni K. Williams: So, in 2023 right now, Black women, we occupy less than 5% of the entire legal profession. That's pretty dismal because as Black people, we're 4% of that entire profession, we're 13-14% of the US population. We're disproportionately underrepresented in the space. We all hear "representation matters," we all heard, or at least I heard, "you've gotta see it to be it."
I read this incredible piece in the New York Times recently … It's this really beautiful piece about this whole generation of grown-ass Asian women named Connie because of Connie Chung, and because in that era, they had never seen an Asian woman, period, hardly on TV, and you certainly hadn't seen one with this sharp, incredible brilliance and wit and authority, in the way that Connie Chung showed up for Asian women, and women period, in the '70s, '80s, and early '90s.
That is something that I hope to represent to young Black women and girls who are even thinking about law school today. Don't worry, you don't have to go name your baby Eboni! But I think it's really important to be a model for something that we don't see enough of. Grace be to God, luckily I don't do this work alone. Now we have Ketanji Brown Jackson sitting on the US Supreme Court – first Black woman in American history – that matters, that's important to this.
Would that have made a difference to me when I was matriculating in law school almost 20 years ago? Yeah, it matters. Those are the decisions you're reading. You're reading around about [Antonin] Scalia, and Justice [Anthony] Kennedy,  and [Clarence] Thomas, and all this stuff, and to see even the name, Ketanji Brown Jackson, even the name Eboni K. Williams – these are very Afrocentric, Black-sounding names. There was a time when even that was so otherized and demonized in the law, it was so discredited.
I had a brilliant first year law school professor called Shaniqua Gray and she taught Torts, and I ended up making one of the only two As in her class and going on to be her teaching assistant the next year. When she wrote my letter of recommendation for a job I applied to, she signed it S. Gray. I asked, "Why did you sign it that way?" and she said, "I don't want anyone to think I am less astute, less credible, or less of an attorney because my name is Shaniqua and they don't understand how that fits into a space that is so white and so male."
So a lot of the work that I do, in insisting [I am called] Eboni K. Williams, that K is for Ki-uhnna and you better frickin' say it, is because I am very adamant in expanding perceptions of who Black girls and who Black women are in this thing called 'the law.'
Crime is the "original reality TV"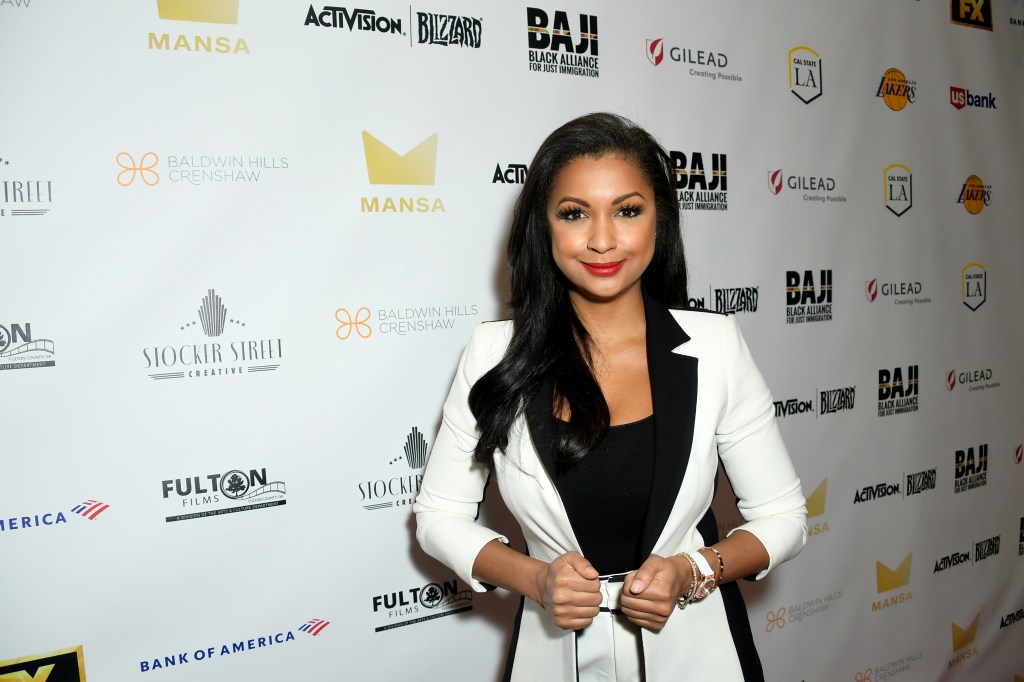 Daniel Falconer: Law and crime are a genre that a lot of people are obsessed with, why do you think that is? Is it just human nature?
Eboni K. Williams: Absolutely. It's the same reason that I watch Forensic Files every single night before bed, and I still do. Either that or Golden Girls! Crime is the original reality TV. Even thinking back to The People's Court, which wasn't necessarily crime but still in this courtroom space, [and] To Kill A Mockingbird.
You know why? It's great storytelling. We've got somebody to root for, you've got an antihero, you've got conflict normally at the highest level – tends to be murder – then you've got some kind of resolution known as the trial or disposition of what went down. So you've got a full storytelling in this capacity and it's extremely compelling and it's very high stakes, and it's very relatable to anybody from all walks of life.
The legal system is stacked against Black people
Daniel Falconer: Your words in the podcast are, "the legal system is stacked against Black people." That's a provable fact, so why do you think so many people have a problem with admitting that this is the reality?
Eboni K. Williams: Because if you admit the reality of that provable fact, it implies some level of complicit nature if you're not doing anything actively to change it, right? I know that this is where it starts to get uncomfortable for some. If you acknowledge the truth of things that you don't even agree with, things like homophobia, transphobia, sexism, racism, you name it, and you're not out here actively being an anti-racist … if you're not actively working on behalf of saving the lives of immigrants, then the subtext is that you are complicit.
So what becomes easier than doing the work of dismantling these rigged systems that benefit some and are detrimental to others, even deadly to others – [you] turn away. Don't see it, don't see something, don't say something, and go on about your business. Under that model of wilful delusion, society gets to function as it's functioned in a way that is still comfortable enough for many.
Daniel Falconer: I think that then evolves as well – once they turn away, they can then flip it into, "I'm the victim."
Eboni K. Williams: I was reading something in the New York Times and it was around a construct that even I had not heard of yet, and it's called "Guilt vs Guiltiness." Many of us have read essays around white guilt, or hetero guilt, and we understand that, but the guilt versus the guiltiness.
The guilt is legitimate and can be a really powerful tool in dismantling systemic oppression. Sometimes guilt, the acknowledgment of, "Oh wow, I am a heterosexual woman who doesn't have legislation coming down on my right to adopt children," as the queer community does. I could feel guilty about that, and that guilt could inspire me to do something about it.
Or, I can feel guiltiness, and the guiltiness works like this: "Oh my God, that's horrible that that's happening, I feel guiltiness around it," which doesn't inspire action, it inspires me to be preoccupied by how that inequity makes me look. So now the guiltiness is not around fixing this problem, the guiltiness is around making sure that I'm alleviated of perceived wrongdoing individually. So now a system problem, a problem that really hurts or harms other, I've made it about me through my guiltiness.
"I don't make the podcast for the Ramonas"
Daniel Falconer: These conversations come up in the podcast, so do you think it will be quite a confronting listen for the Ramona Singers of the world, shall we say, to listen to this podcast?
Eboni K. Williams: Well Ramona will be particularly confronted by our highest-performing episode to-date, which was Sometimes You Gotta Take A MF To HR, so thank you Ramona and Carlos King for that 50,000 plus new listenership. At times Dan, there's gonna be content on our show that does that. But the best thing to me about our show is that we go in the deep end of the pool, because I'm an intellectual heavyweight and so is my brilliant co-host Dustin Ross. But we're also hella fun, Dustin's a comedic genius. There's a lot of entertainment value that comes along with this show, which is the way I produced it and designed it with intention.
Nobody wants to go to law school unless you're an idiot like those of us that went and we're all still paying back Sallie Mae for it. I'm joking, I love the law and I loved law school. This podcast is not to duplicate [a] lecture hall in civil procedure 101. This podcast is to take basic legalese, basic legal dynamics from celebrity justice stuff, so like Kevin Costner's estranged wife refusing to leave his house, even though he's got a quote, "ironclad prenup," what the hell is an ironclad prenup? I've never seen a prenup that I couldn't beat!
Or it can be the social justice stuff. It can be the man here in New York City who was just indicted for the killing of Jordan Neely, the mentally-challenged Black man who was killed on a New York City subway through a chokehold, so we expand the gamut. Is that uncomfortable for the quote, Ramonas of the world? Maybe, but on the right day, I even saw Ramona Singer, God is my witness, be curious about her role in potentially advancing some of these issues.
And frankly Dan, I don't make the podcast for the Ramonas, I don't make the podcast for those that are hostile to this work. I make this podcast for those who are already brought in as co-conspirators of liberating all of us collectively as intersected people, or those that are on the fence. If you're on the fence, this could be the podcast that brings you over the fence, and for that I'm extremely proud.
Daniel Falconer: As you say, you balance it with the entertainment, the chemistry's great, I especially enjoyed White Mess, I'm glad you got the title through! You made a comment about Rihanna's form of Black protest by not releasing new music. I found that really interesting, could you delve into that a little for me?
Eboni K. Williams: Yes! So one of my greatest heroes is the late and incredibly great James Baldwin, and Baldwin is a writer of writers. He wrote a lot of essays. One of them, he goes deep. He talks about this also in my favorite Baldwin book, The Fire Next Time, so if you are not familiar with James Baldwin and you wanna know a good place to start – which a lot of people have asked me since my tenure on RHONY, I feature Baldwin during my Harlem night infamous dinner with the ladies, what a doozy…
Anyways, Baldwin says this. Baldwin says there's something innately anti-Black and very oppressive around an American society that has always told Black people that one of the very few and limited things that you can do to stand between yourself and death is to entertain. Whether that be athletics – "shut up and dribble" – whether that be old school minstrel shows … Hattie McDaniel being allowed to be such a brilliant actress that she's the first Black woman to get an Oscar for Gone With The Wind, but not humanized enough to even come into the auditorium and sit with her co-stars. She was regulated to the back of the room, had to accept her Oscar, and then be escorted away out of the ballroom.
When you start with that premise, Baldwin's argument that it is the entertaining and the ability to make white Americans laugh and have these entertained experiences in which your mere survival is based … Rihanna essentially saying "f*ck that, I'm gonna be a billionairess titan of industry," is quite the protest.
Eboni on seeing Kim and Kroy's divorce coming from "a mile away"
Daniel Falconer: Speaking on the podcast about Kim Zolciak and Kroy Biermann, you said you saw their divorce coming from a mile away, why was that?
Eboni K. Williams: First of all, let's be clear, I'm not even demonizing Kim in this … I believe that people are completely disingenuous when they pretend as if financial positioning and social structure and status are not innately essential elements of assessing marriage, period. We know it has been since the beginning of time, that's why dowries were a thing, and that positioning is still true today.
I remember when Kim – because I used to be an avid Housewives watcher – I remember when Kim and Kroy met … she's coming off of Big Poppa and that ended horribly, and she's got these girls. Here's this guy who was a little younger, who was still playing professional football at the time, whose got some level of money but more so status. I used to represent professional athletes, so I really understand the psychology of women who are uber-attracted to professional athletes, there's a lot going on there. It's a reason why they date those guys and not the financial CEOs necessarily. There is a kind of razzle dazzle ritziness that comes along with the social status of these celebrities, these athletes.
So, Kroy made sense until he didn't. that's why I saw it a mile away. I know the NFL stands for "Not For Long." Kroy had a surprisingly long career in the NFL, 'cause most careers end in three years. But again, it made sense when they were on the Don't Be Tardy spinoff, it made sense when he was still able to earn in the league and beyond, it made sense when there was still a cultural kind of relevance and this and that.
When all that quiets and the money's not coming in, because he's out of the league, there's just a grieving really that has to go on when professional athletes are no longer in the limelight like that. Now Kim is the culturally relevant one all by herself, even though when you picked him you guys were co-captains in that society. Yeah, I saw it coming a mile away because it no longer made sense. She didn't sign up to have to carry the financial and the cultural shininess of it by herself and that's essentially where she landed.
Advice for Kim moving forward
Daniel Falconer: What would your advice be to her now then? Would you say do this in private, or make that money and get back on Bravo?
Eboni K. Williams: Let's be frank, I'm a businesswoman Dan. So my advice is, somebody should move out, even though as I say in the podcast, possession is nine tenths of the law, so I understand why neither one of them want to move out of the house, because they both want a legal claim to the house. But if at least even half of the allegations we're hearing are true, somebody could get seriously hurt, somebody's gotta get the hell out of there. We don't want a War of the Roses situation on our hands. So my first piece of advice, somebody move out. Kim if it's gotta be you, move out, worry about the house later, we can get you a new one.
Second piece of advice, absolutely go back on reality TV. Kim Zolciak, one of her objective skillsets is being compelling on reality TV. At this point that is a verifiable, certified, monetary skillset. So Kim, figure out what the platform is, figure out what the hook is, and absolutely get back on reality TV, but don't center it around this divorce, center it around Kim's comeback. Make herself a hero in this new story, and don't worry about the money left behind. I learned this from very, very rich people that I associate with.
I had a guy I dated who was a billionaire and he was going through a divorce when I first met him and we were just friends. Dr. Dre was going through a divorce at the same time, and Dr. Dre and his ex just figured that out five years later. My ex paid his ex-wife off, gave her half, and kept it moving, and he's already made another billion since.
So, it's kind of like perspective. If you made a billion once you can make it again, most of the time, if you made it off a skill. Kim, don't worry about whatever sh*t went down with you and Kroy. Make your money again and move forward with your girls.
Eboni still keeps in touch with Sonja, and would consider Ultimate Girls Trip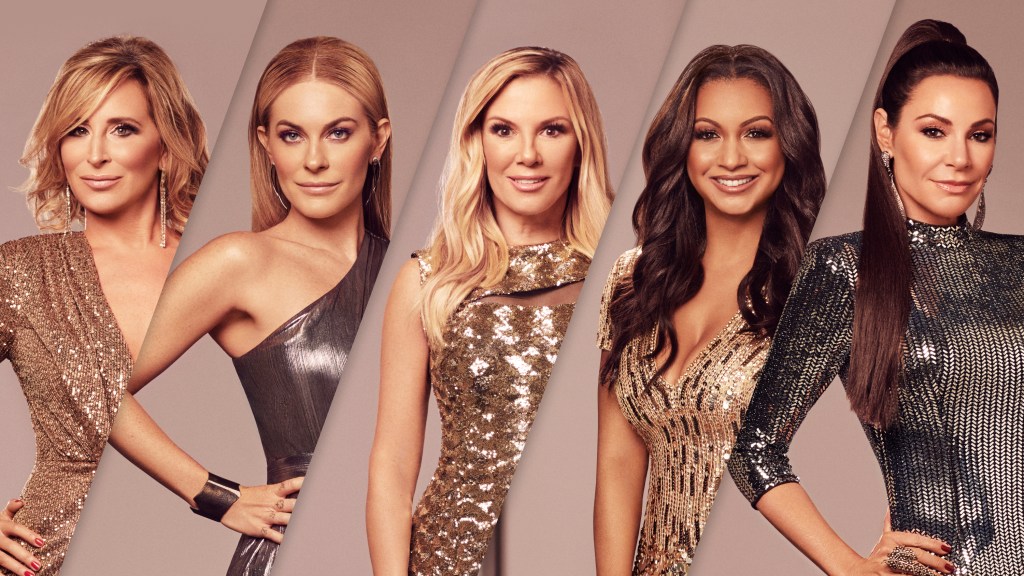 Daniel Falconer: RHONY was a small part of your life, but an interesting and memorable one! I think what may have surprised viewers was that Sonja Morgan was the most emotionally intelligent in receiving what you had to say. Do you still chat to Sonja?
Eboni K. Williams: Absolutely! I was just exchanging messages with her daughter Quincy Morgan today who just graduated. Sonja texts me, we text each other.
I guess if you don't know, you don't know, but I will tell you this: it wasn't even close in terms of how far and beyond Sonja is intellectually and emotionally as well, in terms of not just these issues, that's just her anyways.
If you get Sonja, especially if she's sober for lack of a better term, and she's really focused, I've had some of the best relationship conversations with Sonja, some of the best parenting conversations, the best cultural in terms of art and music. Sonja's really the sh*t honestly. She can cut up, and sometimes that's a little performative because she thinks of herself as either Lucy or Ethel and that's fine, but Sonja's really dope.
Daniel Falconer: If Peacock came knocking, would you do an Ultimate Girls Trip with some of the girls? Maybe from other franchises!
Eboni K. Williams: That would have to be the clause! Exactly. I could consider it. I'd consider it if it's other franchises and something fresh, and new. You never say never in this business.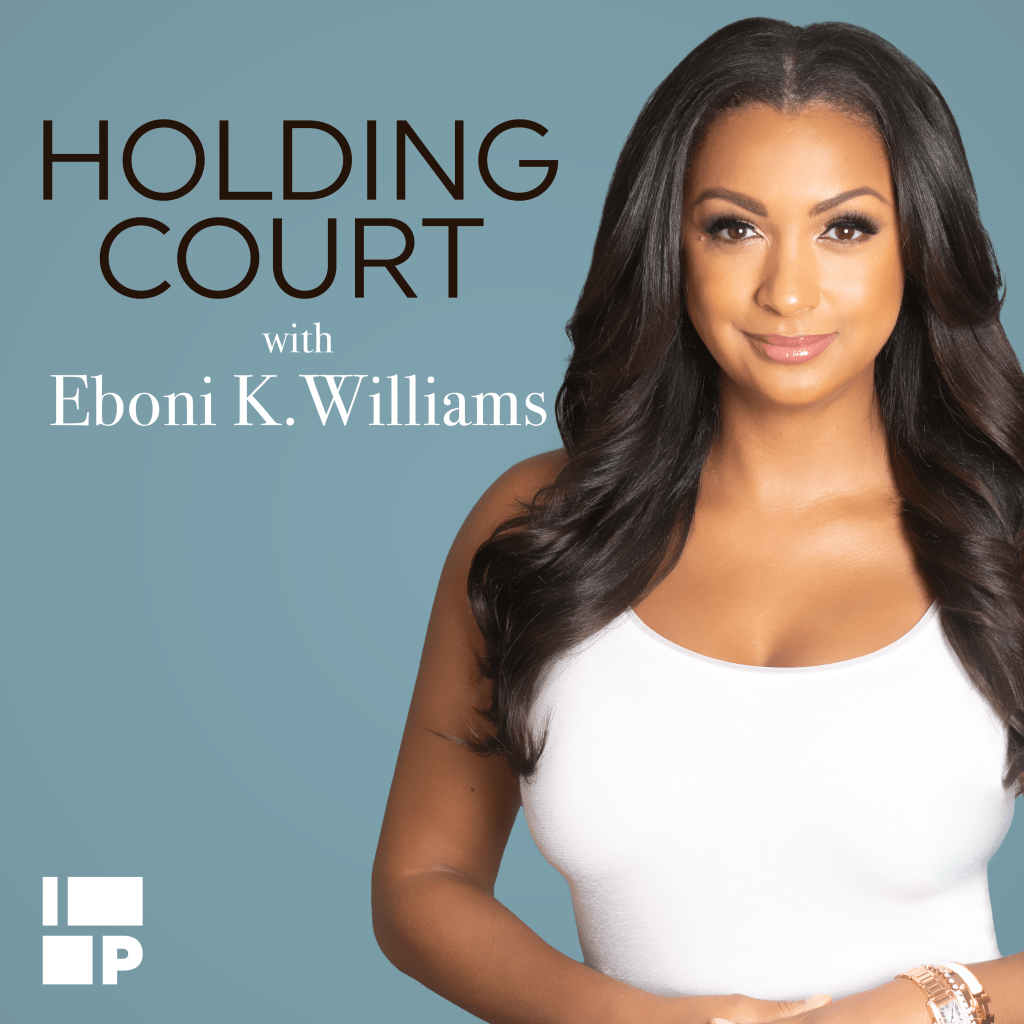 Holding Court with Eboni K. Williams is distributed by Interval Presents, Warner Music Group's in-house podcast network. Each week, Eboni and Dustin Ross break down what's on the docket in American justice and what's not. With teachable moments, and a healthy dose of hilarity, it's an essential listen. New episodes every Wednesday, wherever you get your podcasts.
TELL US – WOULD YOU LIKE TO SEE EBONI GO ON AN ULTIMATE GIRLS TRIP? ARE YOU HAPPY TO HEAR HER FRIENDSHIP WITH SONJA IS STILL GOING STRONG? HAVE YOU LISTENED TO THE HOLDING COURT PODCAST?