In 2011, the entire dynamic of the Real Housewives of New Jersey changed when Bravo elected to upset the hierarchy, aka Teresa Giudice, and bring in Melissa Gorga. Melissa was the wife of Teresa's little brother, Joe Gorga. However, it it was clear very quickly all was not well within the Gorga/Giudice households. As a Jersey girl, I've never had such massive falling outs with my family, but I could relate to the franchise's closeness. Unfortunately, the Giudice-Gorga feud is starting to take its toll on RHONJ.
Both Melissa and Teresa Look Bad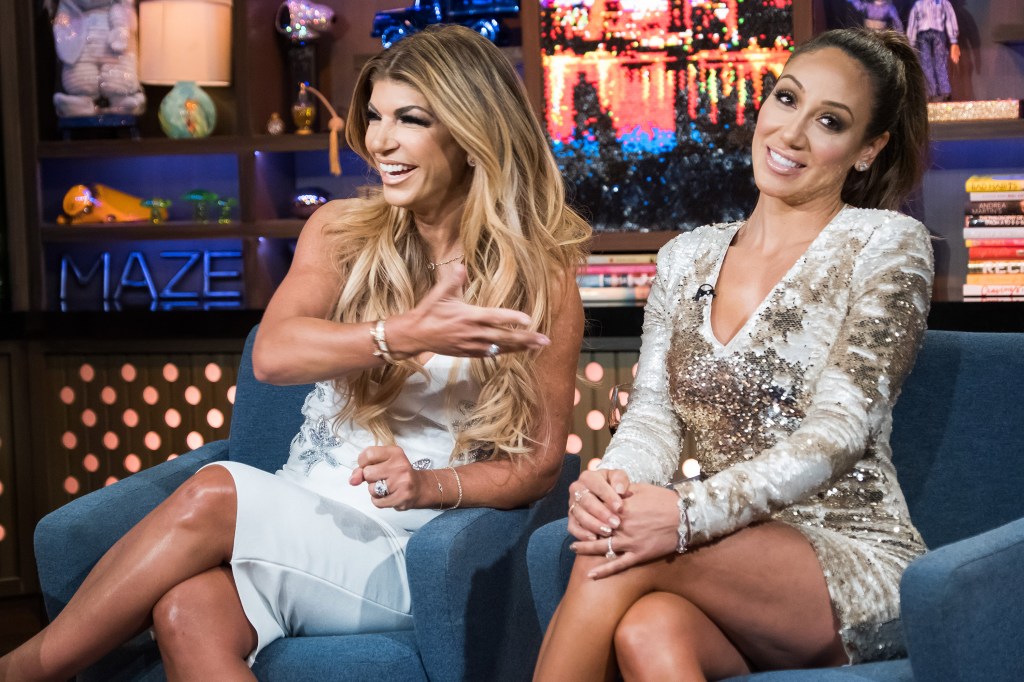 Verbal fighting with a sibling over "borrowing" a piece of clothing is one thing, but Melissa and Teresa never fought on equal playing fields. Each one often went for the jugular, with the trifecta being husband, kids, and parents. Teresa has often spoken loudly about the importance of family. Yet, her actions never quite matched up. She's been caught multiple times with her hand in the cookie jar while plotting Melissa's demise. 
Melissa, on the other hand, really is just retaliating at this point. After trying to play it cool for years and forgive her sister-in-law for her indiscretions, the mother of three is now sassing back big time. Viewers can mostly empathize with Melissa's fight or flight mentality. However, some of the instigating just isn't needed because, at this point, she should know she isn't going to win against crazy. 
Teresa Is the Problem
We, as an audience, can see how Teresa is the problem. After years of turmoil, Joe and Melissa are so broken it is actually hard to watch. Teresa has become the queen of manipulation, which isn't the pageant title one wants to win. The former buyer for Macy's was originally quite relatable, kind even. 
During the first few seasons of RHONJ, Teresa came across as a bit naive and under the thumb of Joe Giudice. But after her stint in jail, she really grew into her own voice, but it came at a cost. Teresa truly felt she was bigger and better than everyone around her, and it showed. She has cut all ties with every family member, including Kathy Wakile. Keep in mind, happy people generally don't just go and cut their families off cold turkey; something was always brewing. 
The Storyline Is Repetitive
For ten seasons, Teresa and Melissa had primarily had the same storyline. We will give Teresa the benefit of the doubt that she has had two major life instances occur on the show—being sent to jail and marrying Luis Ruelas. But for the most part, the Giudice-Gorga feud storyline hasn't changed. It has almost become a sad series of events. 
How many times can viewers really watch the Joes become embroiled in a physical brawl? Let's be honest; both were short and stout; it wasn't as if viewers had a front-row seat to a WWE event. Even Teresa and Melissa's constant one-upping has become something fans can rely on. Bottom line, viewers of the Real Housewives of New Jersey are tired of waiting for the family to figure it out. 
Joe May Need Therapy

At this point, Joe may need therapy after having to deal with years and years of Melissa and Teresa's hate towards one another. Imagine having to be the peacekeeper for both these women. It must have been exhausting.
Joe is finally starting to crack, as viewers saw during Season 13. The contractor had enough and chose to walk away from his sister once and for all. The toxicity is running the dynamic of the women, too, since every conversation revolves around the feud. 
RHONJ May Be Rebooted
No one would be surprised if Bravo turned around and announced that the franchise was going to be rebooted, just like the Real Housewives of New York. However, the network shared that in a shocking move, both Teresa and Melissa would be returning for Season 14.
While we aren't exactly sure how that will work out, since neither seems to be speaking to one another, fans hope they can get their act together and save what is left of the beloved franchise. 
TELL US – ARE YOU TIRED OF THE GIUDICE-GORGA FEUD ON REAL HOUSEWIVES OF NEW JERSEY?