Teresa Giudice of Real Housewives of New Jersey is well known for her explicit freakouts throughout her time on the franchise. The hot-blooded Italian American has often been seen as a pot stirrer whose agenda is only to stay in the limelight.
Most would argue that Teresa is the root of the problem. However, the mother of four would most likely say that she is just carrying out justice for those who have upset or betrayed her throughout the years. Since she will never apologize for the wrongs she has done, below are a few of Teresa Giudice's biggest freakouts—a reminder of why she always makes for great TV. 
The Table Flip That Started It All
When viewers first met Teresa during Season 1, she came across as endearing. Teresa was a housewife whose goal was to care for her children and husband. She preached that blood was thicker than water and held almost everyone to an incredibly high standard they could never meet. During a sit-down dinner with the rest of the cast, including Danielle Staub, the drama leveled up to a place where no Bravo fan thought it would ever go. 
At the time, she was happily married to Joe Giudice and felt anything to do with lying and stripping was the worst possible human offense. The women started to quiz Danielle about her association with the Cop Without a Badge book by Charles Kipp, the alleged drug trafficker, kidnapper, and prostitute. This riled Tre up to an unforgivable level, causing her to turn into She-Hulk and flip the table. 
Teresa Manhandles Andy
Who could forget the time Teresa physically removed Andy Cohen from her path when trying to get to Danielle to presumably rip her apart? The cast was filming an intense reunion at the Borgata. During the taping Andy tried his best to be the voice of reason to an otherwise bloodthirsty Teresa. Viewers watched as Teresa, who clearly worked out, lifted Andy and her vocals while pushing him back down into his chair, leaving the host in utter bewilderment. 
Teresa Douses Margaret
During a Nashville girl's trip, the cast of RHONJ tried their best to bond after a few rough months. Teresa looked like the mean girl after picking on Margaret Josephs the entire season. The dinner from hell didn't help her. Teresa was already upset, as she felt the blonde in pigtails had spoken out about Luis Ruelas to the bloggers. 
The tabletop conversation took a turn when Margaret became so frustrated she called Teresa a "sick disgusting liar." Reacting to the name-calling, Teresa hurled several colored cocktails at Margaret and called her a "f***king bitch." Teresa once again jumped up from the table and was forcefully taken away from the table. 
Teresa Flips off Bravo Camera Crew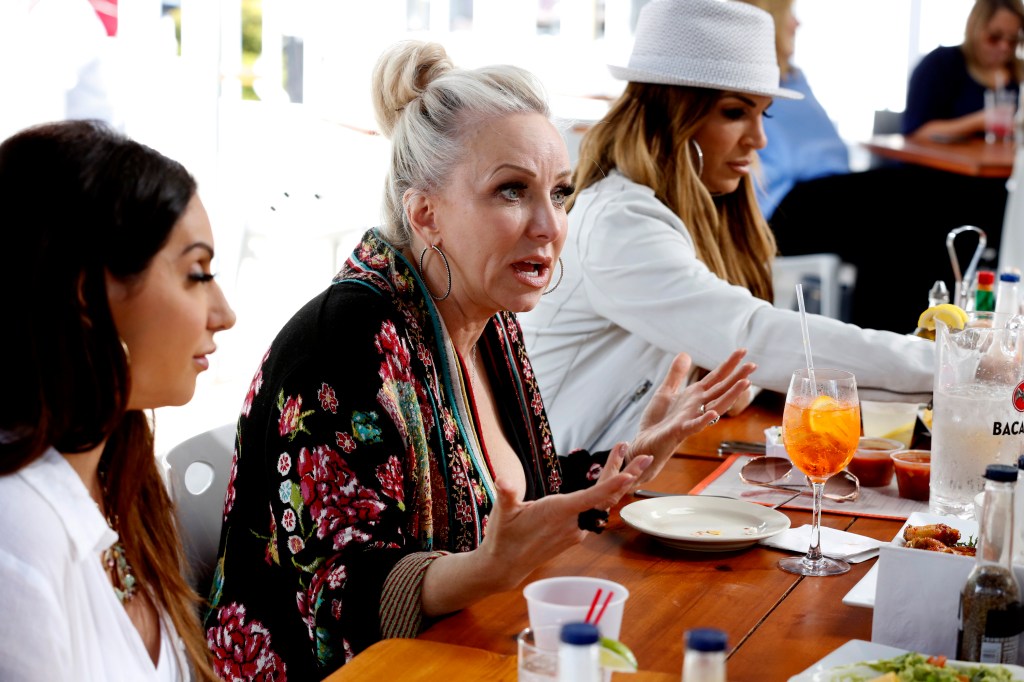 Over the years, Teresa has really only relied on herself. However, with her newfound love, she has become even more secretive and protective. No one has been off-limits when it comes to defending Luis, including the franchise crew. During the Season 10 finale, Teresa lost all ability to control herself. She was filmed flipping the camera crew off and even throwing a drink at them. The tantrum came after it was revealed that Teresa played a massive part in helping to pull Margaret's ponytail with Danielle. 
While at an end-of-summer party, it was revealed that Teresa was also at fault, with her silence speaking volumes. Teresa told the group, "I remember her saying something to me, I don't know. I was drinking, and everything happened so fast." Margaret was once again caught off guard as she noted she was "a little freaked out." In a shocking move, Teresa shared that she hoped the producers wouldn't use this footage. However, once the ladies confirmed it would be used, she went berserk. 
Teresa flipped off the camera, threw her drink at the closest camera, and stormed out of the backyard party. This would not be the end of Teresa's outlandish outbursts. The former Macy's buyer has made a name for herself thanks to her hysterical and often emotionally-charged outbursts which viewers often look forward to now.
TELL US – WHAT ARE SOME OF YOUR FAVORITE TERESA GIUDICE FREAKOUTS?