Andy Cohen's branching out from his talk show. On September 20, he played himself in a cameo appearance on the Season 12 premiere of American Horror Story: Delicate.
In the show's debut, Emma Roberts' character, Anna Victoria Alcott, is an actress making a guest appearance on Watch What Happens Live. She's there promoting her new horror film.
Though Andy's actually acted in the past, he's settled into producing reality television for the past few years. I'm sure it was fun for him to be part of such an iconic show's season premiere.
Even American Horror Story is talking about Scandoval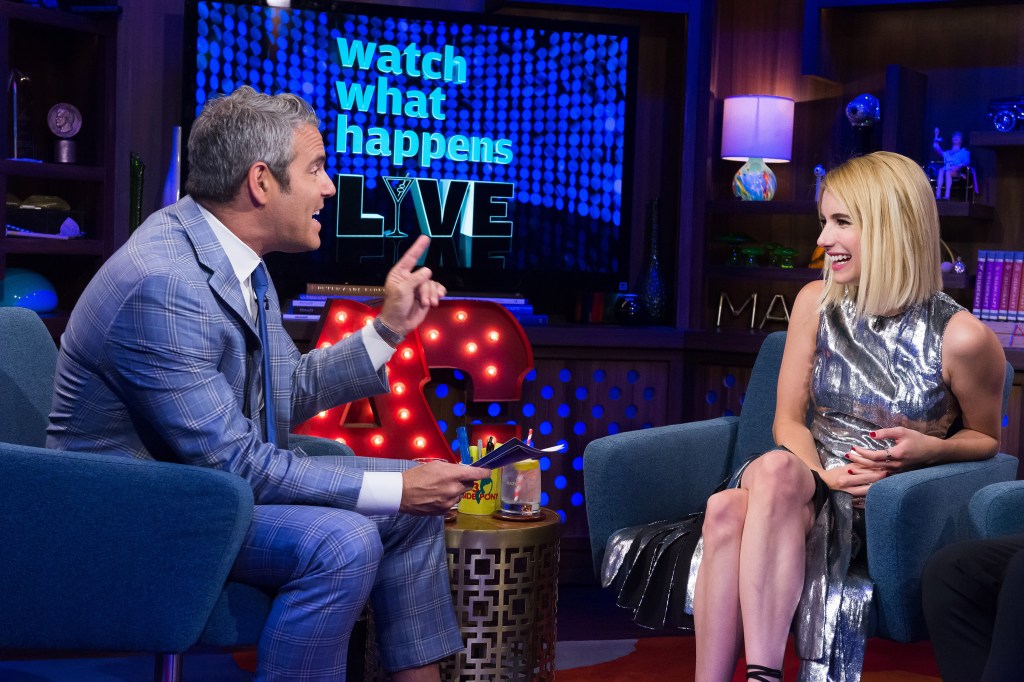 "I gotta tell you something," Andy told Anna. "I loved this movie. Even though, I have to tell you, I have not slept a wink since I saw it."
Fictional Anna responded, "I have not slept a wink since we shot it."
When Andy joked that "any actress would kill for" the role, Anna replied, "Andy, you're absolutely right, and I did kill someone for the part … but I can't tell you who … I can give you a hint though: no one will miss him."
"I know!" Andy guessed. "Tom Sandoval!"
"No, but I f*cked Tom Sandoval to get on this show," Anna laughed. "Can I say that?"
Unless you've been under a rock, you'll know that she's referring to the Scandoval mess that broke in March. It was a shock to Vanderpump Rules fans when news surfaced that he'd been cheating on his live-in girlfriend of nine years, Ariana Madix, with her close friend Rachel Leviss.
The plot of this season of AHS is based on the novel Delicate Condition by Danielle Valentine. The story follows Anna's attempts to have a baby, even though she's convinced someone is working against her.
Season 12 has been a hot topic of conversation for the past several weeks due to the casting of Kim Kardashian. She'll be playing the role of Siobhan Corbyn, Anna's publicist.
Honestly, I tried to watch this show once and got about 10 minutes in before I had to stop. It was a bit grisly for me. But I might just watch this season.
TELL US – DO YOU WATCH AMERICAN HORROR STORY? WHAT DID YOU THINK OF THE PREMIERE?