Not everyone loves Tom Sandoval, even though his new podcast title would argue otherwise. In fact, most Vanderpump Rules fans believe they have figured out that Tom is the Diver on The Masked Singer. The bad boy of reality TV did what any disgraced TV personality would do—try to get a head start on damage control.
While Ariana Madix joined up with numerous partners to cash in on her heartbreak, it seems Tom followed his passion for singing to the popular Fox show. But like in the real world, Tom still bombed on stage, even behind a fantastic costume. 
Why Masked Singer Fans Think Tom Is the Diver
During the Diver's promo, multiple clues gave away Tom's identity. The Diver held a news paper reading "Extra! Extra!" which felt like a nod toward his band, Tom Sandoval & The Most Extras. The character also held a compass with the arrow pointing at "MW," which could stand for Mid-West. Fans will recall that Tom hails from St. Louis. The elaborate gold brass antique deep sea scuba diver helmet and bodysuit could be a hint at Tom's participation in Fox's Special Forces: World's Toughest Test. 
In the Diver's promo package, multiple other clues were given, too. While speaking in the clip, the Diver noted, "Usually, I'm pretty pumped, but lately, I've been lost in the abyss." Naturally, "pumped" could be a pretty obvious hint at his show, Vanderpump Rules.
In the clue packages, the Diver shared, "Usually, you can find me under the sea, but for this clue, you'll have to look to the sky." A photo of a red cardinal hinted at Tom's hometown. The Diver/dive bar reference is clever since the star owns two drinking taverns. However, if we didn't pay to see him in concert, we don't want to see him on the show. 
Tom Needs New Moves
There is no way viewers of Vanderpump Rules could have watched the Bravo show for over 10 years and not know those cringey body rolls belong to the sea character. During Tom's first performance of Journey's Any Way You Want It, he snapped, spun, and leg kicked his way to revealing he is indeed the Diver.
One fan took it upon themselves to line up Tom's dance moves from VPR and those from the Masked Singer stage. The outcome was So, it's no surprise fans are feeling pretty confident that it was the Tom Tom co-owner. No amount of pretend leg air guitar could convince viewers it was anyone but Tom.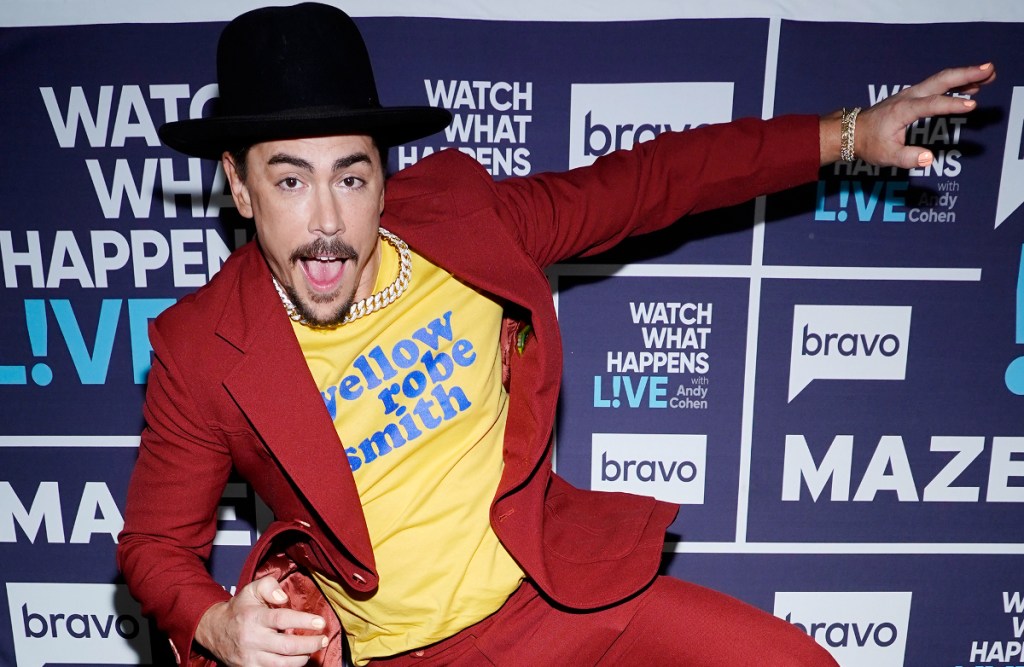 During the first performance for the Diver, it was clear that the Masked Singer's autotune techniques were no use against Tom's quintessential voice. The judges did no one any favors by pretending to be impressed with the Diver's singing as he hit some pretty scratchy high notes.
One viewer noted via Reddit "My 2 year old niece is a better singer than him." Another follower bluntly wrote, "Everyone's talking about his voice but c'mon we could all clock him on mute. He really does only have one dance move."
Fans Explain Why They Hate Tom
No one is buying Tom the Diver's victim story. The package had the star sharing that "I might be the most hated creature in the ocean right now." It is annoying to watch Tom reduce all the backlash toward him as just some jilted women punishing him for the behavior of other men. He even claimed in the clue package that he has been a "Scapegoat for every dude they ever met." 
In a 10 Things I Hate About You-esque montage, one fan pointed out, "I hate you bc you're you. I hate that I know the cadence of your stupid voice so much so that I instantly knew this was you without hesitation. I hate that you ruin some of my favorite songs with zero irony. I hate that you think you're smarter than I am when you're demonstrably not. I hate your stupid face." 
TELL US – DO YOU THINK TOM SANDOVAL IS THE DIVER ON THE MASKED SINGER?