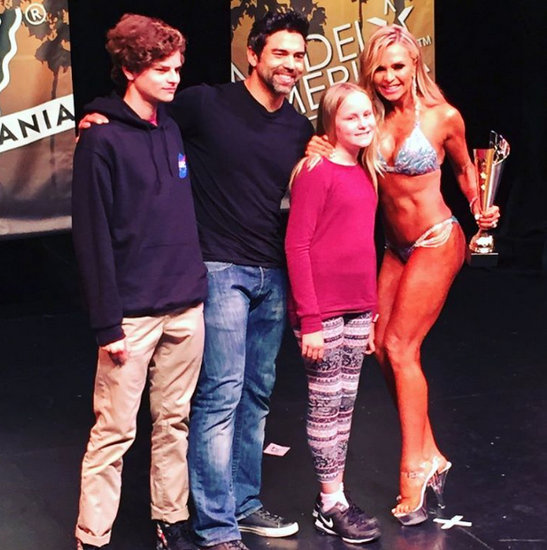 Tamra Judge has found Jesus and also weight lifting! This weekend the 48-year-old mom of 4, rocked it in a fitness competition. Tamra's triumph wasn't just about looking great – Real Housewives Of Orange County also wrapped filming for season 11. 
Tamra has been training for months by lifting weights, doing a ton of cardio at CUT Fitness, and eating super clean – then she grabbed her glamsquad and showed off her muscles in an itty-bitty sequined bikini. #AbsForJesus. 
Below are photos from Tamra's fitness competition and also the RHOC finale party. 
CLICK THE CONTINUE READING BUTTON FOR PHOTOS!
"Hard work, determination and it all comes down to tonight," shared Tamra.  "Thank you @mia_finnegan for training me and being so dedicated. Thank you @juliusmichael1 from @juliusmichaelsalon for the amazing #hair you always do for me and for being a dear #friend. Thanks @missm1437 for my amazing #makeup always. Thanks for @milliondollartan for making me look pageant perfect! #fitness #glamorous #RHOC #tamrajudge #juliusmichael #love my #glamteam so much!"
I have to hand it to Tamra – she looks AMAZING! Super inspiring and impressive that she's using hard work instead of quick fixes like many reality stars… 
RELATED – RHOC SEASON 11 RETURNS JUNE 20TH!
Heather Dubrow and Shannon Beador attended Tamra's competition and everyone celebrated with a huge party afterwards – which featured lots and lots of junk food! And yes, Vicki Gunvalson was also there! No surprise she and Tamra, once again made up! Although it's not clear if newbie Kelly Dodd made an appearance! 
UPDATE: Tamra caved and shared the results of the competition on Facebook:
"I took first place in my division (35 & older) and first place in overall. I was trying to keep it a secret (so you guys could find out on season 11) but too many people are reporting the info. Just got the news that I have qualified to compete in Fitness Universe in Miami & Fitness America in Las Vegas. I couldn't say NO…SO, Here I go again!"
Congratulations, Tamra!
TELL US – ARE YOU IMPRESSED BY HOW GREAT TAMRA LOOKS? ARE YOU EXCITED FOR RHOC TO RETURN?
[Main Photo Credit: Instagram]