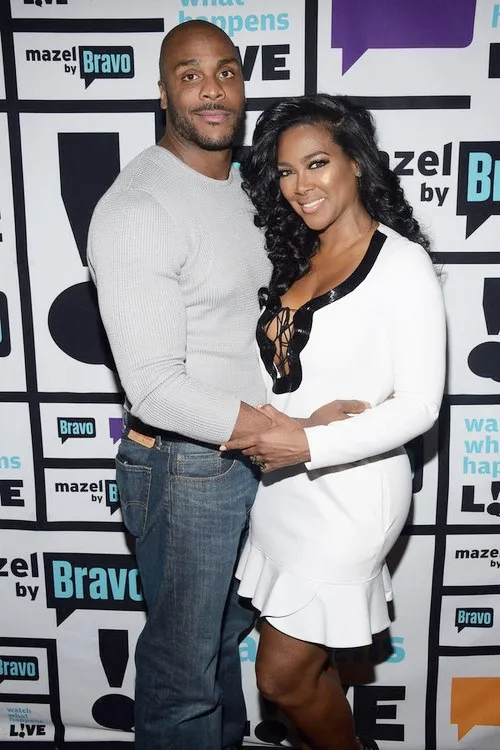 Kenya Moore and Matt Jordan broke up, or not, but Matt claims Kenya is once again up to her rent-a-man antics and trying to use him for a Real Housewives Of Atlanta story line. Who is surprised? Anyone… Anyone…
Matt does not seem to know if his relationship with Kenya is in reality TV world or in actual reality. In a now deleted Instagram post, he accuses Kenya of trying to dupe him into being part of some on-screen chicanery. This isn't the first time he's called her out for being less-than-honest! 
CLICK THE CONTINUE READING BUTTON FOR MORE!
So here's the deal: Apparently after breaking up with Kenya, Matt moved out to LA, but Kenya needed a storyline wooed him into returning to Atlanta under the guise of wanting to work on their relationship. And do another round of fake IVF! 
Matt arrives at Moore Manor (where Kenya is FINALLY residing) and is confronted by the Bravo production team – unbeknownst to him! I assume Kenya wanted to surprise/trick him into filming some sort of reconciliation scene, but knew if she told him in advance he'd bail.
Or maybe Kenya was hoping to provoke him and make Matt look like some sort of stalker (that seams more like her game) so he'd freak out and she'd have another uber-dramatic Kenya-the-perpetual-vicdumb moment. Kenya and Matt broke up over him behaving violently.
In a now deleted post (screenshot by Bossip), Matt initially put her antics out in public. "I know I wasn't the best man all the time. I told myself I wasn't going to leave LA but my queen asked me to come back, so we can celebrate my birthday and work out our relationship issues," he wrote. "And I pull up to the crib the whole freaking production team cameras and microphones everywhere. I think at some point we have to separate reality and reality TV." Yeah, not sure Kenya grasps that concept.
RELATED: Kenya Moore Denies 'Worst Cooks In America' Meltdown
Shortly after Matt fired off the offending post, he must have wanted to get paid by Bravo, or Kenya worked some of her voodoo magic, because suddenly a smiley pic appeared and he defended her in a gushy post referring to Kenya as his queen and claiming HE misunderstood her. (No you didn't dude – trust your gut, or your six-pack – whatever). 
"Listen closely. I'm upset with my queen right now. Once again the message does not seem to be getting through to [sic] many of you. This in no way was open season on Kenya Moore, as I stated before I chose to use my platform to express my opinions. Before I am viewed in a different way on television. (Damage control)," Matt lectured. "As I awoke this morning I see people calling her whores and a bunch of mean things. She made a mistake as we all have. Trust me if she had no real intention for me she could have turned her back a long time ago with the amount of mistakes I have made. This lady has seriously saved my life at least three times that I can count in the last two years. Things that right now I'm too embarrassed to even talk about but trust me this lady has jumped on grenades for my small life!!"
OK dude, listen closely: A) Self-esteem is your friend. Get a counselor, not a Kenya. If you think your life is that small and you are so unworthy of even a reality television train wreck, you should be hauling your ass to the nearest psych ward. No job is worth humiliating yourself for – you're not even being paid as a full-time cast member! B) Grammar is your friend. C) Kenya is responsible for what she puts out in the world and the opinions people keep. You are not her subject (or court jester) to clean up her messiness. If she seriously tried to TRICK you into filming so she looks better, then that's reprehensible and she deserves our negative feedback. Not that Kenya will ever accept it, or even bother to consider what the word accountability means. In short, Matt, run back to LA. 
Sincerely, 
A Concerned Viewer. (Damage control).
TELL US – DO YOU THINK KENYA TRIED TO TRICK MATT?

[Photo Credit: Charles Sykes/Bravo]