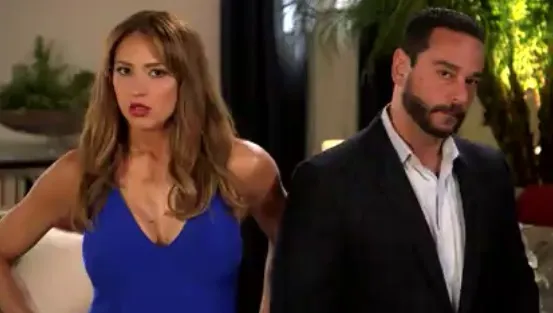 Another seemingly happy couple thrown in to shock fans and add an ounce of normalcy to this ridiculous (yet oh, so addictive) reality series? Check. Bachelor Nation is aghast, I'm sure! One more fame hungry couple (or three!) that is trying to stay relevant by hitching its wagon to another show? Yes, please. Thanks for introducing us, Real Housewives of New Jersey (and Mob Wives)! A secret, and likely salacious duo (or trio…) tossed in for that added bonus of crazy? Why, of course!
You know at this point, I have to be referring to the upcoming season of Marriage Boot Camp, right? The Bachelor in Paradise newlyweds (and my all-time favorite reality couple), Jade Roper and Tanner Tolbert are on-hand to represent Chris Harrison's camp, and they are joined by some familiar names that could definitely use the help!
CLICK THE CONTINUE READING BUTTON FOR MORE!  
Us Weekly is reporting that RHONJ's Amber and Jim Marchese will make an appearance because, let's be honest, if there is a camera crew involved, they are going to be there! Also confirmed are Karen Gravano of Mob Wives infamy and her on-again-off-again beau Storm and KeKe Wyatt and Michael Ford from R&B Divas: Atlanta. 
WE TV's staple promises a lot of drama. Storm isn't too keen to learn that Karen would punish him with castration if she ever learned he was a cheater. Perhaps she didn't watch any of her Mob Wives episodes and pick up on her own biggest gripe about him? The majority of the cast is terrified to learn that KeKe tried to murder her first husband, although I'm sure that admission was a bit exaggerated…I hope.
However, no one can get past the mystery throuple. That's right…three of them. Said nameless reality star just can't fathom why she can't enjoy the company of both a husband and a wife! The sixth season of Marriage Boot Camp is scheduled to premiere this October on WE. In the meantime, please sound off in the comments with your guesses as to the identity of the throuple! 
TELL US – ARE YOU EXCITED ABOUT THE SEASON 6 CAST FOR MARRIAGE BOOT CAMP? WHO IS THIS CRAZY THROUPLE??
[Photo Credit: We]
Save