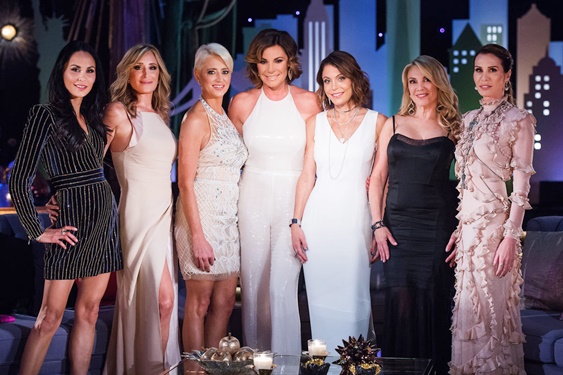 Luann de Lesseps will let no one rain on her happiness! Recovering from a rough season of Real Housewives Of New York, Luann is still in love and moving forward, but it has changed her relationships with some of her co-stars.
Luann declared Season 8 to be her least favorite and most difficult season. "It was uncomfortable," she explained. "Even though I got engaged."
CLICK THE CONTINUE READING BUTTON FOR MORE!
"It was so toxic against me from the other women about being in love," Luann continued. "They kind of tried to ruin my happiness."
Luann and Sonja Morgan have worked things out, but most of the cast? Not so much! "Sonja is happy for me now," said Luann.
When asked why Sonja was mad at Luann, but not Ramona Singer, for dating Tom, Luann said, "Because I'm marrying him."
Luann agreed that her Real Housewives of New York co-stars were jealous.
"After this last season I have just been focusing on our wedding, and traveling with Tom, and being with my children so I haven't really thought much about the Housewives," added Luann, "except for Dorinda."
RELATED: More Messy Drama Surrounding Jules And Michael's Divorce
Both Sonja and Dorinda attended Luann's bridal shower where they "did not speak" according to Luann. Yikes.
Are we still pretending this wedding won't be televised? Apparently so. Since Luann is serenading Tom at their wedding, and wearing three dresses – one of them short – she's shedding for the wedding. "Since we're not filming I don't have the stress of the Housewives to keep me thin," Luann joked on Wake Up With Taylor.
In other news, Carole Radziwill's twitter feed has transformed from bashing Luann, to non-stop politics. She's heavily invested in the presidential race, but still taking time out for her BFF Bethenny Frankel.

Actually, Carole will be having lots of fun with Housewives this weekend!
TELL US: WAS SEASON 8 OF RHONY LUANN'S WORST SEASON? DO YOU THINK LUANN WILL RETURN NEXT SEASON?

[Photo Credit: Charles Sykes/Bravo]