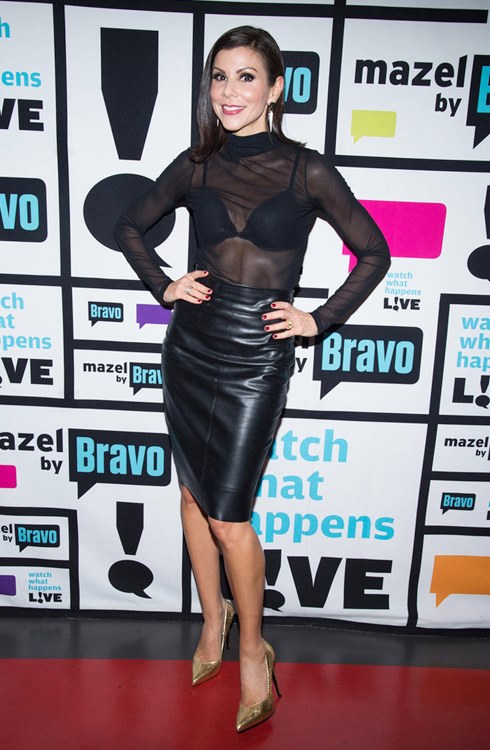 It was the worst of times, it was the worst of times. That about sums up this season of The Real Housewives Of Orange County, does it not? But, wait! We still have the reunion ahead, so we can relive the shrieking drama all over again!
Given the contentious nature of this season, it's only natural that the ladies react just as contentiously in their blogs. Heather Dubrow calls out Meghan Edmonds, Kelly Dodd, and Vicki Gunvalson in her blog this week as the ultimate sh*t-stirrers / backstabbers, and she's not holding back! Citing Meghan as two-faced, Kelly as a troublemaker, and Vicki as the revenge-seeking "puppet master," Heather claims that the reunion to come "will not disappoint."
CLICK THE CONTINUE READING BUTTON FOR MORE!
After gushing about her new book "Dr. And Mrs. Guinea Pig" with Terry Dubrow, Heather launches into an update of where things stand since cameras stopped rolling. They've moved into their mansion, the kids are doing well, and "Terry has kept his promise to be more available to the family."
As for the ladies, Heather begins with the easy ones (in her world). Of Tamra Judge, Heather reports, "We are close and I'm proud of her for working so hard and crushing her competition!" Her friendship with Shannon Beador remains strong as well. "We are close, and I loved watching her renew her vows."
Heather does point out that "It was sad seeing Vicki (through Kelly initially) trying to break down her newlywed status with hateful rumors." Ah. So – here we go!
Beginning with her gripes about Meghan, Heather reflects, "I thought we were close. I was proud of how we handled things after Glamis. I called her immediately, made a date to talk to her and we worked it out. I was upset watching her talk about me behind my back and take jabs at me in her interviews. I wish she had called me to discuss how she felt like I had done with her previously. I will be bringing this up at the reunion."
RELATED: Tamra Judge Denies Trying To Set Kelly Dodd Up; Is Kelly Pressing Charges?
Moving on to Kelly, Heather advises that she has some lessons to learn. "What can I say? Things didn't end well between us. Watching back the bus trip was difficult. It was 3 AM and we had been drinking for quite some time. I didn't even remember saying half that stuff. I thought I was defending my friends who were being attacked by Kelly throwing out accusations that she'd heard from Vicki. This is a good lesson which should be obvious – don't talk/discuss/fight after having too many drinks."
Heather does admit some fault in the bus-from-hell situation, though. She confesses, "I feel terrible about saying I felt bad for Kelly's kid. I'm very sorry Kelly. I promise you that I can learn my lesson and never do that again…but I've learned that not everyone learns…stay tuned for that."
Heather also jokes that she doesn't know if "I'm a puppet or a master or whatever it is I'm being accused of?" but that Kelly's behavior after the Ireland trip spoke volumes about how she operates. "When we got back from Ireland, I went home and back to my family. I saw Kelly going around to everyone and talking about me."
"Much comes up at the reunion that explains more of our contentious relationship this year…you will see next week," warns Heather.
But the real "puppet master," in Heather's opinion, is Vicki. Heather claims Vicki was simply out for revenge this season after feeling ganged up on last year. She accuses in her blog, "After watching the season, I think that Vicki wanted revenge for what she perceived we had done to her last year with Brooks [Ayers]. I think she used Kelly and fed her information to hurt everyone. If there actually IS a 'puppet master,' her name is Vicki."
TELL US: IS VICKI THE REAL PUPPET MASTER, OUT FOR REVENGE? DID HEATHER TAKE RESPONSIBILITY FOR HER PART IN THINGS ON THAT BUS? 
Photo Credit: Charles Sykes/Bravo
Save