Well, um, who needs a hot shower after last night's Real Housewives Of Atlanta?! The ladies were on pu$$y patrol, but there was also slow motion stiletto strolls, butterflies, and some serious Diana Ross, the Studio 54 years, hairstyles.
After a dramatic 'lesbian' laden dinner brought the glamping adventure to an end, Kandi Burruss is too upset by the accusations to ride home on the communal bus. Or maybe she was scared she have to confront further issues? One person, Cynthia Bailey, is relieved to be away from pu$$y-related problems, but alas that escape will be short-lived and come right back at Cynthia like getting struck by lightening.
While Marlo Hampton, stirrer of trouble and bubbles, busies herself with selfies, Sheree Whitfield plots and ponders. Specifically she wonders why Phaedra Parks, one of the originators of the 'Kandi hooks up with girls' rumors, never backed her bestie Porsha Williams. But for now Porsha is willing to sit in the hotseat alone, except for her girls 'Coco and Chanel.'
CLICK THE CONTINUE READING BUTTON FOR MORE!
On the bus back to Atlanta, the women question Porsha about why she was about to hire a private investigator to discover who started the Kandi rumors when all she had to do is look in the mirror. Porsha laughs and makes excuses, prompting Cynthia to comment that Porsha may want to seek additional therapy for her 'honesty management'. Which is a bit rich – like Marlo sugar daddy rich – coming from the "super good friend" of Kenya Moore!
Once again winning the Silent Game was Phaedra, who said not boo nor hide about her own role.
Back in Atlanta, lesbian-gate continues. Riding a dolly down the driveway of Lake Bailey  – what is it with these people not having driveways that can accommodate actual cars?! – Cynthia decides to do some inappropriate bonding with Noelle by sharing that she once rode the girl train, although she got off before the last stop – hint, hint. Just no.
Kandi, meanwhile, sidles into the Kandi Factory to drop a meaty bombshell. Apparently not only is Porsha a DL lesbian herself, but one drunken night she kissed Kandi – with tongue – then reportedly said she wanted to eat Kandi's p**sy "like ham." Since Kandi is more of a chicken girl, they ate late-night waffles instead. Needless to say, Kandi is furious about Porsha's slip of the tongue comments, and all the more angry that Porsha keeps trying to call, which Kandi believes is her attempt at damage control before Kandi can reveal all Porsha's secrets.
At least someone got some good news. Maybe. Phaedra's divorce from Apollo is finalized by a judge. Unfortunately Apollo is the last to know. Phaedra accepts the challenge to tell him, then finally – finally – removes her wedding ring.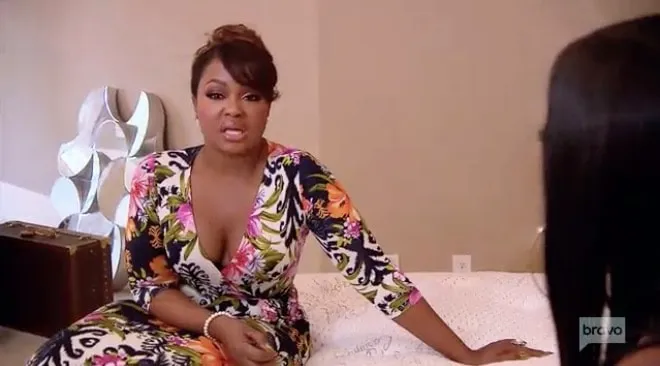 Predictably, Apollo learning that he's no Mr. Parks and also cut off from the former-Mrs. Parks' fortune didn't go well. Phaedra stops by Porsha's new pad, which she's christened Porsha Palace, for a grand tour, where she shares the news about Apollo's reaction. Porsha and Phaedra understand because Apollo already has another girlfriend – and he told Phaedra about it. In fact, he told her "a while ago."
RELATED – Who Is Apollo's New Woman?
Furthermore, Apollo was served papers in prison and was well-aware the divorce was coming, and did nothing to protest. Phaedra insists she will continue to co-parent with him from very afar, because boys need their fathers. The best thing to come out of this chat was Henessy. Which is apparently just what Porsha needs to give out tongue-lashings: whether they be to Kandi, waffles, or Todds.
Porsha's first recipient is Todd 2.0, her hopeful baby daddy. Now that she's got the future twins's (no, not her boobs!) room decorated, Porsha needs to make things right with the future sperm donor. Todd arrives for drinks bearing diamonds. Since Princess Porsha can buy her own palaces and poodles and poor taste, she's not impressed by this offering.
How confusing was this 'conversation?' One minute Porsha was yelling at Todd about losing his job and not taking her seriously; the next minute she was grabbing his face, literally licking him, and they were back together. Is this how feral cats mate?
Kenya decides to surprise Cynthia with the ultimate post-divorce makeover: vaginal rejuvenation! Is that better or worse than a Yoni Egg? Kenya makes it known – over and over again – that she does not require the services of this magical vaginal scepter; perfect as Miss WHO-S-A and her crooked crown are – above and below; inside and out!
Of course, it's pretty mean to basically insist Cynthia does need a new vagina! How would Kenya know? Perhaps Peter has loose lips? Or Kenya wanted Cynthia to be the guinea pig! Since wants to wash the Peachter right out of her hoohah, she hops into the chair, and to scenes of butterflies and flowers, is revived and ready to re-orgasm. The doctor does warn that for the next few days things could be rather juicy 'down there.' EWWW.
What could dry things right up, though, is an awkward meeting with Sheree, hopeful pimpmomager, about Kairo's potential modeling career. Cynthia is hosting a local fashion show for the Cargo collection and decides to ask Kairo to walk in the show for runway practice and to start building his modeling resume. Before Sheree comes waltzing in, Cynthia warns her business partner that She By SheBroke is also Shelusional.
Sure enough Sheree asks Cynthia, "Is it compensation?" Then is shocked to learn that supermodel Kairo will only be given one FREE bag for his services. "We're a small company, Sheree," reminds Cynthia, who is suddenly a realist about her business. She explains that models for nothing is the way the industry works, and stresses that Kairo will be bestowed with the amazing opportunity with the premiere Bailey Agency, where all supermodels are spawned – right atop the crumbling infrastructure of Bar One and Peter's Brew!
Cynthia also reminds Sheree that it is Kairo's decision if he wants to do her show, but Sheree cackles that it's actually not! Oh my. You would think someone who has long been part of the fashion industry would know how the modeling business works… How much did Sheree pay her models, or Dwight, for their services?
Moving on, it is time for the ill-fated meeting of the mouths between Porsha and Kandi. Both are armed and dangerous with slayerous accusations. There were no winners in this duel for loss of dignity. Basically it was a crass, gross, mess and I hate to see former friends throw each other's confidences out there. Just tacky.
Porsha is on a cleanse. Which is ironic. Maybe the intent is to cleanse out all the secrets she's been holding, because she went down in the mud.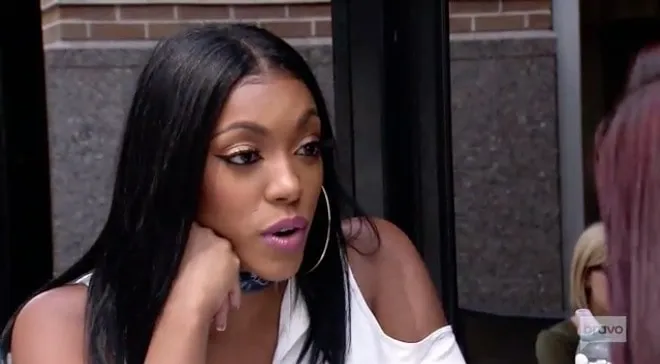 The low-down (and I do mean LOW) is that Kandi is confused about why Porsha, who has been in the lady pond herself – numerous times and with Kandi, even – is pretending to be so innocent. Kandi has made no secret of her bedroom proclivities, but decides it's time for Porsha to come out of the dishonesty closet too.
Porsha insists she only made the one-off shady comment about Kandi because she was mad Kandi told Sheree about Block. She never expected it to "carry any water." I certainly don't understand why Kandi is getting so riled up? All the ladies run their mouths when angry, and if Kandi is fine with her truths, she should be able to overlook it and then when things have settled down talk to Porsha one:one, as friends.
As always there is more to this story, and that 'more' is Phaedra. Kandi even told her staff that Phaedra never said anything, and they all seemed surprised.
Back to the argument. They throw everything at each other: Kandi calls Porsha a "pass around girl" and video ho, in addition to a secret lesbian. Porsha shrugs that she's single, and can mingle with any old ham or pineapple she likes. Just so long as it's not "short and stout" like Kandi, right?
Porsha counters that everyone knows Kandi was sleeping with entire R&B groups, and also married men. Then announces that some woman in ATL has been going around claiming Kandi hid their 7-year relationship, and Porsha can provide the woman's phone number as proof. Also Kandi is lying about having a sex dungeon? Which I can't imagine Kandi would hide. Wouldn't it help her Bedroom Kandi line?!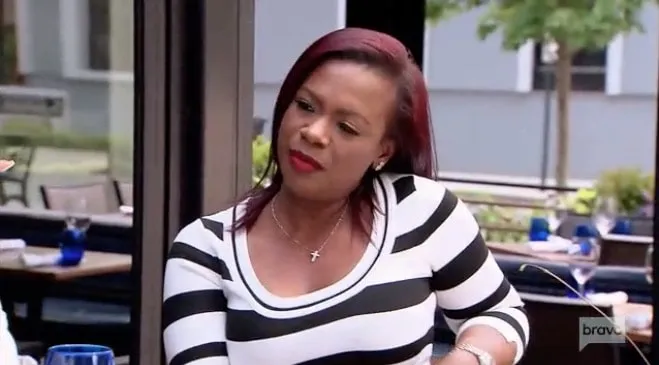 The worst, though, is that Porsha throws it out there that not only do Todd and Kandi regularly invite other ladies to "flip and flop" around in their marital bed, but that Todd is a regular ol' cheater who goes by the alias "Marvin" to pick up side-chicks. Most recently in NYC. And it's all over the blogs. Which everybody knows contain no alternative facts! I personally think whatever Kandi and Todd do in their marriage is their business so long as it's consensual. That was very inappropriate.
Kandi calls Porsha a liar, and leaves Porsha to sip her cleanse. Let's hope that cleanse rinses dirty mouths out! The one positive is that Porsha's anger management worked – she was calm, cool, and collected. Maybe it was the cleanse?
RELATED – Kandi & Todd Face Lawsuit Over OLG Restaurant
I hate this type of 'Outing' people or accusations about their sexuality, which makes it seem like being gay is something to be ashamed of. Kandi has always been open about her sexuality, which I appreciate, and Porsha, while she may not want it allllll out there – which is her prerogative, she's never seemed too shy about her own freak files. This was a sad, trashy display between women, and I'm confused about why the RHOA group is so obsessed with what everyone is doing with their crotches? That's between their own legs, whomever they open those legs to – unless, of course, it's to married men!
TELL US – DID KANDI AND PORSHA GO TOO LOW? DOES APOLLO HAVE A RIGHT TO BE MAD ABOUT THE DIVORCE? 
[Photo Credits: Bravo]