The viewers have seen Katie Maloney and Tom Schwartz go through some tough (and awkward) times this season on Vanderpump Rules. If this wasn't a reality show and we didn't already know that they got married, there would be a lot of doubt about whether or not they were going to tie the knot. This is especially true after the joint bachelor/bachelorette party episodes that took place in New Orleans.
It's hard for the viewers to "ship" this couple because all they've seen is drunken fighting this season, but apparently they are in a much different place these days. I have no idea how you go from calling each other names and siding with other people in arguments to wedded bliss, but I guess we will have until next season (or the reunion episodes) to see what Tom and Katie are like as a married couple.
CLICK "CONTINUE READING" FOR MORE
Katie talked about that terrifying New Orleans trip and the current state of their relationship in an interview with People. Supposedly Katie had been rage texting and drunk fighting because she harbors resentment against Tom for supposedly cheating on her in Vegas years before. I have no idea why this wasn't addressed sooner since the original allegations played out in a story line on the show, but it came off like a last ditch effort to justify some unflattering behavior.
Still, Katie said, "It was something that doesn't sit well with me and it's a source of my frustrations and anxiety and overall mood when it comes to Tom sometimes. As much as I tried to move past it, he did really betray my trust and it's something I've had a hard time restoring in him."
RELATED: Katie Maloney Dishes On Scheana Marie Shay "Victimizing Herself," Accusations Of Being A Bridezilla, & Her Drama With Ariana Madix And LaLa Kent
Katie said what we were all thinking when she described the New Orleans trip as the point when their relationship "hit rock bottom." And once again, if we didn't have real life as a spoiler, it would be hard to believe that the two of them were actually getting married.
Katie stated, "I just knew we either needed to turn things around and really recommit and change our attitudes or walk away from it all." She also mused, "The one constant thing in our relationship has been our commitment and how much we've fought for our relationship because we believe in it and love each other so much. So we had this revelation and we said in New Orleans we had to burn our relationship down to the ground so it could grow back healthier." I would never root against any couple, but I'll believe this when I see it. Hopefully these two can get their shit together.
It seems like the couple had some sort of epiphany once Lisa Vanderpump said that she didn't want to be responsible for marrying them. That had to be a major reality check and hit to the ego. Katie claims that she and Schwartz "reconnected and recommitted" before they tied the knot.
Katie said, "We decided that all of the resentment and negative things we're hitting the delete button. We made sure we weren't bringing that into our future and into our next chapter. It was a quick turn around but because we both wanted it so badly we both took the time to connect with each other." Hopefully this is true and they can actually leave their drama in the past instead of getting drunk, bringing it all up again, and arguing for the millionth time.
Katie added, "Nothing has changed our dynamic or we're not different people, but overall our approach to our relationship is very different. There's not as much pressure or ultimatum, we're just settling in to spending the rest of our lives together." Now that Katie has that wedding band on her finger, let's hope that the ultimatums have stopped.
RELATED: Katie Maloney Shares Her Thoughts On Her Portrayal This Season & Her Issues With Ariana Madix And Scheana Shay
She also shares some insight into how she picked that $15,000 wedding dress and more. Read her full interview here.
Tonight's an all new episode of Vanderpump Rules and the wedding is finally here! It's going to be an eventful evening!
A few highlights: Tom Schwartz enjoying the finer points of rafting with a pink flamingoswan.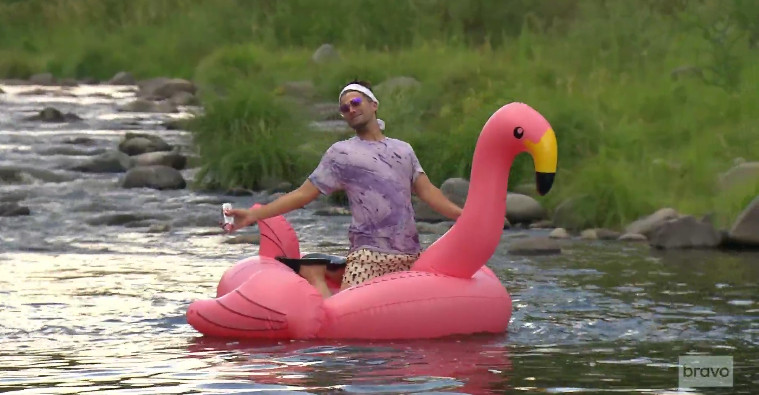 To Lisa Vanderpump doing menial tasks. Which Ken will document for those who'd never believe it without photographic evidence.
And of course, wedding drama galore! Join us here in the comments at 9/8 CST!
TELL US- ARE YOU SURPRISED THAT KATIE & SCHWARTZ GOT MARRIED? DO YOU BELIEVE THAT THEY HAVE CHANGED THEIR DYNAMIC?
[Photo Credit: Bravo]
Save