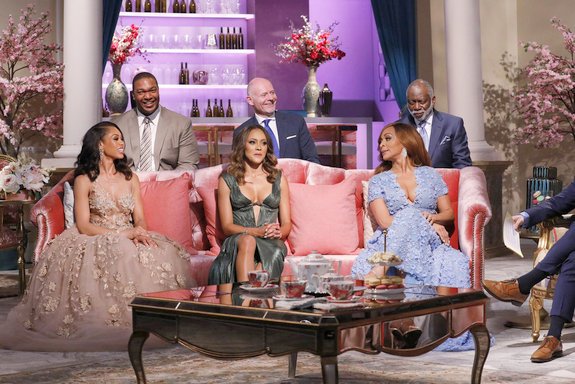 Throughout the whole second season of Real Housewives of Potomac, it really seemed like Ashley Darby was projecting a lot of her marriage problems on the rest of the cast. Still, it was pretty shocking when she announced that she and Michael Darby have been living separately for the past three months- especially since he was sitting there behind her at the reunion taping in relatively good spirits.
Sure, the marriage didn't seem to be the most solid throughout the season, but announcing it in the middle of the reunion definitely caught people off guard- or at least it caught me off guard. Then again, saving the relationship is a pretty solid story line for Season 3, so I'm not that surprised and neither was Ashley's RHOP costar Monique Samuels
Monique talked to Bravo's The Daily Dish about Ashley's reunion revelation. Monique admitted, "I can't say that I was shocked, because I did text Ashley, and based on her response, it sounded like something was going on. And I remember when I got the text message from her, I told my husband [Chris Samuels], I said, 'I think Ashley and Michael are breaking up. I think they're separating.' And I let him read it, and he thought the same thing.'"
She added, "So when she revealed that during the reunion, I wasn't really surprised." Still, she doesn't necessarily think the relationship is over for good. Monique shared, "I told them that I'm rooting for both of them, I hope that they will get over whatever it is that they're going through, and see that at the end of the day, a business shouldn't be what's causing your marriage to end or continue on. They need to really get back to what caused them to fall in love with each other."
Even though Monique wasn't ultimately surprised during the reunion itself, she was stunned while she watched the episodes this season- specifically that screaming match Ashley and Michael had in their restaurant parking lot. Monique confessed, "I had no idea. And even when we were at the restaurant, because that happened right before the event and Chris and I were there, and they seemed like they were a little stressed just because of business, but I had no idea it was that intense. So they played it off very well." She also said, "When I saw the episode, I was like, 'Oh my goodness.' I had no clue that they just had this big falling out. So I'm glad that they're getting over it though."
TELL US- WERE YOU SURPRISED TO HEAR THAT ASHLEY AND MICHAEL ARE SEPARATED? DO YOU THINK THINK THEY WILL/SHOULD GET BACK TOGETHER?
[Photo Credit: Heidi Gutman/Bravo]