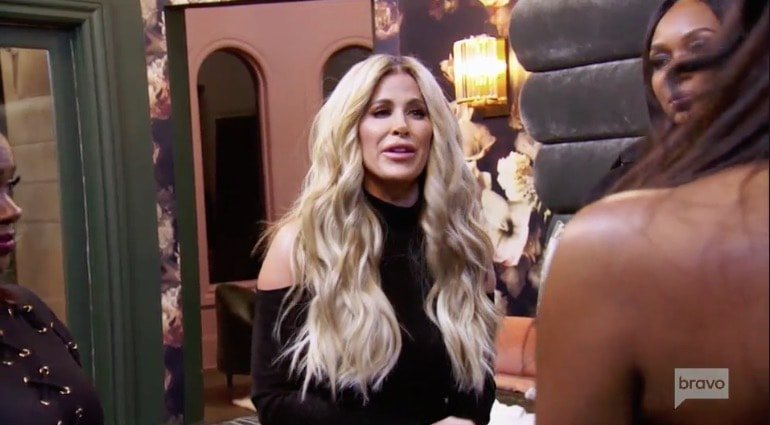 When Kim Zolciak popped up and got into it with Kenya Moore during the last Real Housewives of Atlanta finale, it seemed a little too contrived. Don't get me wrong, I was entertained by the shade throwing, but they had no reason for beefing other than securing screen time and relevancy.
Now it seems like Kim has a genuine reason to be mad at Kenya, or at least that's what she thinks, since things almost got physical between these two over the weekend.
According to a report from TMZ, the two of them were throwing their usual shade and then Kim attacked Kenya's recent (and super random) surprise marriage for being "fake" and Kenya came back at Kim for "pimping out her daughter" Brielle Biermann for John Legend tickets.

Which is in reference to Kim tweeting @ John's wife Chrissy Teigen: "sooo ur hubby is comin to ATL may 19 & Kash is beyond OBSESSED w him! Who does Brielle have to blow in order to meet him?? LOL."
That is not something I would expect most mothers to ever tweet, but I'm sure Kim expected to get some flack for that tweet. She probably even got off on the attention.
That's not what set her off though. There is a dispute over what actually happened and Kim might have misheard what Kenya actually said. According to the article, "Kim thinks Kenya said the Legend tix were for 'your injured son,' which is in reference to Kim's son Kash getting hospitalized after a dog bite."
Kim is so positive Kenya said it. We will have to see what really went down whenever the episode airs, but apparently Kim rushed toward Kenya, and knocked over/broke glasses en route.
And of course, Brielle has shared her two cents on the conflict.
Brielle tweeted, "Kenya is a dumb ugly evil bitch." How eloquent. One of her followers replied, "You won't @ her tho [eyeball emojis]," and Brielle quoted it and responded, "I don't need to! She stalks me and my mom." That's definitely going to turn the situation around. Just kidding, it basically guarantees a Kim versus Kenya screaming match at the next reunion and possibly Brielle's first appearance.
RELATED: Kim Zolciak Gives An Update On Her Son After Dog Bite
TELL US – WHOSE SIDE ARE YOU ON: KIM'S OR KENYA'S? ARE YOU HAPPY THAT KIM WILL BE ON RHOA NEXT SEASON?
[Photo Credit: Bravo]