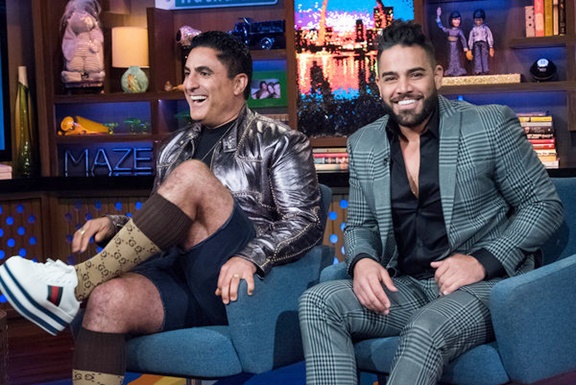 Although Shahs of Sunset is far from being the fun show that it used to be, these people really bring it when they appear on Watch What Happens Live. The shade throwing and tea spilling was at a high point when Reza Farahan and Mike Shouhed stopped by the clubhouse.
Reza threw some major shade at Shervin Roohparvar. Mike continued to talk shit about Asa Soltan Rahamti. These two did not hold back at all.
Thankfully, Asa has pretty much disappeared from Shahs of Sunset, but she did pop up during the last episode to talk about how she's so done with the group. Right. As if the whole cast wasn't done with her first. Nice attempt at changing the narrative there, Asa.
Andy Cohen asked Mike about Asa and he said, "I thought I was a good friend to her. I did lend a helping hand every time I could. It hurts me because her perception is incorrect." Oh well. Who wants to hang out with someone who constantly lies and promotes diamond water and caftans? Not me, that's for sure.
Andy asked, "How are you guys with Asa today?" Mike admitted, "I don't have a relationship with her." He even said, "She went as far as to bash me and tell me I'm racist and that I was racially inclined with my questions. It had nothing to do about that." Andy added, "That was an interesting conversation at the reunion." Wow.
When asked about baby plans with husband Adam Neely, Reza revealed, "Adam is actually Farahan. He's not a Neely anymore and we had a plan. We were going to buy a house first, get settled, and then we would buy eggs and have a baby. We bought a house. We're in the middle of renovations. As soon as the cash situation comes up a little bit after the renovation, we're going to have a kid."
Mike wasn't buying that explanation and made that clear when he started fake coughing. Andy asked Mike, "Do you think he's making excuses?" Mike shared, "This guy makes money. Every time I talk to him, he's got another deal going." Reza admitted, "I'm buying time. I'm buying a little time. I'm being honest."
Andy wanted to know if Mike was mad that no one told him that his ex wife Jessica Parido emailed his mother about getting back together. Mike said, "Yeah." Reza copped to his shit stirring and said, "I told Golnesa [Gharachedaghi] that it was a mitzvah for her to go talk." Mike explained, "He's like that evil big brother." Or he's just trying to stimulate story lines on a reality TV show. Still, Mike admitted, "It hurt me that Reza knew about it and never told me." How did Reza know about the email, but Mike did not?
And then there's that conversation with GG and Mike's mom. As expected, Mike said, "I didn't like it. I was livid because that had nothing to do with Golnesa or my friends. That's between me and my family." Reza yelled, "You're on a reality show!" Mike insisted, "Come on man, I cut my veins and bled on television."
Mike was not feeling the Jessica topic and he declared, "There is no relationship. Let's put this to rest. I don't want to bring it up anymore." Reza summed it up perfectly when he said, "It's kind of like asking Bethenny [Frankel] about Jill Zarin. That's how he feels." Andy said, "Now I understand."
Reza made it clear that he doesn't feel bad about sharing Asa's fertility secrets on the show. He said, "I didn't apologize to Asa because she had told people that she had gone to the clinic. She actually was not honest about the time frame of when she was doing what she was doing and it slipped. It was just such a big lie and I was holding it for so long. It came out and that was it."
Speaking of fertility, Andy asked Mike and Reza if MJ Javid is ready to have a baby. Reza said, "Absolutely." Mike agreed and added, "Mentally, yes. Physically, not yet." Reza also said, "I was upset with Golnesa when she said MJ wasn't ready. She's super ready."
And then Reza unleashed when asked about Shervin's "swervin" antics. He shared, "He was trying to bone Leila Gharache, aka GG's sister, but he couldn't get it up because when some people do certain things, their penis doesn't perform the way they're supposed to." Shots fired. He wasn't done though. He claimed, "Shervin is the biggest con artist on Shahs of Sunset. He is literally the fakest human being." Well, that's saying a lot. DAMN.
RELATED: Golnesa "GG" Gharachedaghi Is Dating Her Husband Shalom Again; Shervin Roohparvar Says He Never Slept With Tara
TELL US – IS SHERVIN FAKE? SHOULD ASA RETURN TO SHAHS OF SUNSET NEXT SEASON?
Photo Credit: Charles Sykes/Bravo