Just like the reality stars who have come before her (and many who will follow suit after her), Vanderpump Rules star Scheana Marie is now a podcast host. That's pretty much the norm at this point. It's almost as if you aren't even a reality TV star if you don't have your own podcast.
With that said, I don't see why anyone would be up in arms about Scheana joining the podcast game. Everyone else is doing it, so she might as well. Nevertheless, some haters went in on Scheana for "copying" Stassi Schroeder by hosting her own show.
Scheana shared a video on Instagram, announcing that her podcast Scheananigans will start up on March 6. Yes, that is the (admittedly clever) name of that digital talk show she attempted to launch last year.
In the video, Scheana said, "Alright guys, we're getting started PodcastOne, my first episode with my favorite girl, star of Vanderpump Rules and many other things, Ariana Madix. Let's do it." Instead of commenting with excitement, the post was met with a lot of criticism. Scheana didn't acknowledge any of that, but her mom Erika van Olphen replied in Scheana's defense.
Someone commented, "please spare us." Scheana's mother told the hater, "You don't need to listen and you can get off this page.. funny thing tho you take the time to comment.. lol." That didn't shut down the negativity. One Instagram user wrote, "Mama Helicopter strikes again." Another commented, "someone please put this woman in a home already." Ouch.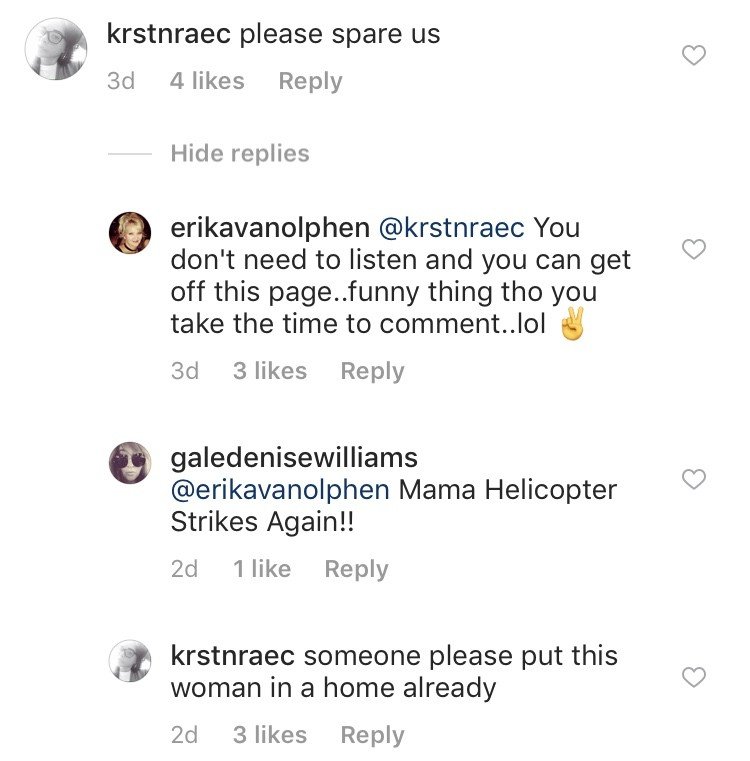 Then someone brought Stassi into the conversation, and misspelled her name in the process. An Instagrammer wrote, "Oh stassie will be fuming that you copied her." Will she though? Almost everyone and their grandmother has a podcast these days. Why would Stassi even care? Erika responded with, "Scheanas not copying anyone! This is what she went to college for! She has a degree in broadcast journalism." And then this same hater took the time to come for Schean's mom with this comment: "quit fighting your daughters battles, she's a grown woman, you make her look pathetic…. mommy to the rescue!!!" Erika insisted, "Stating facts! Not 'fighting battles'!"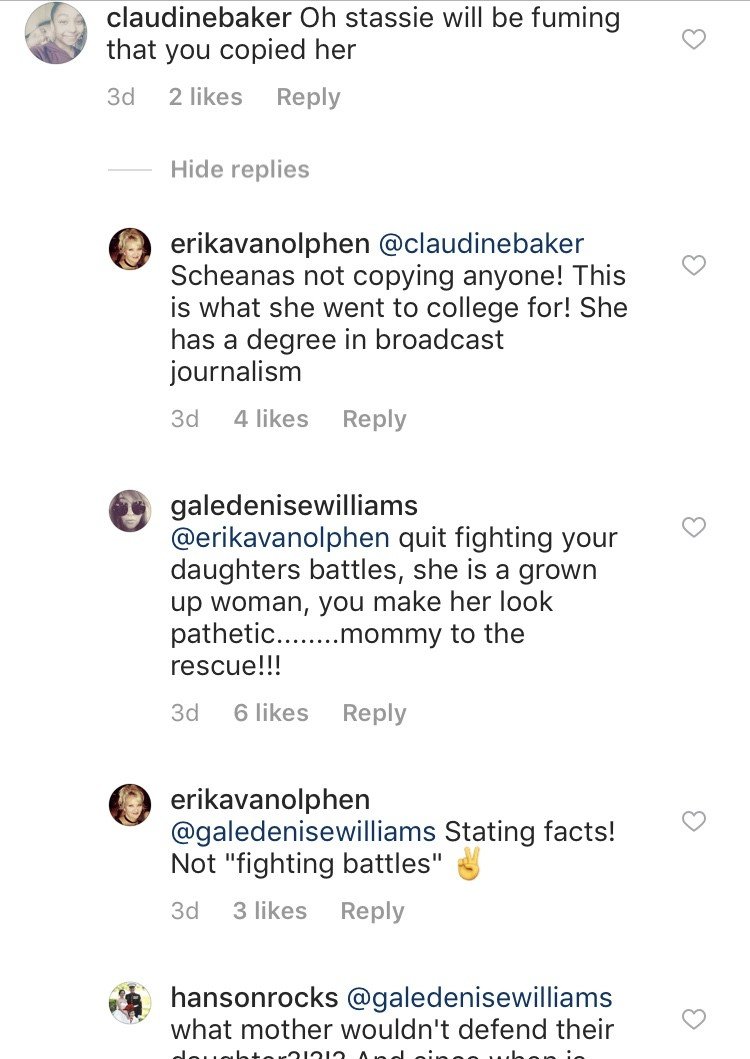 The battle continued in the comments. After a commenter accused Scheana of copying Stassi, Erika wrote, "people shouldn't assume she's 'copying' someone when this is something Scheanas been involved in for over a decade."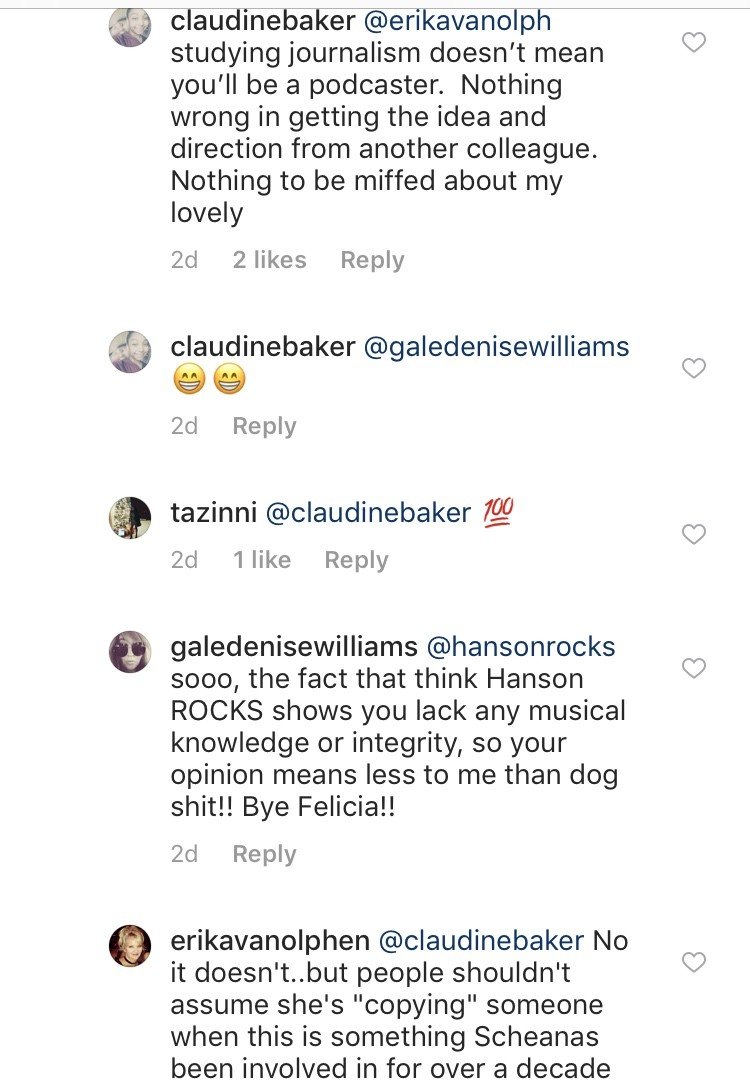 Yet another person accused Scheana of copying. Erika responded with, "As was already stated Scheanas degree is in broadcast journalism! She was doing this kind of work 12 years ago in college.." She also wrote, "Here's a fun fact… There's more than 1 podcast out there… And it's your choice to listen or not.. But thanks for taking your time to comment!"
At the very least, this argument in the comments is bringing some additional publicity to the podcast. Right?
RELATED: Scheana Marie Launches "Scheananigans" A New Digital Talk Show; Gets In Twitter War With Stassi Schroeder!
TELL US- WILL YOU LISTEN TO SCHEANA'S PODCAST? WHAT DO YOU THINK ABOUT SCHEANA'S MOM DEFENDING HER IN THE COMMENTS?
[Photo Credit: Bravo]