There's certainly some serious ch-ch-changes in the air on Vanderpump Rules – and Scheana Marie is not only done with Mike Shay, but with Stassi Schroeder as well! At least according to their latest twitter feud…
Last night Scheana announced the launch of her new digital talk show "Sheananigans," and her first guests were Ariana Madix and Lala Kent. This obviously did not meet the approval of the Three-Headed Shebeast Regulations Committee. Because Lala = EVIL.
After being forced to confront her ex-husband Shay on Part 3 of the reunion, Scheana advertised the live airing of "Sheananigans" and urged viewers to tweet questions for her, Ariana and Lala. "Part 3 of the reunion was one of the hardest things I've ever filmed on #PumpRules," she announced on Instagram, "but I am so thankful to have some really amazing friends by my side. Immediately following the show tonight at 9pm EST/6pm PST I will be doing my first live @scheananigans show here on Instagram to say all of the things I didn't get to say Bc it was such an emotional day. (As today has been too) Stay tuned on my insta and I'll be posting more over the next 2 hours!!"
CLICK THE CONTINUE READING BUTTON FOR MORE!
If you missed the scintillating live broadcast, because oh, I dunno, you'd had enough of Scheana vapidly staring at herself in the mirror mouthing "I feel pretty…" she promises, "It was also professionally shot. Will be edited and posted on my website. Just wanted to air it live for those who could watch." I checked and the only thing I see are links to buy her music (HA) and a zillion photos of Scheana. Cause – duh.  But because this little show caused  a LOT of residual drama between Scheana and her former friend Stassi, I guess we oughtta watch, right?

According to some viewers who caught "Sheananigans," Scheana and her girls spent a good deal of time ripping into Stassi for being a bully. They were more than eager to let Stassi know via twitter, so despite the fact that the Three-Headed Shebeast is vacationing in Europe, Stassi couldn't resist engaging in a twitter offense.
She's also apparently the boss and executive producer of Vanderpump Rules – sorry Lisa Vanderpump, you've been replaced! Earlier this year Stassi decided Lala making friends sign NDAs was a violation of their Pump Rules contract, and last night she declared that "covering" for Scheana's failing marriage put Stassi's job on the line. [cough cough BULLSHIT cough, cough].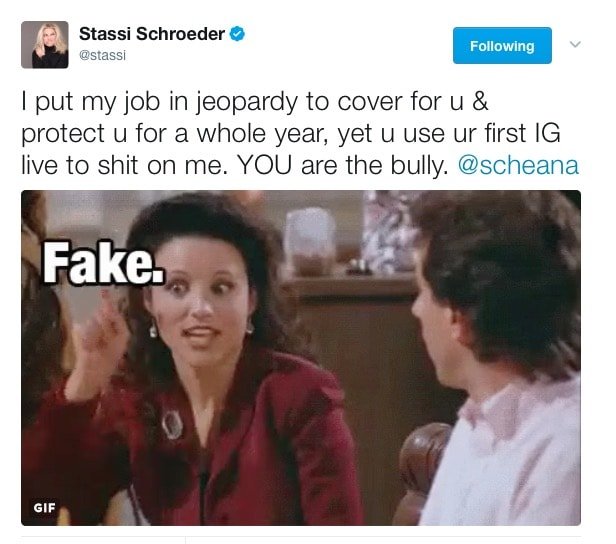 "I put my job in jeopardy to cover for u & protect u for a whole year, yet u use ur first IG live to shit on me. YOU are the bully. @scheana," complained Stassi. Scheana denied this, "Nothing was in jeopardy… keeping a secret is called being a good friend. And it was still threatened to be exposed… , adding, "I'm a bully? #comical Some people have zero self awareness…"
RELATED – Stassi Blames Pump Rules For Making Her Look Like A Mean Girl!
Then of course everyone started arguing about whose basic, and a bully, and blah, blah, blah… cause I guess the job of professional reality stars is to always behave like reality stars. One's work is never done!
Lala also responded to the nonsense, "Stassi. 1. It's not always about you. 2. It's 5am where you are…. you stayed up to watch? Go to bed, ya weirdo. #basic"
"When you don't have any original thoughts & lack the ability to listen to anyone who isn't complimenting your contouring. Basic," replied Stassi.
Of course, backtracking, Stassi went on to deny that she saw Scheana's show, cause she's like soooooo busy, and stuff, and she only heard about it via twitter. Maybe she's busy making statement necklaces again? "Jet lagged. I've been awoken at 4 am every day I've been here. Checked Twitter & saw this filth. Sorry I missed yalls super profesh IG show."
Well it was "professionally shot," so what does Stassi know. 😉
Responding to reports that she was "shredded," and called a bully, Stassi whined, "They constantly paint ME as the bully. It's not fair." And since she's super successful at life and all, "I'd be happy to give them tips on how to be interesting on their own. Call me! :)"
Kristen chimed in with,"Well.. I hope everyone enjoyed the final episode of #PumpRules Season 5! perfect timing for a dumb f–king twitter war."
Ariana, Lala and Scheana weren't immune to criticism – they were called out for "taking the low road" over their alleged "brutal" comments. "Low road? You have to be flipping kidding me," scoffed Ariana. "So on the night of the reunion, we shouldn't talk about the show and what's been going on on it? I don't see how that works"
Ariana denied that she was mean to Stassi, "Nobody has seen what a verbal shredding from me is like. I said she's never asked to hang out. Wow. How mean of me."
Ariana also denied saying anything mean about Shay, and wrote that his appearance on the reunion was frustrating because, "Everyone kept talking over him and finishing his sentences. It was really aggravating."

Of course, since there are 32 sides to every reality TV drama, several others who'd watched "Scheananigans" claimed Ariana, Scheana, and Lala were mostly upset over Stassi's comments that social media haters make her feel suicidal. You can read about that here.
Given how she treated Shay's addiction, I don't really think Scheana is qualified to lecture anyone on handling mental health issues, but again, I haven't seen "Sheananigans," and since Stassi hasn't either, one might not expect her to pitch such a tantrum over hearsay but you know – this is Stassi we're talking about.
Stassi also retweeted a link to an article about Ariana's brother Jeremy being arrested for domestic violence, and she tweeted, "When the only one defending their side is an abusive woman beater." Jeremy had commented that Stassi can dish it out, but not take it.
RELATED – Lala's Earlier Twitter Feud With Kristen, Katie, & Stassi!
Naturally Kristen also robustly defended Stassi. Cause three heads think better as one! "I don't want to hear one of them talking about suicide or self harm and their bullshit awareness about it. Now I'm getting mad," she tweeted.
Switching gears, Lala thanked Ariana, Tom and even her non-friend James for supporting her throughout the season and the reunion, "thx 2 @ariana2525 @TomSandoval1 @itsjameskennedy & @scheana.U always put me in check, yet defended me. I admire u. cheers 2 u & ur success."

This is quite an interesting divide for Pump Rules, and, I believe, a pretty solid indicator that the show is restructuring and moving away from Stassi and Kristen. Because every time a special snowflake melts under Lisa's spotlight, a thirsty little raindrop falls into a martini glass! #PoeticJusticeByBravo
TELL US – DID YOU SEE "SHEANANIGANS"? IF SO, WAS STASSI BRUTALLY SHREDDED, OR IS STASSI OVER-REACTING? WHO DO YOU THINK IS THE BIGGEST BULLY ON PUMP RULES?
[Photo Credit: Instagram]