On last night's episode of 90 Day Fiance The Other Way, we finally learned a little more about Aladdin and Laura's relationship. It seems that one of them turns into the green-eyed monster whenever they start to feel insecure. Can you guess who? Okay, who am I kidding? We all know Aladdin isn't worried about another man wanting Laura. I couldn't even write that without laughing…. Corey also fights through the mean streets of Ecuador to get to his gold-digging boo, Evelin. I'm sorry but I gave up everything and was treated like that upon arrival, we would be done.
Do you remember that moment you realized you made a bad life-changing decision? Well, Corey is definitely having that moment. This fool gave up everything in the US and is currently funding businesses in Evelin's name. He also took 3 planes and 2 buses only to arrive to find out EVILin couldn't be bothered to pick him up. It was at this very moment, he knew…. He f%#%* up.
Corey, 31 (Mill A, Washington) & Evelin, 26 (Ecuador)
Corey finally arrives in Evelin's hometown after his grueling trip. Well, it's not over yet. He finds out that he has to lug all his suitcases to Evelin's grandmother's house to sleep on a mattress. They have to dodge at least a dozen hungry stray dogs on the way.
Granny's house looks like a very neat, prison camp. At this point, I would have been calling my parents asking them to arrange a hotel until I can fly back home. Evelin has no sympathy for the culture shock and fear of Malaria. She tells him to get on a plane and go back home if he doesn't like it. Umm… did you not do any research before you sold all of your worldly goods to move to another country?
I think knowing if homes have electricity, roofs and hot water would be important. As soon as I got to the airport and realized she couldn't bother to meet me I would have had a good night's sleep… at a hotel!
Deavan, 22 (Salt Lake City, Utah) & Jihoon, 29 (South Korea)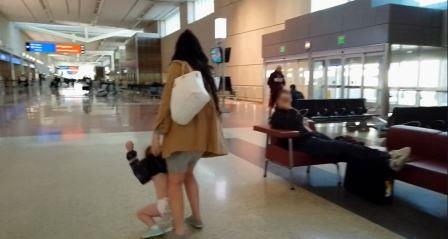 Deavan rushes to the airport to meet Jihoon and his parents. She and her daughter both show up looking disheveled and anxious. Deavan then has a full breakdown when she can't find Jihoon. Meanwhile, little Drasilla decides to fall on the ground in the middle of the airport. I don't know what is going to happen when she has this other child. She doesn't seem to be able to handle just one. Jihoon's parents are totally confused when they find their potential daughter-in-law crying and looking like a hot mess.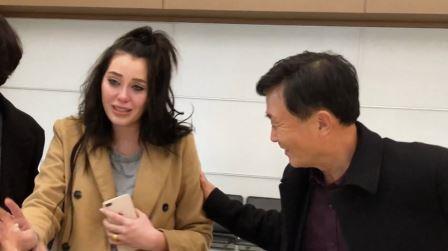 Deavan has rented a house in Las Vegas to impress Jihoon's parents. I think they are officially impressed, in Korea they live in a small house with no hot water. To them this is like a dream, except in this one there is an unruly child running around screaming. Jihoon is surprised to find out that his stepdaughter to be, will be sleeping in the bed between them EVERY NIGHT. I'm not sure having your daughter in a shared bed with a man you have spent very little time with, is a good idea. SMH…
I guess none of the single parents on this show believe in taking things slowly, for the benefit of their children. One has her son calling a stranger daddy and now Deavan has her child in the bed with one. Sigh!
Paul, 35 (Louisville, Kentucky) & Karine, 22 (Brazil)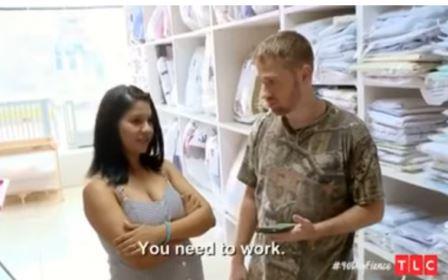 Paul Staehle and Karine Staehle go baby shopping with their invisible money. What was the point? To show each other all the things they can't afford for their baby. As usual, Paul is broke. I guess he didn't shovel enough poo at the farm to save up for the needs of his new family. I bet Karine is wishing she didn't beg him to leave those bags now. They leave with one essential item, a changing table.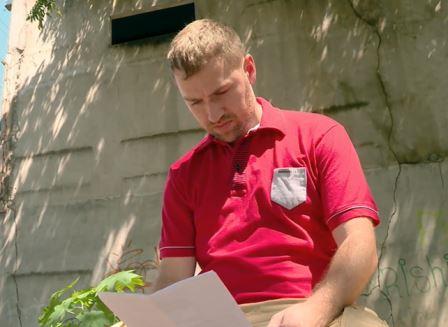 Paul finally gets the letter that lets him know the status of his application of residency. In short, he is denied for acts of terrorism. Well, I guess some may interpret arson as terrorism. Either way, they don't want you. Paul is shocked! He awkwardly and hilariously runs away from the crew to digest the news.
I don't know why this was so funny to me.  I laughed hysterically for at least 3 minutes. There is just something about Paul that makes you want to root against him. Could it be impregnating a young woman who sleeps with a mountain of teddy bears? Maybe it's his weird eccentric ways? I can't quite put my finger on just one thing….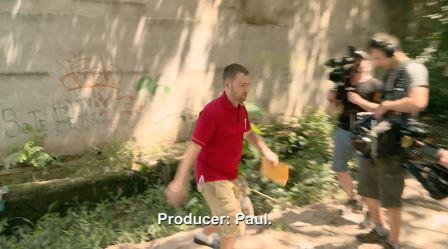 Laura, 51 (Eustis, Florida) & Aladin, 29 (Qatar)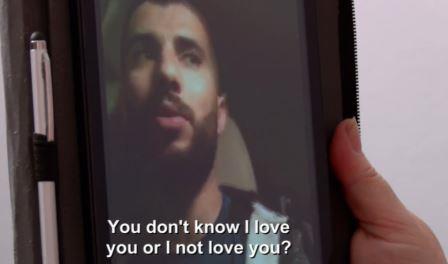 We finally get to see Aladin in his element. All I see are dollar signs in his eyes or he is suffering from the same affliction as Shallow Hal. When he started talking about how beautiful she was and how much sex they will have … I knew, this ain't no damn amateur!!!!
This man has the gift of gab and knows how to lay it on thick. He is a true gigolo. While meeting with a friend, Laura calls and wants to know who he is with. Aladin reveals that his wife is very jealous to the point that he has to block her at times. Right now she may have the money and power, but that will soon change when she moves to his country.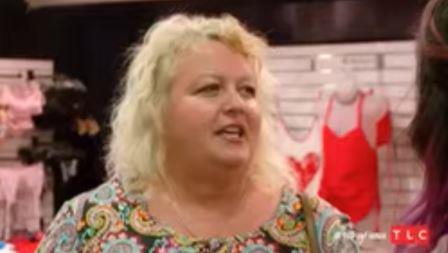 Laura is leaving for Qatar in eight days to be with her husband, Aladin. She decides it's a good idea to go to a sex shop to find items to help him pleasure her. Ewww. That made me sick, just writing it. Wine, I need more wine for this scene. Whew, chile. This is way too much.
Something tells me he doesn't need any instruction. He just is doing just enough to get what he wants.  WHY TLC, WHY??????? I don't want to hear Laura talk about "coochie" cream. My ears!!! Where is Ludwig when you need him?
TELL US – WOULD YOU HAVE TAKEN 3 PLANES AND 2 BUSES TO GET TO EVELIN? SHOULD COREY GO BACK HOME? WHAT DO YOU THINK ABOUT DEAVAN'S DAUGHTER SLEEPING WITH HER AND JIHOON? WHAT DID YOU THINK ABOUT PAUL'S VISA GETTING DENIED?
[Photo Credit: TLC]