Even though Lala Kent's man Randall Emmett is not enough debt to appear on has not yet appeared on Vanderpump Rules, they are very present in each other's social media activities. Even though they don't even follow each other on Instagram. And are engaged.
So are Randall's young daughters. Anyone who follows Lala on Instagram (or just stalks her page and refuses to hit "follow") knows that she spends a lot of time with Randall's kids. Just yesterday, she shared stories of the girls getting into makeup, working out with Lala and her trainer, and even drawing a family portrait (with Lala included, which has to sting for their actual mother). Now, Randall's ex-wife Ambyr Childers is asking Lala to stop posting photos of the children.
Ambyr reposted one of Lala's Instagram Stories of her daughter trying on makeup (unclear if she rocked Give Them Lala Beauty or not). Ambyr wrote, "Since you don't want to answer my text messages, I'll try here. Lala, I appreciate your love towards my children, but until you're officially their stepmother please refrain from posting my children on social media! I hope [you] understand where I'm  coming from. Many thanks."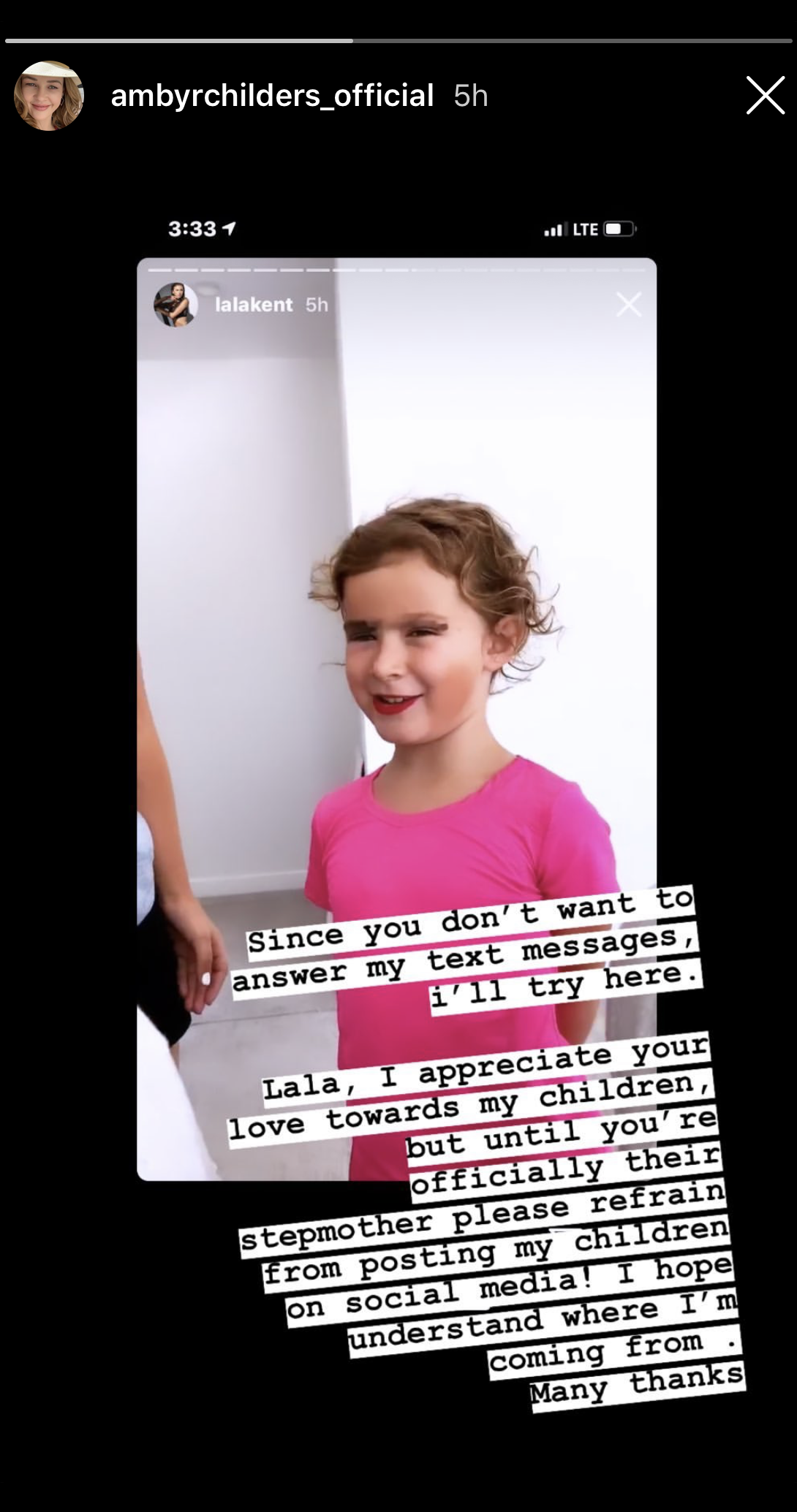 Most likely, Lala does not see where Ambyr is coming from and will not stop, which she did not do yesterday. Nor did she delete any of the posts.
Maybe Lala just didn't see the notification on her IG story since there are probably a lot of people who comment….but what about the texts Ambyr sent? Maybe Lala has her on "do not disturb." Or she just blocked her. Perhaps Lala changed her phone number.
What does Randall think about this? I would love it if Ambyr pulled a Fofty and posted the screenshots of messages she sent Lala (and probably Randall). Come on, Ambyr.
TELL US- WHAT DO YOU THINK ABOUT AMBYR'S REQUEST? IS IT REASONABLE SINCE LALA ISN'T THEIR STEPMOTHER YET? OR SHOULD SHE JUST EMBRACE LALA'S LOVE FOR HER CHILDREN SINCE SHE WILL BE THEIR STEPMOTHER NEXT YEAR OFFICIALLY?
[Photo Credit: Bravo]