Brittany Cartwright is "on the brim," y'all! Brittany didn't tell Randall Emmett's ex-wife Ambyr Childers to "rawt in hell," but she probably would have if she had the chance.
Brittany stepped up to defend Lala Kent after Ambyr ranted on social media about Lala posting photos of the two daughters that she shares with Randall, Lala's fiancé. If the checks don't bounce, If all goes according to plan, Lala will be Mrs. Randall Emmett in April 2020. This also means that she will become a stepmother, but before that happens, Ambyr does not want to see her kids on Lala's Instagram page.
Of course, multiple sites (including ours!) posted about Ambyr's Instagram Story rant against Lala. E! News even posted the following excerpt on its own Instagram page: "Until you're officially their stepmother. Please refrain fro posting my children on social media!"
Brit just happened to be scrolling through her Instagram feed, saw this post, and felt compelled to comment. Mrs. Jason Cauchi wrote, "Lala is AMAZINGGGGG to these beautiful girls and I have seen first hand that they love her just as much. She knows the importance of family and would never take that for granted."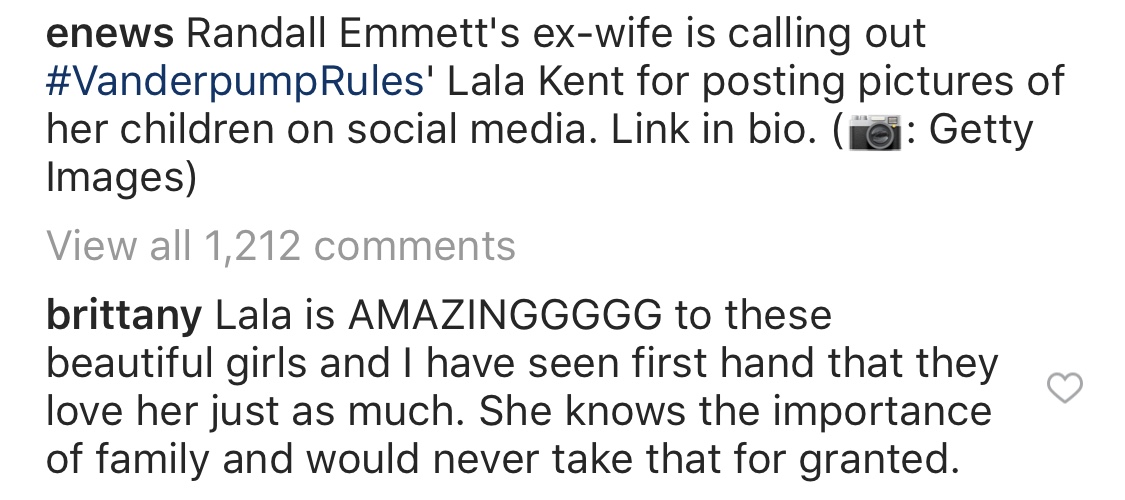 Plus, they are Randall's daughters too and he doesn't seem to have an issue with Lala sharing photos and videos of the kids. And it's not like Lala has ever (to my Instagram snooping knowledge) shared anything remotely controversial when it comes to the children.
Sure, she will post a nude of herself here and there. Or even an Instagram Story about why she isn't friends with James Kennedy for the millionth time. However, her posts about the kids have always seemed respectful, but then again, I'm not checking all of Lala's Instagram Stories.
Not only that, but both Ambyr and Randall post photos and videos of the girls all the time. Yes, those are their kids, but my point is that it's not as if they're hidden from social media like Erika Jayne's son, for instance.
It's a sticky situation. It's sad Ambyr feels ignored when it comes to her own kids. Meanwhile, it seems like Lala is genuinely trying to be an involved stepmother. I would love to see the messages Ambyr sent Rand and Lala privately about this.
TELL US- WHAT DO YOU THINK ABOUT BRITTANY DEFENDING LALA ON INSTAGRAM? DO YOU THINK LALA CROSSED A LINE BY POSTING PHOTOS OF RANDALL AND AMBYR'S KIDS? OR IS IT OK SINCE SHE WILL BE THEIR STEPMOM IN THE FUTURE?
[Photo Credit: Bravo]