Last night's episode of Married to Medicine concluded with the third installment of the reunion. Mariah Huq expressed her frustration with the show's editing. She feels like her family life is not really shown on the show. In her opinion, they aren't respected because they are different. I guess it has nothing to do with her being painted as the villain for years. At least she got more camera time this year!
All of the couples join Andy Cohen  onstage.  Damon Kimes is on the hot seat about his actions in Cabo.  Aydin Huq and Mariah defend themselves. The ladies hash out old and new issues trying to come together as a group. Let's get straight into the Married to Medicine recap!
The second installment of the reunion ended with an explosive fight between Simone Whitmore and Heavenly Kimes. When Contessa Metcalfe returns with Heavenly, it leads to yet another argument. Toya Bush-Harris believes that Heavenly doesn't know how to treat her friends. I definitely would agree, but instead of "friends," I would say people in general. Jackie Walters flees to get away from the drama.
Surprisingly, Heavenly and Simone end up agreeing to keep the husbands out of their beef. They agree to take baby steps to work on their friendship. Something tells me there aren't enough steps in the world to fully work through all of their issues.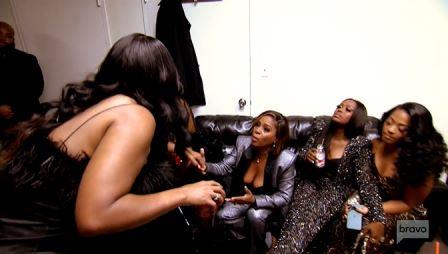 When all of the couples hit the stage, Mariah finally reaches her breaking point. Mariah was raised as a Christian and Aydin was raised Muslim, so they blended their beliefs. She found it offensive that the discussion about Quad Webb-Lunceford was the only thing shown during her family celebration of Ramadan. Mariah claims she didn't want her family to discuss Quad at all. Of course, Quad believes Mariah is so obsessed with her that she encouraged the conversation.
The dinner was three hours long, yet Mariah's family life was never shown. Quad keeps interrupting Aydin while he tries to give his side. Andy tries to take control of the situation while Aydin tells her to be quiet.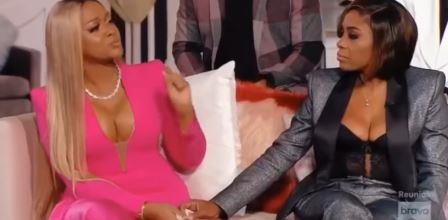 Quad accuses Aydin of disrespecting her and he apologizes. Aydin talks about how it was never shown how the kids and everyone fasted for Ramadan. Mariah becomes emotional because she feels the show and cast don't respect her family's beliefs. Quad, Contessa, and Heavenly deny this. I will admit the show doesn't show Mariah's family life much anymore. I'm not sure if it's because of their beliefs or just because drama between the ladies is more interesting.
Contessa and Scott revisit their issues. She has decided to go back to school and will be graduating soon. When asked if she regrets leaving the Navy, she breaks down in tears. She left for Scott after he moved to Atlanta to be with her. He didn't want to continue to keep moving.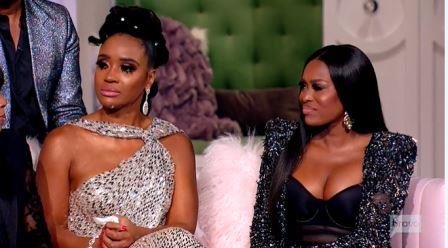 The reunion concludes with the women discussing the group's future. Contessa, Quad, Heavenly, and Jackie say they are hopeful about repairing relationships, Simone doesn't seem too convinced. Mariah says she has forgiven everyone and is open to repairing things. All in all, the third installment of the reunion was not necessary. I also don't believe these ladies are truly open to repairing their friendships. I suspect the next season of Married to Medicine will have just as much drama.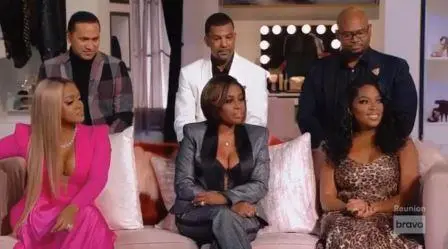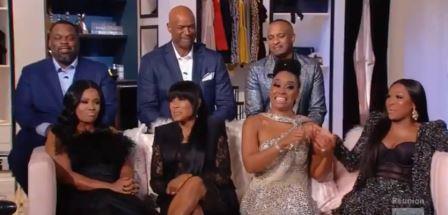 TELL US –DO YOU THINK MARIAH'S FAMILY ISN'T SHOWN BECAUSE THEY ARE DIFFERENT? HOW LONG DO YOU THINK HEAVENLY AND SIMONE'S TRUCE WILL LAST? IS THEIR HOPE FOR THE LADIES TO REPAIR THEIR FRIENDSHIPS?
[Photo Credit: Bravo]