On last night's episode of Married At First Sight ,  the honeymoon is literally over!  The five newlywed couples return to home to begin living together. The pressure of moving in proves to be too much for some, while others enjoy discovering new facets of their new spouse.
There seems to be some obvious cracks in the foundation for many of the couples. This is why I love when the Married At First Sight couples start living together. This is the time where people start getting more real and their true personalities start coming out. There are some twists that are revealed in this episode that you don't want to miss! Let's get straight to the Married At First Sight recap!
Meka & Michael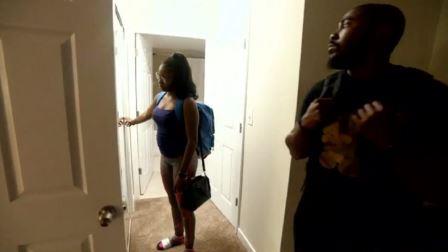 Meka Jones and Michael Watson have moved into their new shared space. She is already bossing her husband around, but at least they are laughing together. While in Meka's apartment, she catches him snooping in her super organized abode. When they visit Michael's apartment, she questions everything.
OMG, Meka is so annoying!  Is there no woman in her life that has told her men don't like nags? She walks into Michael home openly judging everything she sees, as soon as she walks in the door. He lives like a working bachelor. If you want things done a certain way, make those changes in your new home little by little. You don't have to insult someone in order to help them to be more organized and efficient.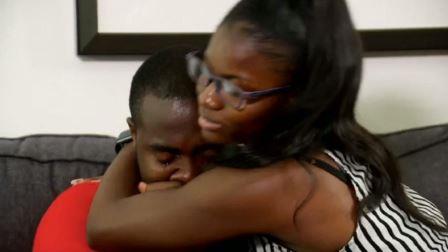 Pastor Calvin Roberson  visits to get an update from Meka and Michael on their marriage. They are now feeling more comfortable around one another.  Important topics are discussed like finances and children. Michael shares that he wants to eventually adopt a child because of his own adoption story. Hearing him speak about his childhood and how it made him passionate about working with kids was very endearing.
Things take a turn for the left when Michael's comments about sex before the honeymoon are brought up again. Meka feels that she can't trust her husband because he won't even admit he made those comments. Michael is adamant that he never said those words. I can understand her frustration, if he indeed said those things and won't tell the truth. Suddenly, he begins crying and admits that he feels like he is failing as a husband. I hope this is a genuine moment and not an attempt to change the conversation.
Michael wants his marriage to get back on track. It's obvious he puts a lot of pressure on himself. I'm glad these two are trying to finally find common ground and move forward. Meka seems to have softened to him after he was vulnerable with her while talking to Pastor Calvin.
Brandon & Taylor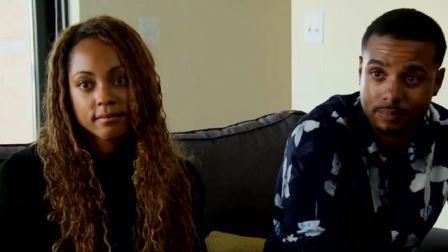 Taylor Dunklin has returned home alone after Brandon Reid disappeared at the airport. If he got on a bus full of people and disrespected me the way he did with Taylor, it would be perfectly fine with me. Brandon is the epitome of a man child and the red flags only keep getting worse. Taylor doesn't like disrespect, but I keep seeing her lower her standards for her new husband.
Pastor Calvin arrives to speak to Taylor about her husband. She describes all of Brandon's antics and her frustration with his disrespect for her and production. While talking, Brandon walks through the door with flowers like nothing ever happened. This dude is crazy!
Pastor Calvin is not buying his BS and gives him a stern speech. Taylor tells Brandon she just wants to work on being cordial, but will no longer deal with his disrespect. He gives a quick lame apology and Taylor decides to forgive him. Hell no! I don't like that these Married At First Sight experts encourage women who are being verbally and emotionally abused to stay with strangers for the sake of the show marriage.
Taylor visits Brandon in his home with his roommate. His voice and face just irritates me now. Taylor is too nice. She offers to help him fold his "panties" and pack his clothes. I would have probably waited in the car, at this point. She has the patience of a saint. I would be so OVER Brandon and the show.
Mindy & Zach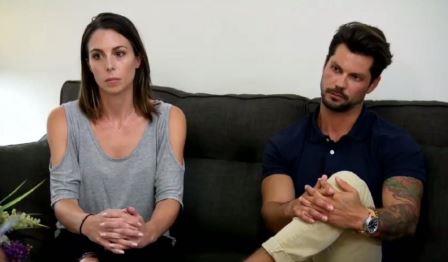 Mindy Shiben is all alone after Zach Justice  refused to move in with her. At the airport, he informed her that he wouldn't be coming to the new apartment. Huh? More like he is tired of seeing someone he isn't "attracted" to in any way. Why sign up for a show where you literally marry a complete stranger, if you aren't serious?
As a sign of faith, Mindy still decides to move into the new space, hoping her husband will join her. Obviously, the Married at First Sight experts are in need of help from a regular person with common sense to match couples. Lifetime, if you need help, I'm more than willing to take on the task!
Zach wakes up in his own bed whining about not being authentic to his true self, if he moved in with Mindy. Chile, please! Zach, you are POS for signing up for this experiment and making this woman feel terrible on a daily basis. Meanwhile, Mindy vents to her friend about her marriage. Her friend is shocked that Mindy is allowing a person to treat her in this manner. Mindy wants to give Zach a second chance. Insert side eye here! Did Zach even express wanting a chance, let alone a second one?
Pastor Calvin visits Mindy to find out what her thoughts are on the current state of her marriage. She brings up Zach's comments about not being attracted to her as a concern. When Pastor Calvin speaks to Zach alone, he admits he does not feel any type of chemistry with his wife. Zach is the king of talking in circles. Pastor Calvin asks him straight up if he want to just end his marriage. He decides to stick it out.
This man is clearly only on Married At First Sight for exposure at the expense of his wife. He doesn't want to wear a ring, live together or do anything that resembles a marriage. His excuse for not moving in is he needs space and wants to miss her. I'm sorry, but the experts need to put their foot down and stop letting people cherry pick aspects of marriage. They should stop filming a person who refuses to fully participate.
Austin & Jessica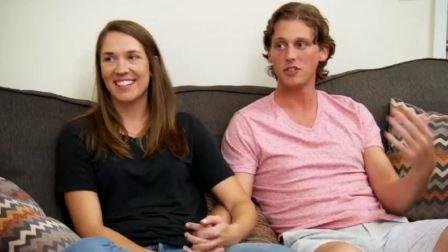 Austin Hurd and Jessica Studer wake up in marital bliss. They are excited to see one another's apartments when they were single. Once Jessica goes to Austin's home, she immediately goes into investigator mode. One interesting fact we learned is Austin doesn't sleep with sheets and doesn't wash the comforter often. Ummm, Ewww. Jessica, you are in charge of laundry FOREVER. She literally clears out her whole house with things to take to her new home.  I understand girl, I have a lot of clothes and shoes as well.
Pastor Calvin speaks to this seemingly perfect couple about important topics such as finances, sex, and children. Jessica reveals that she was slightly disappointed that Austin makes significantly less than her. This is the first crack I've seen in their relationship thus far. But Jessica isn't letting their wage disparity get in the way of their future. She has confidence that there will be less of a gap in the future.
Derek & Katie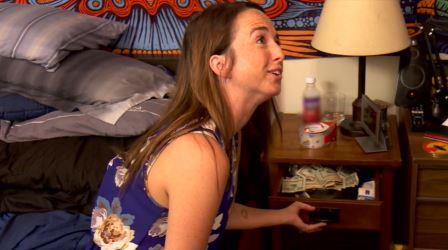 Katie Conrad and  Derek Sherman are the first couple to move into their new home together. Things seem to be going so well, but looks can be deceiving. I almost feel sorry for Derek. He has no idea his wife is still hung up over another man.
Derek takes Katie to see his home first. He has a typical bachelor pad with a roommate. When Katie opens one of his drawers, she finds a wad of cash and a gun. WTF! Derek claims the gun is isn't real and is only to scare an intruder. Umm… okay, didn't look fake to me. Hopefully, he doesn't have a secret life that will be revealed later.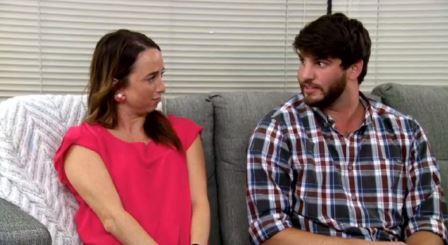 When Pastor Calvin comes to visit, he asks them the hard questions. When he inquires about substance behind their chemistry, some shocking details are revealed. They both feel that their relationship is surface level and almost feels like roommates. Derek also admits it will be a long time before he thinks he could fall in love. Wow, this is very different from the match made in heaven they presented themselves to be during the honeymoon.
Katie confesses she has lingering feelings for her ex and begins to cry. Derek doesn't take the news well. He now feels like he is competing with another man. Whew, this was deep. I think things are going to get a little more interesting in this household. I'm sure there will be more that comes out in the coming weeks. Something is a little off with these two.
TELL US – DO YOU THINK KATIE AND DEREK ARE HIDING SOMETHING? SHOULD MINDY CUT TIES WITH ZACH? DOES BRANDON DESERVE A SECOND CHANCE? WHAT DID YOU THINK ABOUT MICHAEL CRYING ABOUT FEELING LIKE A FAILURE?
[Photo Credit: Lifetime]