I don't know about you, but I've been yawning my way through the current Real Housewives of New York season. Pretty much nothing is happening other than some overindulgence in alcohol. During last night's episode, Leah McSweeney was excited to introduce the group to her sister Sarah McSweeney.
Ramona Singer and Sonja Morgan were not on board with that plan. They wanted to restrict the Newport trip invite list to just the cast. Leah was not happy about this. Then, Ramona picked at Leah for her drinking, which incited Leah to drink even more… and inexplicably start throwing objects. Yesterday, Leah called out Ramona for being unwelcoming to her sister, among other things. Last night, Leah and her sister Sarah continued to slam Ramona, and eventually, Ramona even got Avery Singer involved in the social media feud.
Last night, Avery watched the episode and posted on her Instagram story "This is next level horrible. I am cringing." In another, she wrote, "My queen handling this with grace @ramonasinger."
That's when Leah shared her own Instagram Story, writing "@ramonasinger are you sure you wanna involve @averysinger in our drama? She's 25 so she's fair game to me. In fact I'm closer to her age then I am to you. In another IG Story, Leah wrote, "@averysinger sit down sweetie." Leah went on to ask, "Seriously why are involving ur daughter @ramonasinger."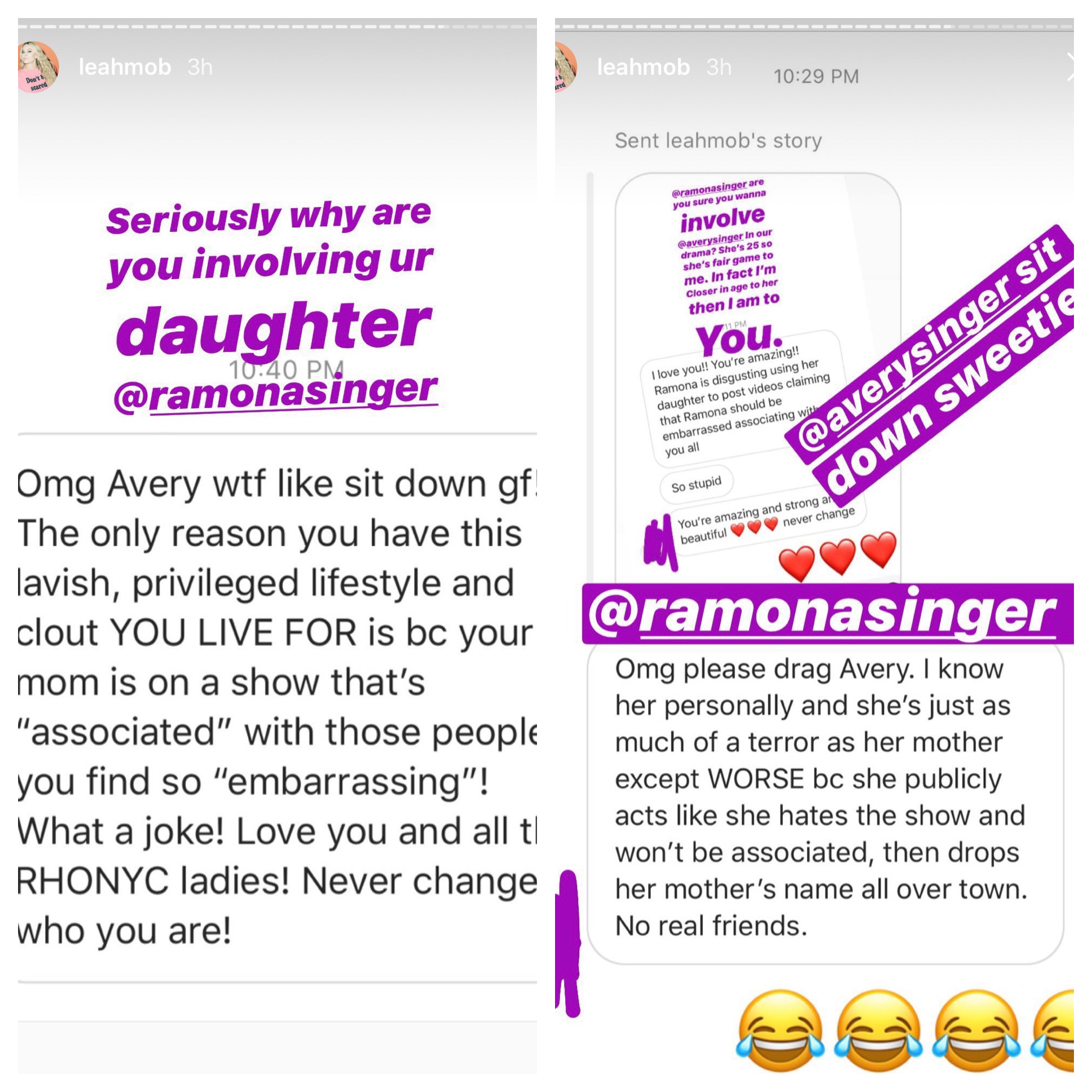 Well, Ramona isn't the only one whose family member got involved. Leah's sister Sarah commented on Ramona's Instagram, "Omg you are embarrassed by my sister @leahmob for entertaining you all at that boring dinner party? I was embarrassed when you pooped your pants the next night at dinner and were still prancing around trying to flirt with drunk married men with 'soiled' pants on. [Elyse Slaine] was my witness. But she was being a good friend and trying to distract me from your shit stained pants. And @averyinger please get your mom some depends."
Obviously, Ramona deleted that comment, but Leah did post it on her Instagram Story just to make sure everyone sees it.
TELL US- WHAT DO YOU THINK ABOUT THE BEEF BETWEEN LEAH AND RAMONA? WHAT ABOUT AVERY SINGER AND SARAH MCSWEENEY GETTING INVOLVED? WHO ARE YOU SIDING WITH?
[Photo Credit: Bravo]