Last night's episode of 90 Day Fiance: Happily Ever After  laid the foundation for some explosive drama to follow. I don't know about you guys, but I can't wait to see those bombs go off.  I just don't understand how some of these couples could be so blind to what most viewers can see plainly. This episode had its own drama, but things are about to definitely get worse for some.
Angela Deem refuses to submit to Michael Ilesanmi or his family. Colt Johnson has a secret he has been hiding from Jess Caroline.  Elizabeth Potthast's attempt to find out what Andrei Castravet has been hiding. Asuelu Pulaa 's family pushes Kalani Faagata  over the edge. Larissa Dos Santos Lima requests money from Eric Nichols for a dramatic change. Let's get straight into the 90 Day Fiance Happily Ever After recap!
Elizabeth (Tampa, FL) & Andrei (Moldova)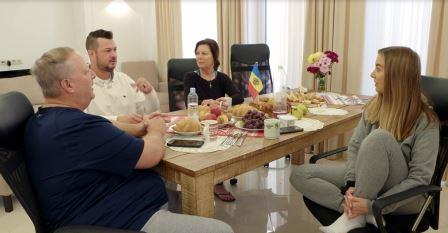 The rest of Elizabeth's family has finally arrived in Moldova and it's only a matter of time before the drama begins. After a long day of travel they are immediately whisked away to the Airbnb to meet Andrei's family for a traditional dinner. Everyone is in good spirits now, but may not be later when they discover Andrei's prior to their arrival.
The next morning, Elizabeth's family is already complaining about being forced to eat "peasant" food. The conversation quickly shifts to the dinner from hell where Andrei became his evil doppelganger. Pamela, Elizabeth's mother is shocked to hear that her son-in-law acted in such a disrespectful manner towards her family.
Charlie shares that he has the number of one of Andrei's brother and plans to meet him to get more information. Elizabeth's sister, Jen even jokes they should get him drunk so that he divulges everything.  Good luck! Andrei's family and friends clearly have been warned not to share any of his business.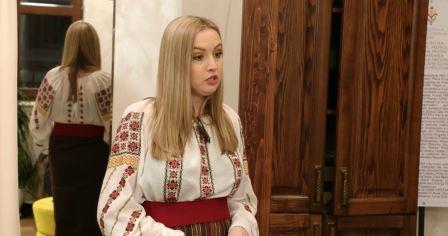 Elizabeth takes the ladies with her to find a traditional Moldovan dress for her wedding. While there, her mom and sister ask his sister- in-law Ina more about Andrei's behavior at dinner. Apparently, Ina is shocked that Elizabeth married Andrei at all. When Elizabeth realizes that her family is using the stylist to interpret gossip she is livid. Although she tries to defend her husband, she quickly admits she told him didn't care if they had a wedding.
She even goes on to say the only reason she agreed is because his family deserves to see him get married. Ugh! This situation is draining. Elizabeth is in a difficult situation trapped between her family and her husband. Although her natural inclination is to defend her man, she knows in her heart that he is wrong.  But if she fully admits Andrei has a problem, she would be expected to do something about it. That isn't going to happen!
Colt (Las Vegas, Nevada) &

his mom Debbie

ex-wife Larissa (Brazil)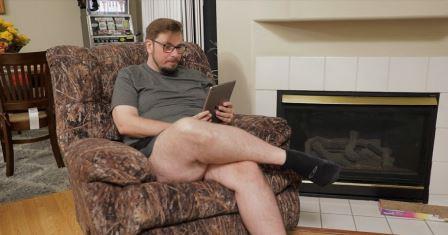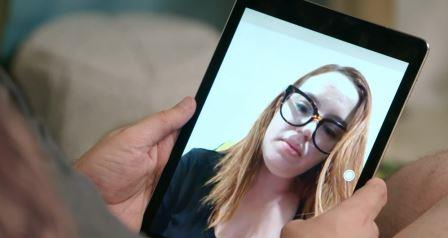 Since leaving Brazil, Colt and Jess have fought almost every single day over their trust issues. In an attempt to smooth things over, he invites Jess to come visit his home in Las Vegas. Unbeknownst to her, Colt has been hiding a secret that could ruin their relationship.
According to him, the best way to confess is in person. I guess he got hit in the head one too many times with her heels, if he believes that.  This woman does not handle her emotions well. Hopefully she doesn't take one of his cats hostage in a jealous rage when she finds out what Colt has been up to in her absence.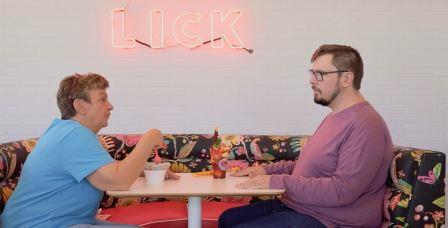 Colt takes his mom on an ice cream date to soften the blow about Jess coming to visit. During their conversation, we learn that he has not only one secret, but two. His friend Vanessa is now he and Debbie Johnson's roommate! How the hell is he going to hide that? Surprise, I know you hate this woman, but she is living here! This time it won't be a shoe, but her foot going upside his head.
Debbie warns Colt that he should tell Jess before she arrives in Las Vegas. I have to agree! Colt is playing a dangerous game that may result in police being called once again to his house.
In an attempt to get Eric-E to stop being frugal, Larissa takes him furniture shopping. Once the retail associate gives them the price of a couch, it quickly becomes apparent that both of them need to turn around and find the closet Goodwill. After wasting both of their time, Larissa confesses that she wants him to pay for a boob job with his savings.
Eric isn't as dumb as he looks. He is willing to help as long as they have a written contract that states this is a loan with interest. He also inquires if Larissa only wants to get her breasts done just to throw it in Colt's face. Larissa convinces him she has good intentions, but I am not so sure. This woman won't be happy until she starts looking like a blow up doll.
Tania (Colchester, Connecticut) and Syngin (South Africa)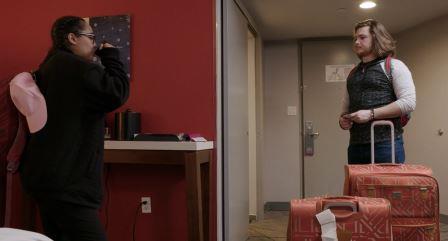 During a family barbecue, Syngin casually drops a few bombshells. Not only does he want to own land in South Africa, but he isn't sure if he wants to have kids with Tania. Personally, I think Syngin is fed up with a wife who doesn't accept him for who he is. He isn't sure of their future goals, because he isn't sure if his marriage is going to last. Throughout the discussion, she gets extremely frustrated that he still is unsure of what he wants to do in life. Syngin on the other hand has no desire to live the structured life his wife demands.
After crying and screaming, Tania storms out of the room. Syngin and his family seem almost relieved when she leaves. Now they can get back to an easy going meal without drama. Am I missing some big career that Tania is hiding? When we first met her she was traveling the world to become an herbalist, but this season we find out she is a bartender. Nothing against bartending, but she speaks as if Syngin is a bum and she is running a fortune 500 company. It appears to me, they both are still trying to figure out what path they should take.
Syngin tries to talk to his wife after their tense dinner, but she is still angry. Does this woman not realize that you can't change a grown man? Syngin has always been a free spirit. It isn't like he lied to her about who he is. Tania takes things too far when she throws in his face that she brought him to America. I guess she forgot, unlike some of his cast mates, coming to America was never his goal. The only reason he is here is for her. How was he to know that she would soon become his biggest annoyance?
Syngin is the one who should be throwing in her face that he lived in a SHED for her.  In my opinion, that one detail tops anything that she could possibly say! The shed combined with listening to the nagging of her and her mother had to be torture, to say the least.
Kalani (Orange County, CA) and Asuelu (Samoa)
Kalani decides to meet with Asuelu's mom and sister, Tammy alone to try to talk some sense into them. Sigh! If she doesn't have a $1,000 to give them, this is a lost cause. As soon as Asuelu's family arrives, Kalani lays down the law. Under no circumstances is she going to fund their life at the expense of her own. Naturally, this enrages them and things get pretty nasty. Kalani is accused of getting pregnant on purpose to trap her husband.
Asuelu's mother then tells Kalani she doesn't care about her grand kids and threatens to have her son divorce her and return to Samoa. Just when I thought things couldn't get any crazier, Tammy attempts to fight Kalani when she walks away. If his mother didn't hold back her daughter, this would have been the fight of the season. Kalani may be bigger in size, but Tammy seems scrappy.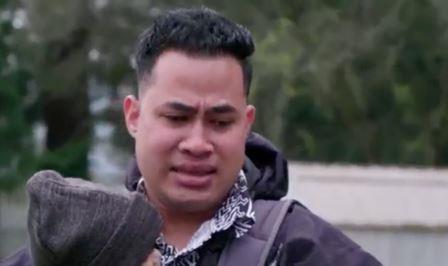 When Kalani arrives home, she is still furious as she relays all the details of her contentious meeting to Asuelu. After hearing some of the accusations made, he is shocked and devastated. Kalani doesn't recognize the toll this is taking on her husband. She tells him he needs to cut off his family and calls them assholes. Although this may be true, there is no need to make him feel worse after learning his family only cares about money. Things go downhill when they both begin arguing about who would win in a fight between Tammy and Kalani.
I understand that Kalani is angry, but she has to remember she has a good relationship with her family. No matter how misguided, Asuelu just wants a good relationship with his family like she has with hers. This whole situation probably makes him feel horrible. In the last episode he was reduced to tears over all of this stress. Kalani storms from the room to speak with her sister who advises her to leave her husband. Sigh! I wish both Kalani and Asuelu would stop telling their marital business to their families and go to counseling.
Angela (Hazlehurst, Georgia) and Michael (Nigeria)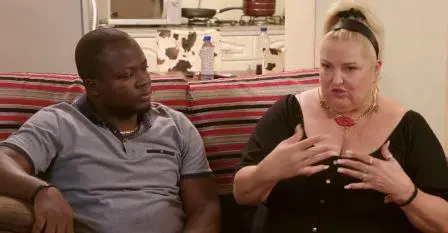 Angela is still upset that Michael's family dares to believe she would ever be submissive to him.  Despite him apologizing profusely for something he didn't do, she continues to berate him. What is funny is Angela is so offended by the very thing that she expects of her Michael. She talks to Michael as if he is a child that she doesn't even like.
Angela demands that Michael tell his family that their marriage will never be a traditional Nigerian one. At this point, I am starting to give TLC the side eye. I don't understand why they continue to promote these abusive relationships on this show.
Angela invites a translator to meet with her and Michael's family. She wants them to fully understand that she has no intention of being submissive in a marriage. When the situation is explained to Mama Michael, she claims she doesn't have an issue if Michael wants to be equal in his marriage. Damn! I was hoping someone would object.
After dodging one bullet, Angela explains her fertility issues. Now, this seems to perk up Mama Michael's ears, but she decides to give her blessing anyway. WTF! Did a producer give mama some meds? Why the heck is she being so agreeable about things that were so important to her all of a sudden?  I must admit that I didn't think things would pan out this way. She even prays over Angela and Michael. It's going to take an entire village to pray Michael if he moves to the U.S. to be with angry Angela.
Check out the Reality Tea Merchandise Store to buy clothes, accessories, mugs, and more!
TELL US- WHAT DO YOU THINK WILL HAPPEN WHEN JESS LEARNS COLT'S SECRETS? DO YOU BELIEVE LARISSA EVER INTENDS TO PAY BACK A LOAN TO ERIC? IS SYNGIN LACKING DIRECTION OR IS TANIA TOO HARD ON HIM?ARE YOU SURPRISED MAMA MICHAEL GAVE HER BLESSING?
[Photo Credit: TLC]