The Real Housewives Of Potomac are heading to Monique Samuels' lake house for a girl's trip. So many issues are bubbling beneath the surface that are bound to appear on the trip. If Candiace Dillard Bassett chooses to attend, she might be on the receiving end of another "gang-up". We are getting closer to the fight between her and Monique. The tension keeps rising every episode.
On last week's episode of The Real Housewives of Potomac, Candiace got lit into by Gizelle Bryant. People don't take kindly to her attacks on Twitter. They want her to be accountable for the things she says and does. With Monique, Gizelle, and Ashley Darby all on the trip, Candiace better be on her best behavior. This episode is also the most the group will have interacted with new wife Wendy Osefo. From the preview, she brings it.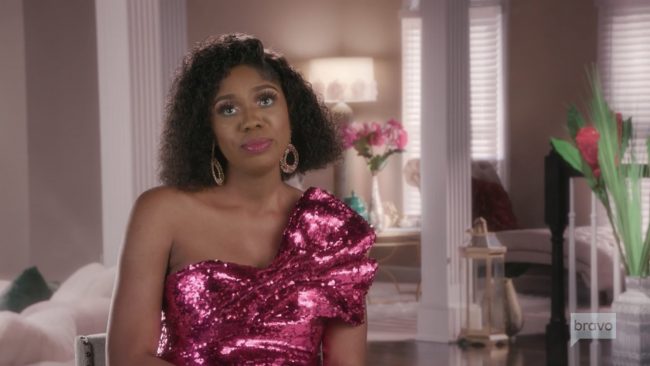 Candiace continues her home search, but she finds it exhausting. Can she afford it? No shade, but what is their financial situation without her mom pitching in? She's the one who brought her mom's past involvement into the public eye, so I think it's a fair question.
Chris Bassett asks Candiace about Karen Huger's party, and he seems somewhat surprised she apologized. The bigger surprise is Candiace considering going to Monique's lake house. She doesn't really want to go, but Chris urges her to attend. The issues with she and Monique run a lot deeper than the one with Gizelle, so it's more emotionally charged. When you have a larger personal stake in a friendship, the fallout cuts that much deeper.
I hope things work out between Gizelle and Jamal Bryant. Their daughters are uninterested in this reunion, and if it crashes and burns, it's going to make everything uncomfortable. Sometimes when a relationship ends, it's better to just leave it in the past. If things fail between them, it may have so many negative unintended effects on their kids.
Michael Darby wants Ashley to take baby Dean on the girl's trip. Talk about putting a damper on a getaway. She doesn't really object though because her mind races with anxiety at the thought of being away from him. This is common for new moms, so I think she should get a pass for this. It is a scary world out there, so if you're not used to being responsible for another life, it can really throw you for a loop.
I have no idea how Monique juggles everything in her life. Plus, the way she has that bird potty-trained still keeps me up at night. It's just not something you see everyday. Where did she even find the time to make that happen?
Gizelle is just as caught off guard by the bird shenanigans as I am. She isn't thrilled about the idea of travelling in the car with this bird. Ask Karen, she's been there too. Gizelle being stuck in the backseat with Monique's bird might end in tragedy. They have so much bad blood. She may have trained T'Challa to attack on sight!
It's weird how chummy Monique and Gizelle are acting lately. How did years of animosity get erased so quickly? I'm wondering if perhaps they are bonding over a mutual issue with Candiace. Something has to be going on in order for them to be acting like this. I call major BS on it.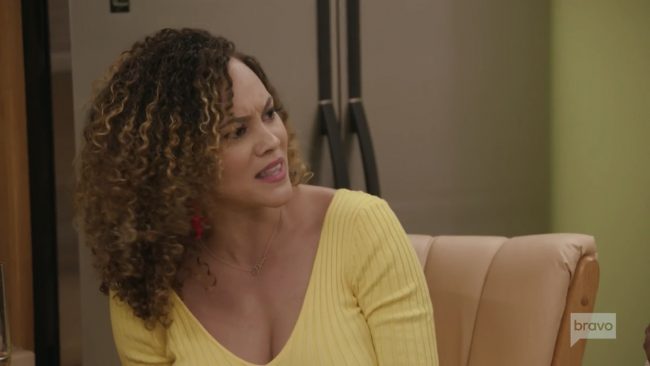 Karen is shocked to hear that Wendy is alleging she and Ray Huger don't have sex. Karen acts really thirsty whenever she's in public with Ray, so I could see how she formed that opinion. However at the same time, she doesn't really know Karen. Forming a judgement like that about someone she has had minimal contact with is a little odd. Maybe if she took the time to get to know Karen, she'd have a different outlook.
I have to say that Potomac has the most beautiful cast across the Housewives franchise. They're all flawless natural beauties. They also had arguable the best cast photo of all time for this new season.
To everyone's surprise, Candiace shows up to Monique's house. Despite their current issues, she does have a good relationship with most of the women. She's taking the high road for this one.
Monique jokes about T'Challa's speaking ability and calls back to the infamous "drag me Monique" line from last year. I had no idea that a bird would play such a prevalent role in this season, but I don't hate it. Guys, I was HEARTBROKEN when he recently flew away, so hopefully that never happens again.
Wendy arrives and is immediately miffed about Ashley coming with the baby on the trip. The baby will have a nanny on site, so why is it your business? Who said you couldn't bring your child? You know she's a first time mom, so cut the crap. You're just looking for a reason to be relevant in this new group. Thank you T'Challa for flying into her and scaring her. Looking forward to you earning that champagne flute next season.
In the midst of the bird chaos, Ashley arrives with baby Dean, and Wendy goes in right away. I really wanted to love and adore Wendy this season, but this isn't the hill to die on. Things get aggressive really fast for no reason. She doesn't have sympathy for Ashley, but nobody asked her to do that.
Ashley accuses Wendy of projecting her own insecurities onto her, and I think that's spot on. Either that or Wendy is targeting Ashley because of the past issues with her friend Candiace. I almost want it to be that because the baby issue was so over the top. Try again.
Everyone is having connection issues with their phone because Monique lives in middle of nowhere. Nope. I'd never be there. There is a bird on the loose and an unwelcome baby, and it's just a mess. You couldn't pay me enough to be there.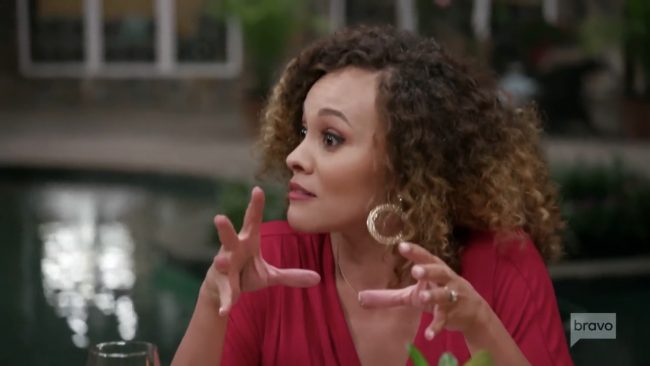 Monique and Wendy have a heart-to-heart about her altercation with Ashley. She understand where Wendy was coming from, but the delivery was crazy. I can't handle the producers adding in subtitles for T'Challa and translating his noises. STOP IT. T'Challa has spoken more in this episode than thirsty Charrisse Jordan has all season.
Candiace treks to Gizelle's room across the property to talk about their blowup last week. She actually apologizes for how she reacted to Gizelle. Baby steps! It seems sincere this time, so maybe they can finally move forward. Now that they're in a better place, Candiace can give Gizelle some fashion tips. Whatever she wears is awful. Always.
We totally think Candiace got a nose job right? It was rude of Gizelle to ask, but she has a point. There's no way there wasn't work done in that region after seeing the before and after pictures. Girl don't lie to us. We have eyes. We can see the work. It looks great too, so don't be ashamed.
Karen decides to ask Wendy about why she is talking about her sex life. That's a great question. There's no reason for Wendy to be going around asking that. However, Karen is extremely dismissive of Wendy. She gives her the Mariah treatment each time she interacts with her. The two should just take the time to get to know each other. Learn more organically.
Ashley is on point when she called Wendy's flip out in the kitchen "ferocious". If Ashley wants an apology she isn't going to get one. Wendy doesn't see anything wrong with how she behaved. She went from 0 to 600 so fast. There wasn't a lot of substance to her attack either.
Ashley makes a dig about Wendy not having female friends which bites her in the ass quickly. She says she just doesn't deal with "fake bitches" like Ashley. The two are at an impasse, and we are left with a cliffhanger. This feud came out of nowhere, but it has massive potential. What a fantastic season this has already been. Things move quickly, and so much happens in one episode. Beverly Hills could never.
This fight really escalated over the episode, and the intensity is already so high. I wonder if they end up feuding all season. By the end of the trip, I think Wendy and Ashley will be full fledged enemies.
Next week is giving us yet another Michael scandal. He is the gift that keeps on giving. Every season, he's doing something behind Ashley's back that makes major headlines. What would we do without him screwing up and giving us top notch entertainment?
TELL US – TEAM ASHLEY OR TEAM ASHLEY? WAS CANDIACE'S APOLOGY TO GIZELLE GENUINE? SHOULD BIRDS AND BABIES BE ON A GIRL'S TRIP? ARE YOU ENJOYING THIS SEASON OF THE REAL HOUSEWIVES OF POTOMAC? 
[Photo Credit: Bravo]