The 90 Day Fiance: Happily Ever After  reunions are always memorable. But this one is especially interesting, considering it is the first social distancing version, where no one is on set together. You would think it would be hard for everyone to engage, but there was no shortage of digs and opinions as some of the most explosive moments are covered.
In part one of the Tell All, the couples reunite from their own homes. Angela Deem and Michael Ilesanmi struggle with trust issues. Elizabeth Potthast Castravet's family questions Andrei Castravet's integrity. Colt Johnson clashes with both of his exes. Asuelu Pulaa 's coronavirus habits are questioned. Let's get straight into the 90 Day Fiance recap!
Colt (Las Vegas, Nevada) &

his mom Debbie

ex-wife Larissa (Brazil)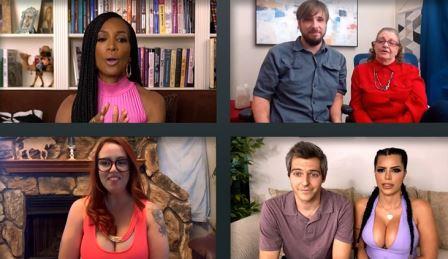 The entire gang is here! Unfortunately for Colt, all of his exes have joined the reunion to make him and Debbie Johnson's lives a living hell. Jess Caroline and Larissa Dos Santos Lima take every opportunity to insult them on their looks and morals. The Brazilian bobble heads clearly decided to ban together throughout the reunion. When the conversation shifts to Larissa's noticeably different appearance, Colt says he barely recognized her.
In response, Larissa says she recognized him because he was even fatter. Colt is really feeling himself after losing a few pounds and growing his hair out. After giving a laundry list of more surgeries she has scheduled, Larissa's parenting and priorities are called into question. How dare Andrei Castravet question what someone is doing with their money? Although, I agree that Larissa's money could be better spent, the last time I checked he was depending on his father-in-laws money.
Jess confesses that Colt broke her heart. But he claims it was her who manipulated him with sex. That didn't stop him from sending dick pics to at least 8 women during their relationship. He claims that women would reach out to him with sexy pictures and it was only polite to return the favor.
Larissa has proof that he also did the same thing to her, during their marriage. I don't know who these poor unfortunate souls are who want to see Colt in the nude, but I feel the picture is punishment enough for their misdeeds. I still can't believe he has an Only Fans account! For some reason, Angela shouts out that she wants one of the pictures. WTF! If Angela ever leaves Michael and decides to date Colt that will be the day I will have to stop watching this show for my own sanity.
Finally the truth comes out about Colt and Vanessa Guerra's relationship. After Debbie adamantly denies that there was anything between them, Colt admits he did have sex with Vanessa several times. Both Jess and Larissa continue to shout that he is a liar. Not only is he a liar, he appears to be a serial cheater as well.
Angela (Hazlehurst, Georgia) and Michael (Nigeria)

First of all, why the hell does Angela have this face mask on? I'm sure she thought this was going to be cute, but all she managed to do was look crazy. Did she forget that she was skyping in and there was no need for PPE in her own home? When the host asks about her look, she says she has an abscess in her tooth and needs to keep it covered from the air. I don't know if that is true, since she doesn't have an issue shouting throughout the episode.
The host asks how the issue of trust plays a role in their relationship today. Angela admits that she still doesn't trust Michael.  As a result, he must answer his phone at all times. SMH! Michael might as well be doing hard time with a warden like her watching his every move. Everyone questions why the heck he would take Angela to a strip club for their bachelor/bachelorette party. He didn't know where his friends were taking them for the party, but I'm sure he regretted it.
Angela's insecurities are jumping through the screen.  First, she thinks she is too old, then he can't look at any other women and now she is mad because he had a lap dance in college. Ugh… this woman is insufferable. He had a whole life before he met you, Angela. I think most of the cast is scared of her because they all jokingly agree that Michael is sneaky.  But no one says anything about her overbearing and flirtatious behavior during the reunion. If Michael requested to see sexy pics or wished he met a cast member's mother before her, she would have gone nuts. Angela gets so emotional that she has to walk off camera for a while when the wedding is brought up. When she returns, she explains she desperately misses her mother.
Elizabeth (Tampa, FL) & Andrei (Moldova)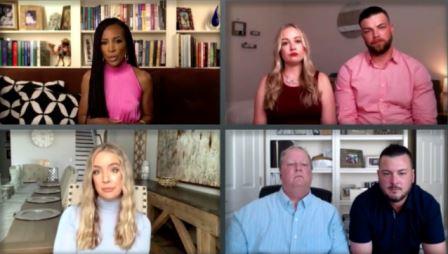 Well it didn't take long for the subject of Andrei being a stay at home dad to be brought up. He is obviously tired of this question because he gets extremely defensive. Elizabeth admits that she wishes that he would just get a job. She also adds that her husband isn't doing all of the household duties in addition to childcare, he only takes out the trash. Andrei adamantly claims that he is the "man of the house" regardless of if he has a job. Colt argues that Elizabeth's father seems to be the man of their house because he is helping them financially. Well, he does have a point!
Elizabeth's family is asked about their feelings about Andrei. Not surprisingly, they believe he is aggressive and illusive about his past. Then footage is shown of Elizabeth's family basically sounding like rich entitled people when speaking about Moldova. When pressed about their comments, they claim that their cuisine were things that Americans would typically throw away. Many of the cast thought their comments weren't appropriate, when visiting another culture.
Later, Elizabeth is brought to tears when highlights are shown of her brother, Charlie and Andrei about to fight at dinner. Chuck gets upset when he feels like Elizabeth is defending leaving them at the restaurant to pay, after the fight. They also voice concerns about the way Andrei spoke to Elizabeth during his drunken fury. Andrei on the other hand, believes his in-laws provoked him, so he isn't responsible for his actions. WTF! Is he crazy? Last time I checked he was still an adult.
When Andrei's brother and friend are brought into the conversation, he quickly tries to talk over them before they can reveal anything. His brother says he knows for sure that Andrei didn't leave Moldova because he had problems with the police. Umm… didn't Andrei tell everyone he left because he was in fear of his life because of the police on the finale? Something is definitely fishy! Just when you thought things couldn't get worse, the footage of a drunken Charlie going off at the wedding is shown.
Charlie admits although he was drunk, he spoke his true feelings. Jenn and Charlie both believe that Andrei is using their father. Jenn even recalls Andrei saying that he was going to "have Chuck wrapped around his finger." I don't care what anyone says, Andrei is definitely taking advantage of the fact that he married into a well off family. When the host asks him will he get a job, he says he would have to be partners with Chuck and not an employee. Chuck, wake up and smell the coffee and make Andrei be the man of the house he claims to be. As much as he disrespects his father-in-law, you would think he wouldn't need him so much.
Kalani (Orange County, CA) and Asuelu (Samoa)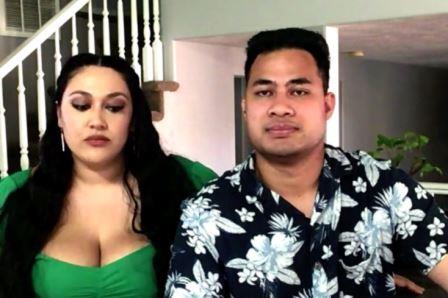 Asuelu is back at home after being asked to leave in the season finale. Kalani admits that their marriage is in a very rocky place, right now. She is still upset that Asuelu continues to do extracurricular activities during the pandemic that could put their family at risk. Asuelu doesn't understand the difference between going to the grocery store and playing volleyball. Kalani explains that she needs to be cautious because her mother has a pre-existing heart condition.
Kalani's sister, Kolini and her mother join the conversation and are very upset that Asuelu's is putting their health at risk, unnecessarily. They don't believe that their marriage will last much longer, with the way things are. When Kolini points out the way he speaks to Kalani, Asuelu becomes so frustrated he takes off his mic and tries to storm away. Kalani convinces him to stay because she will have to listen to his family "bitch" at her soon. It's clear in Asuelu's body language that he didn't want to be on camera, when they first appeared. If their relationship was already in a vulnerable state, this reunion may have just tipped the scales even further.
Asuelu's sister, Tammy asks Kalani's family to stay out of his marital business and stop attacking him as a group. I agree that Kalani's family are a bit too vocal in their opinions and it doesn't help that they all live together. Then production shows the footage of Tammy threatening to beat up Kalani when they got into a heated argument about money.
After watching the clip, Asuelu is on the verge of tears seeing how his family disrespected his wife and kids. As immature and misguided as Asuelu may be, I can't help but feel bad for him. I honestly think he feels alone, not feeling apart of his wife's family. His biological family not accepting him, unless he can pay for their love. That has to be a very stressful and hurtful. That is probably why he feels like he needs to go to volleyball, it's his outlet.
TELL US- ARE YOU TEAM COLT & DEBBIE OR TEAM LARISSA AND JESS? IS ASUELU PUTTING HIS FAMILY IN DANGER PLAYING VOLLEYBALL 6 DAYS A WEEK? IS KALANI'S FAMILY TOO INVOLVED IN HER MARRIAGE?
[Photo Credit: TLC]