This is going to be one of the most unique episodes in Real Housewives Of Potomac history. We will see Karen Huger hosting all of the women for a sit down to discuss Monique Samuels' attack on Candiace Dillard Bassett. There's so many things that could go wrong with this. Gizelle Bryant has been looking for an excuse to get rid of Monique for years, and this could be the perfect moment.
On the flipside, Candiace is going to be sitting down with her therapist. She's been through a lot. She's still reeling from the effects of Monique's attack. It'll be interesting to see how she processes everything that went down. The downfall of this friendship has been one of the most fascinating Housewives story arcs of all time. There was so much build up. Let's see who comes out with the most support among the women.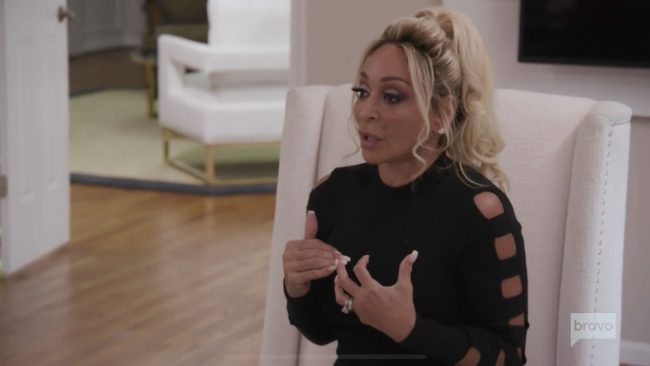 The opening video package showing how we got here with Monique and Candiace is chilling. How did we end up in this place? It's such a shame to see a genuine friendship destroyed like this. How could they let this happen? Sigh. The way everyone screamed at the barn was beyond haunting.
Candiace is still in shock following the attack by Monique. She's having trouble processing how and why something so heinous took place. SAME GIRL. When you're on this kind of show, you know it's a show full of trash talking and drama. However, once it crosses the line of physical violence, it's unacceptable. That goes for all eight cities.
Monique blacked out during the fight and is having trouble putting the pieces together. She was on another level of anger that night. She was like a horror movie villain chasing after Candiace. Terrifying!
Monique enlists Karen to set up a meeting with all of the women to discuss the drama. Candiace won't be attending which is most definitely for the best. The real question is whether or not Monique is prepared for what they have to say. This isn't something that can be swept under the rug as quickly as Monique would probably like.
Karen calls Candiace and fills her in on the upcoming meeting, but she declines. She thinks it's a great idea that Karen is doing that, but she chooses to pass. I don't blame her. Monique showed her true colors, and it's a little soon to be pushing a reconciliation. Candiace doesn't seem too impressed that Karen is hosting this gathering. I'm sure there's a feeling of betrayal underneath the surface.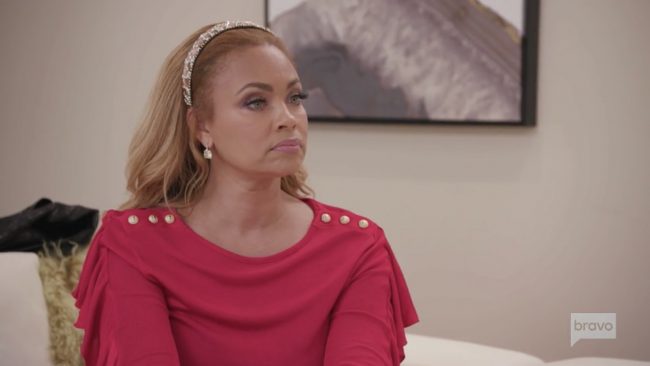 Somehow, Robyn Dixon has gone from being my least favorite to one of my favorites this season. I don't know how it happened. I'm just as shocked at you all. There's just something light and authentic about her. She's boring as hell, but I have a new appreciation for her.
Gizelle showing up to Karen's with a security guard is so damn extra. Is she for real? Doesn't Bravo have their own security anyway? Stop doing the most. Just so weird and wild for no reason. Just as weird as that is Ashley Darby bringing along baby Dean. Does this poor kid ever get taken care of by BOTH parents? Why is Michael Darby incapable of watching his own son?
Robyn brings up a tweet of Monique's that says, "ask and you shall receive". WOW MONIQUE. Sure, let's make light of the situation. She has zero remorse for what she's done. She has no concept of how she crossed the line in her feud with Candiace. It's about time she exits this group.
Wendy Osefo agrees that it should be a safe space but that they also need to address the important things. A lot of the women feel Monique's camp is leaking stories about the barn showdown. I'm sure she did. She wanted to get a jump on the situation and come out looking like the victim. I remember when the story first leaked, and everyone was Team Monique before knowing any of the facts.
While that sit-down is going on, Candiace is undergoing therapy to dissect the barn debacle. Candiace definitely made the mistake at the wine tasting of engaging Monique's attack. There was so much uncontrolled anger behind the vicious punches. Candiace can be annoying, but nobody deserves that in this setting.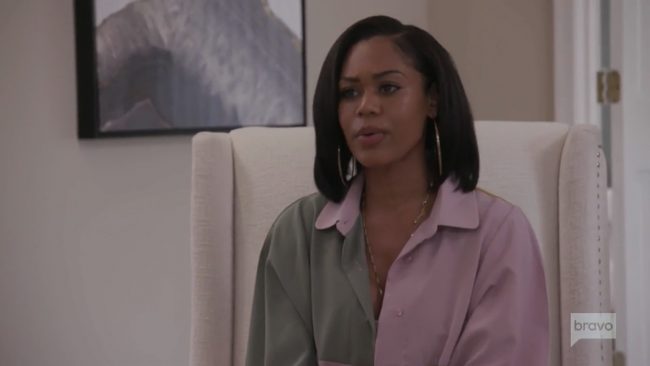 You can tell that Gizelle has no real plans on staying long enough to really hear Monique out. She probably wants to stick around long enough to hurl some insults and leave. Typical Gizelle. Monique has finally arrived, so let the drama unfold.
I get why some of the women would be nervous to be around her though. If any of them have an argument with her in the future, there will be that lingering fear that she'd take it physical. Monique even says it could possibly happen again. Who says that?
Monique already put her hands on Candiace before any wine glasses were thrown. She was only taking it to that level because Monique wouldn't let her up. Hearing Monique try to justify her actions at this gathering makes me sick. This doesn't feel like an isolated incident. It will happen again. She's dangerous. Get her off this show.
Robyn says Monique almost had her but what she said was an absolute lie. YES ROBYN DIXON CALL HER OUT. Robyn lets her know that Candiace's wine was not the wine she had on her face. The timeline of when Monique "remembered" what happened is the same timeframe as the blogs picked up the story. Monique is one shady ass person with this one.
How can Monique sit there and be okay with saying Candiace asked for it? This is a show about drama. VERBAL drama. Monique crossed a line. So gross.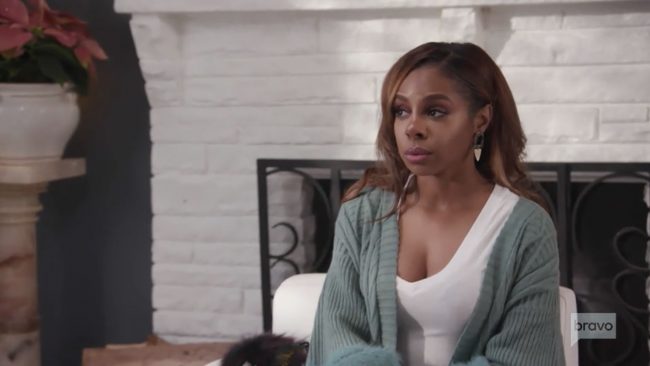 Candiace reveals to her therapist that Monique has yet to reach out to her. She also expresses hurt with the way social media is attacking her over this. I remember that going down, and so many people were dragging Candiace. I can't recall if I did, but if I did, I apologize. Knowing all of the facts, Candiace didn't deserve that targeted harassment.
She says she didn't cross any lines that contributed to the physical violence aspect. It's heartbreaking to see how torn up Candiace is by this, and then also see how unaffected Monique is. One of them cared about the friendship. You be the judge on who that is.
Ashley says the important thing is how Monique acts moving forward. The issue with that is how this is not the first time we've seen something scary from Monique. She almost choked out Robyn with an umbrella. Gizelle calls her out for all of these things. This is who Monique is. This is something that will happen again. She's a ticking time bomb.
Monique's attitude during this discussion has been downright disgusting. She's not taking any of it seriously. The level of condescension is off the charts. Karen tells Robyn and Gizelle to lower their voices in her home. Karen is giving Monique too easy of a pass in this. I'd be pissed if I was Candiace. How is she taking this so lightly?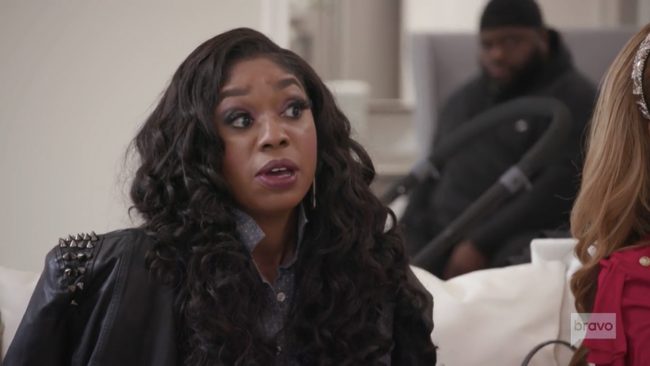 Wendy points out that Monique was aware of her actions when she ran around threatening to kill Candiace. Monique then openly admits she's not remorseful for her actions. That's just not alright. She only cares about her image in this scenario. She is embarrassed, but that's about it. This isn't the type of person who belongs in this group.
Gizelle says she doesn't want to be anywhere near Monique and then leaves. Monique doesn't even react to that. However, Gizelle is on a delusional planet by saying she and Jamal Bryant have an image to protect. Your own damn daddy is trashing Jamal for his lying and cheating ways. Worry about your own glass house.
Monique feels like she's being written off by the group. She also says people talking wild and being disrespectful, but that's not the same as attacking someone. Not even close. The verbal sparring is something you know is coming when you sign up for this show. It comes with the territory. It's literally the entire point.
She thinks maybe she needs some sort of an exit from the show following this. It's going to happen. Candiace and Gizelle don't want to film with her ever again. Neither of them are going to leave the show. Monique is the one on her way out. What a fall from grace.
Monique even holds baby Dean which is totally a ploy to come off more sympathetic. Give me a break. These two are never going to be in the same room again. Well, the reunion they will if it's in person. That will be quite the experience. They need to make sure they have plenty of security on hand for THAT.
Robyn and Wendy are not sold on Monique's words. They need to see concrete changes in her actions in real life and across social media. Well, if the song Drag Queens is any indication, nothing has changed with her. She will always make light of this attack because that's what she does.
TELL US – TEAM MONIQUE OR TEAM CANDIACE? IS GIZELLE BEING A HYPOCRITE? DO YOU FIND MONIQUE TO BE REMORSEFUL OF HER ACTIONS AT ALL?
[Photo Credit: Bravo]